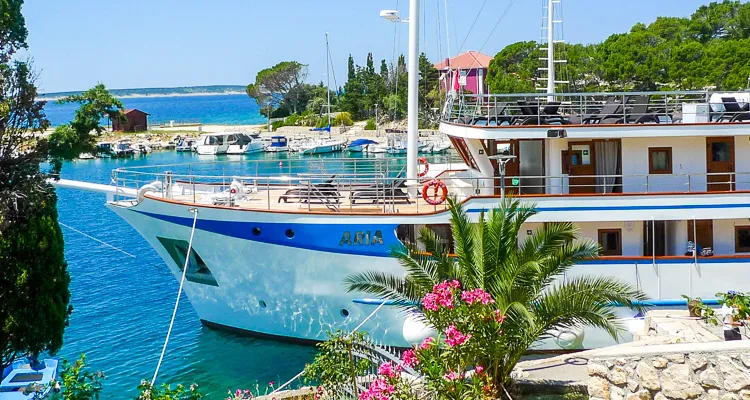 The sounds of crashing waves, seagulls and watching fishermen on the open seas. Follow leisurely along the course of the Danube, Loire and the Main: Holiday by boat is always a small adventure. Suitable for all those who want to avoid packing a suitcase every day and who like to pass up on a day of cycling now and then to sunbathe on the ship's deck. For those who make it onto their bicycles, the beautiful surrounding countryside is waiting to be discovered.
Our tip: As capacities are limited, our Boat and Bike Holidays are usually booked earlier than our standard bike tours. If you decide to book your Boat and Bike Holiday now, it is more likely that your preferred cruiser and dates will still be available.
Have fun making holiday plans!
Show more
Show less
---
What is so special about a cycling and boating holiday?
On a cycling and boating holiday your accommodation follows you, saving you the hassle of packing your suitcases every day. You also have the option of deciding on any particular day whether you wish to cycle or take a break on board the boat.
This cycling holiday option is particularly recommended if:
You want to have a leisurely cycling holiday  
You are travelling as a family with children and are not sure that your little cyclists will want to cycle everyday
You are perhaps unsure whether you are fit enough or have the desire to cycle every day
When the sun is shining you would prefer to take it easy in a deckchair on the boat's sundeck or when the weather is bad you would prefer to read indoors
   
A further advantage of cycling and boating holidays are the special perspectives holiday-makers gain of the water. While island hopping in Croatia, cycling and boating make it possible to visit a number of islands which would not be possible on a conventional cycling holiday. The numerous possibilities of jumping directly from the ship into the crystal clear waters are of course included in the price of your holiday! Particularly on a cycling and boating holiday in Croatia, cycling and swimming fun can be ideally combined.
Despite all the advantages offered by a cycling and boating holiday, you should be aware that cabin sizes are generally not comparable to the size of hotel rooms. You should therefore avoid packing very large suitcases. All cabins do however have their own private WC and shower. However, when it comes to size and standards you should be willing to compromise. Although you will be able to decide what you want to do each day while on your trip, some aspects such as departure times, sluice times and of course the unpredictability of the wind and weather cannot be changed.
Which cycling and boating holiday is suitable for whom?
Families with children enjoy being on-board particularly if there are other families on-board. There is always something to discover! Our cycling and boating holidays in Croatia are ideal for families. Or why not have a look at our cycling and sailing holidays in Holland.
Or are you rather one of those people who like to combine an active holiday by bicycle with good food and visits to beautiful cities? If this is the case then we recommend our cycling and boating holiday in Flanders. Flat like Holland but with each town more beautiful than the next: this is what awaits you on the route from Brussels to Bruges. Brussels, Antwerp, Ghent and Bruges – and also beautiful little villages such as Mechelen. You are in for a treat. And in Belgium the enjoyment of life's pleasures is of great importance. The country is also legendary for beer fans and food connoisseurs. The French influence can be felt here – eating and drinking are far more significant here than in neighbouring Holland. We definitely recommend a cycling and boating trip in Belgium!
Are cabin size, a regular sized bed and a proper shower important for you? Then we recommend a cycling trip with the MS Magnifique and its sister vessel the Magnifique II which is coming into service in Spring 2016. Or a cycling and sailing holiday aboard the three-masted schooner Mare fan Fryslan, which sails over the Ijsselmeer to the Wadden Sea islands of Texel, Vlieland and Terschelling and which even offers guests a whirlpool! Or why not discover the beautiful cites such as Mantua, a hidden gem of Italy, the Lido and last but not least Venice along the Po River on board the chiq MS Ave Maria with its Italian design? This cycling holiday is one with real Italian flair.
Or are you rather more of a quiet character and prefer cycling at a leisurely pace? Then you will love our cycling and boating holidays on the German rivers and lakes: Mosel & Saar, Main, Mecklenburg Lake District and Masuria.
Our classic cycling and boating holidays
By bicycle and boat in Holland – Holland is the birthplace of cycling and boating. The popular and well-known river and canal cruises in Holland have been added to with cycling holidays- a whole new way of travelling.
The northern and southern routes encompass all the most beautiful highlights of The Netherlands. Travel along the canals and over the Ijsselmeer on large boats such as the MS Serena. Or why not choose one of the smaller boats with an easy-going atmosphere such as the Jelmar, which you will cruise on through the green heart of Holland? The Hanseatic route on the MS Gandalf takes in the region to the east of Amsterdam which is off the beaten track.
Along with Holland, the Danube is loved by cycling and boating enthusiasts. The Danube cycling path from Passau to Vienna – the classic long distance cycling route-can of course also be travelled by bicycle and boat. Here you also have the choice of various ships and routes: along with the classic route to Vienna, a cycling trip to Budapest is also very popular.
Show more
Show less