The success of your cycling holiday is closely related to the quality of your bike. On your cycling holiday you are likely to pedal several hundred kilometres. That's why we attach great value to our fleet of rental bikes, which constitutes some 1000 bicycles. We can provide practically everyone's dream bike! Do you prefer a classic model with 7 speeds and back-pedal brakes or would you prefer to go for an e-bike?
The bikes shown here are all available on Radweg-Reisen tours that are appropriately marked.
Show more
Show less
8-gear -hub gears with back-pedal brakes
27-gear derailleur gears with free-wheel
Sizes
Unisex bikes with low step-through:
suitable for heights between 1.45 m and 1.90 m
Men's bikes: from a height of 1.75 m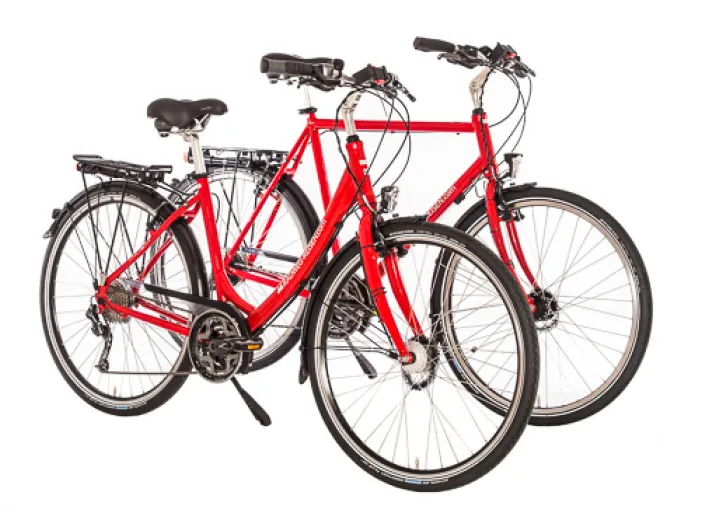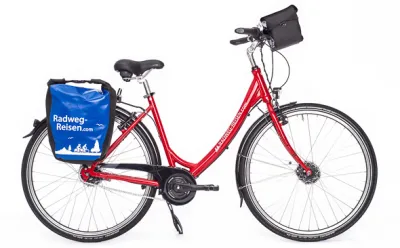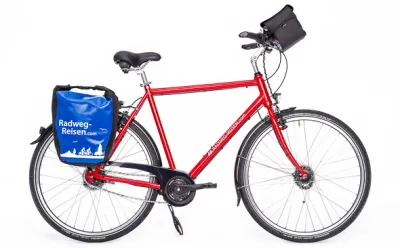 Radweg-Reisen E-Bikes
8-speed electric bike with freewheel and hub gears
Unisex frame: suitable for heights from 1.45 m
Minimum age for e-bike rental: 16 years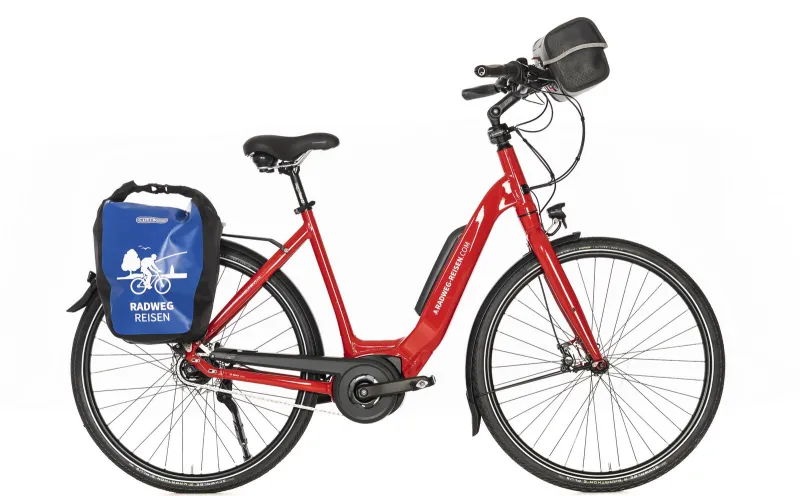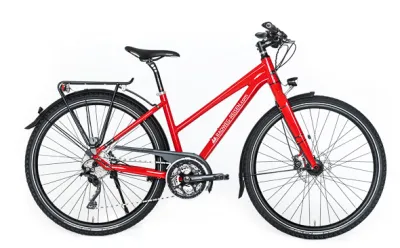 Unflat Schwalbe Marathon Plus tyres
Hub dynamo
Luggage carrier
Comfortable saddle
Panniers
Saddle bag with card compartment
Odometer, Bike lock, pump
There is one repair kit in the bags per booking.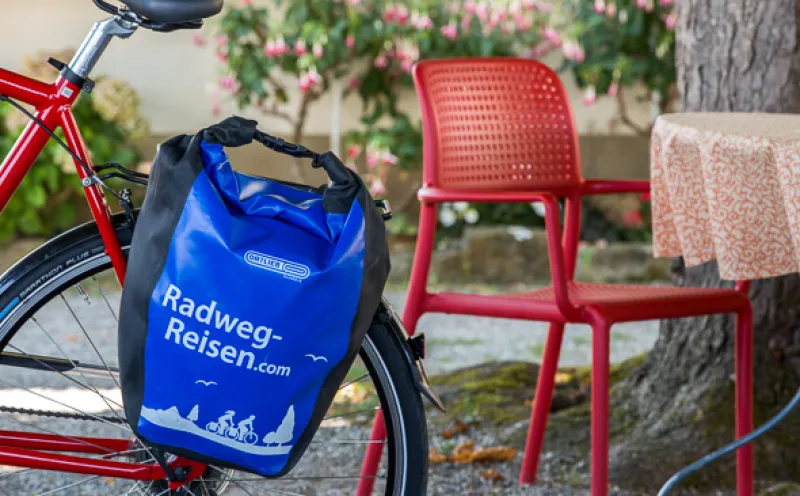 For our young cyclists
Recumbent seater Weehoo trailer: capacity up to approx. 30 kg for children between 2 and 7 years of age.
The children sit comfortably in the Weehoo, secured by a 3-point belt. They decide whether or not they want to pedal too. The Weehoo trailers are available for selected tours.
Children's trailers for up to two children: capacity up to approx. 45 kg
Child seat: capacity up to approx. 22 kg
Family bikes: E-cargo bike with 2 child seats (only available at Lake Constance)
Children's and teenager's bikes from 20" to 26" frame height
Show more
Show less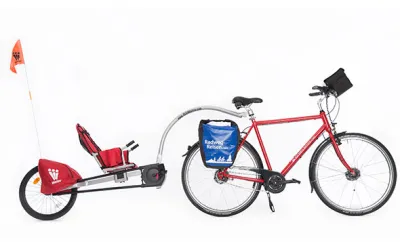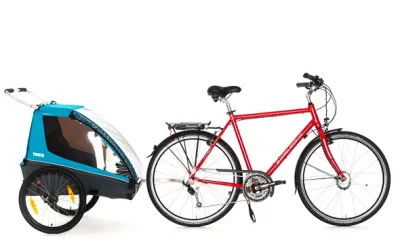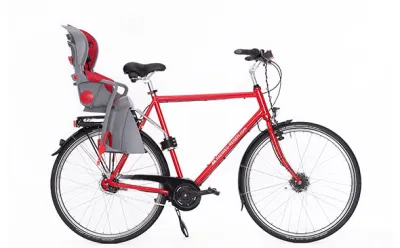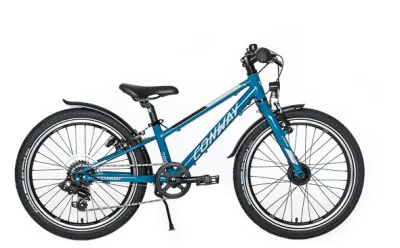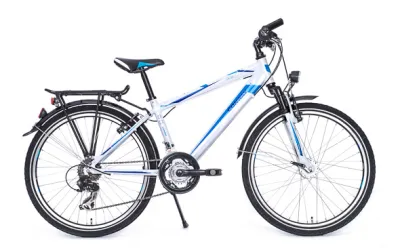 Tandems 
The very special way to travel: Our tandems are special touring tandems from the manufacturer Drössiger, which are primarily designed for longer distances. With good stability, they are also suitable for inexperienced tandem cyclists. The two of you will quickly get used to cycling together and enjoy the tour even more: you pedal together and balance out any differences in fitness levels along the way.
Show more
Show less
Lightweight frame
Sturdy 26 inch wheels
Disc brakes
High-quality 30-speed rear derailleur
Tubus luggage rack front and rear
Hub dynamo
Only available at Lake Constance.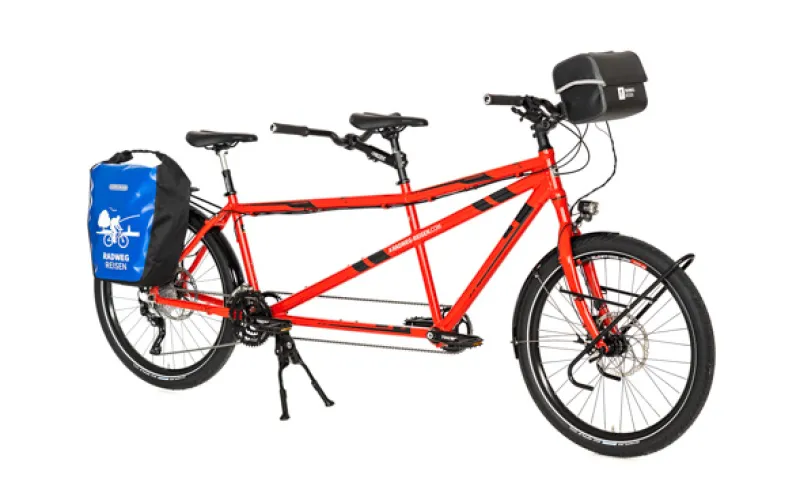 Interesting facts about our rental bikes
Which bike can I rent on which trip?
These bikes make up our Radweg-Reisen rental bike fleet. This means that they are available to you on the tours marked as Radweg-Reisen Tour. Each region has different requirements for bikes and cyclists, which is why we provide you with the right choice of rental bikes for each tour. You can find out which bikes are suitable for which tour under the tab Rental bikes on the respective tour. Not every bike is suitable for every body size, which is why you will also find information on the appropriate size in the rental bikes.
By the way: We only lend our e-bikes to cyclists over the age of 16.
Rental bikes from our cooperation partners
As we are not on site everywhere, we work together with local partners. However, you can be sure that we put a lot of emphasis on the quality of the rental bikes we offer! After all, thanks to our experience, we know exactly what matters.
Repair assistance
We do everything we can to make sure you don't have any breakdowns on your tour. Our mechanics check each individual rental bike before its next tour. You roll along on Schwalbe Marathon Plus tires. These tires are anti-puncture tires and are resistant even to things like drawing puns. The result is impressive: Our guests cycle annually over 1 million kilometres. And they have only a small number of punctured tires.
And if you do run into a problem on the road, there's another advantage to renting a bike:
We will see to it that your bike is repaired or replaced as quickly as possible so that you can continue your tour without any major interruptions.
Out and about on your own bikes
Are you and your bike inseparable? You cycle a lot of miles in your everyday life on the bike? Then we can understand that you won't want to do without it on your cycling holiday. And you won't have to! Please bear in mind, however, that the return trip from a tour can be a bit complicated: you have to transfer your bikes and your luggage in and out of the train.

Note that with our rental bikes you can be sure of having a bike that has been selected and put together especially for long tours. If you've never done a longer cycle tour on your own bike then we recommend having your bike inspected in terms of functionality and road safety by a professional before you set off.
Show more
Show less