Cycling holidays at the North Sea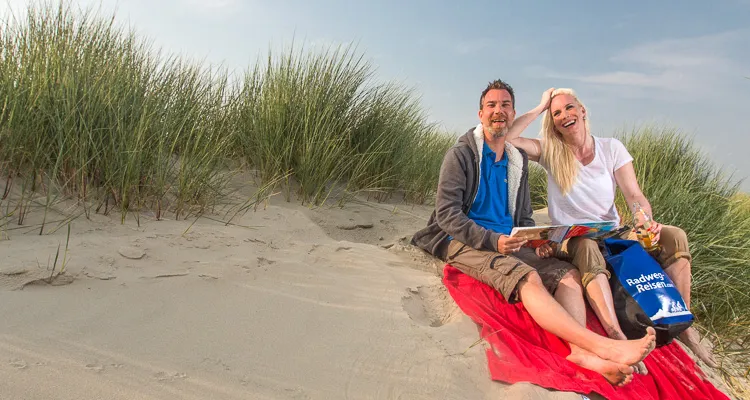 Moin, moin as the locals say here – and welcome to your cycling holiday at the North Sea.
Over the dyke is the endless expanse of the sea, and before it, miles of beautiful green fields and meadows. With a salty breeze in your hair, set off on your cycling holiday at the North Sea. It's the home of the Frisians and very flat! Pretty brick villages with thatched houses and elegant buildings from the golden age of the Hanseatic League form the backdrop to a cycling holiday at the North Sea. You'll see stripy lighthouses and sheep dotted over the fields between the villages that mark the sections of your route.
The untameable power of the sea has shaped the people who live on Germany's North Sea coast, just as the people have shaped the countryside here. Endearing characters and unalterable composure are what marks the people here who live with the tides.
Show more
Show less
You will explore East Frisia and two of its islands on your cycling holiday from Emden. You cycle to the islands of Borkum and Nordeney. You'll get to know the home of a famous beer, in Jever. And you might find the long-hidden treasures of the infamous pirate, Störtebecker on this cycling holiday at the North Sea.
North Frisia in Schleswig-Holstein is explored best from Husum. The Hallig Hooge and its salt meadows, the famous beach at St. Peter-Ording and Germany's famous North Sea island of Sylt are all easily reached by bike from this grey town on the coast.
Regardless of whether you're in East or North Frisia, the culinary highlights of your cycling holiday at the North Sea can be found in the ports along the way. For example, a freshly prepared fish roll at the beach or a portion of prawns from a shrimper selling his catch straight from the boat amidst the loud clamour of the gulls.
Show more
Show less