Cycling holidays at the Baltic Sea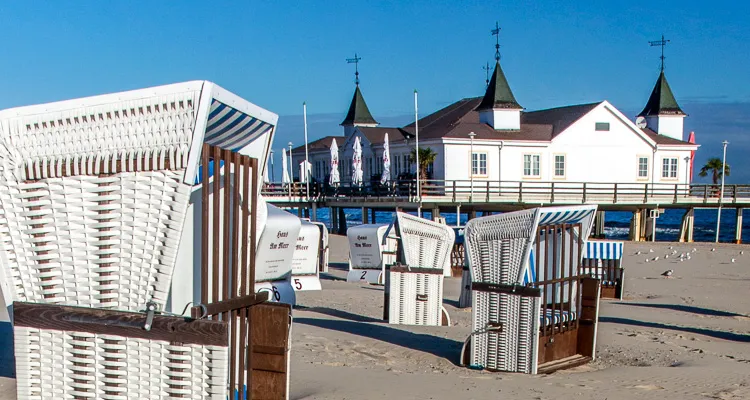 1000 km of routes along the coast are reason enough for several cycling holidays on the Baltic coast. On the long stretches of coastline from Flensburg to Usedom, the cycling holidays in Schleswig-Holstein and Mecklenburg-Vorpommern will meet almost every holiday wish. Sun, sand and sea, the surprisingly hilly hinterland, a spontaneous mini break or a longer bike tour – the cycling holidays at the Baltic coast are so different – like the scenery along the coast.
Show more
Show less
---
On a cycling holiday from Flensburg to Lübeck you will get to know the coastline in Schleswig-Holstein, the lovely people who live here and the Hanseatic traditions. Fine sandy beaches, expansive dunes and classic spa architecture await you in Mecklenburg-Vorpommern between Lübeck and Stralsund. Stralsund is known as the Gate to Rügen. Not only Rügen, but also Usedom can be explored on our Two-Island-Tour, which takes you to the very east of the German Baltic coast. If you opt for one of our three best-seller holidays on the Baltic, you can be sure of at least one thing: these tours have proven their worth by many many guests!
And if you simply can't decide, why don't you go for our very special cycling holiday on the Baltic coast? The entire coastline from Flensburg to Usedom can be explored by bike in three weeks. On a more athletic trip you can even explore the entire German Baltic coastline of almost 1000 km in only two weeks.
Families with children and people who love the beach and the sea will find their cycling holidays on the Baltic between Lübeck and Rostock or on the island of Rügen. With a lot of time for swimming, these cycling holidays go for one thing in particular: relaxation. Some great experiences await not only your children but you too: a trip in the historic bather's train Molli or a visit to the mysterious ghost forest in Nienhagen.
If you think you've seen everything from the Firth in Kiel to the chalk cliffs on Rügen, there are still some surprises up our sleeves on our cycling holidays along the Baltic coastline. A circular tour starting in Lübeck goes through the hinterland beyond the Baltic coastline through Holstein's Switzerland: You visit Eutin and Plön Lake and you'll see that Holstein's Switzerland is appropriately named. This hilly tour has surprised even quite a few South Germans.
Show more
Show less