A young company, we are happy to be able to look back at a fast-pace of development. Founded in 2001 as the Bodensee-Radweg Service (Lake Constance cycle service), we quickly established ourselves as one of the largest cycling holiday operators in Germany. And now that we are organising cycling holidays all over the place and not just around Lake Constance, it is time for a new company name: so why not Radweg-Reisen?
Show more
Show less
At our head office in Konstanz we have a team of almost 50 employees, a great mixture of people from all over. And our passion for cycling goes beyond our place of work.
The greatest time of the year is when we get to hop into the saddle ourselves, to explore new routes and test already existing tours to check how topical they are. On our annual company outing, we are on our bikes, cycling along the Croatian coastline, along the beaches of Sicily or up and down hills on our mountain bikes. Thanks to all our different tastes, we know what's needed to make a cycling holiday successful - and for whom all our different tours are best suited.
You'll see - the passion for cycling is catching!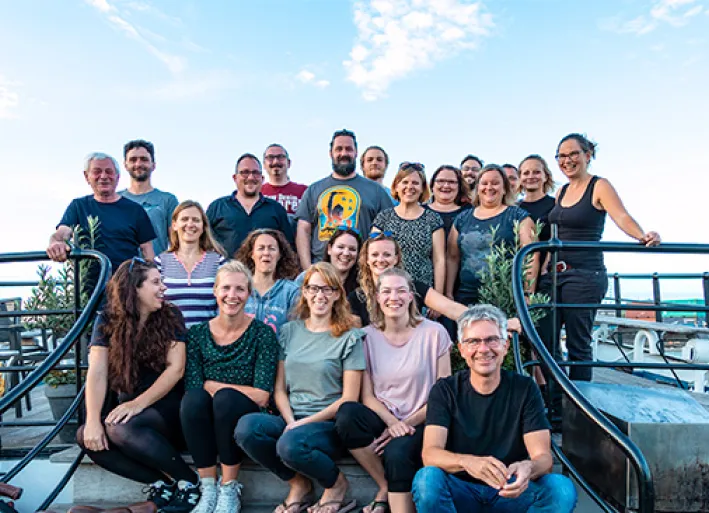 Radweg-Reisen on the Road
Since we don't want to offer you trips that we ourselves are not convinced of, we set out on our own every year. All employees get on their bikes individually or together, explore new routes and check up on old familiar routes. This is the only way we know our way around and can give you the best advice. 
And by the way, we also have a huge pleasure in being on the road ourselves. Because the passion for travelling by bike is unbroken in all of us!
The highlight of each year is, of course, our company outing in autumn, which lasts several days. Office chair, computer and workbench are exchanged for bicycle saddle and helmet. And whether we are on the Croatian coast, along the beaches of Sicily, on mountain bikes in the mountains or by bike and ship in Belgium and Holland is almost irrelevant.
Show more
Show less