Cycling holidays in Croatia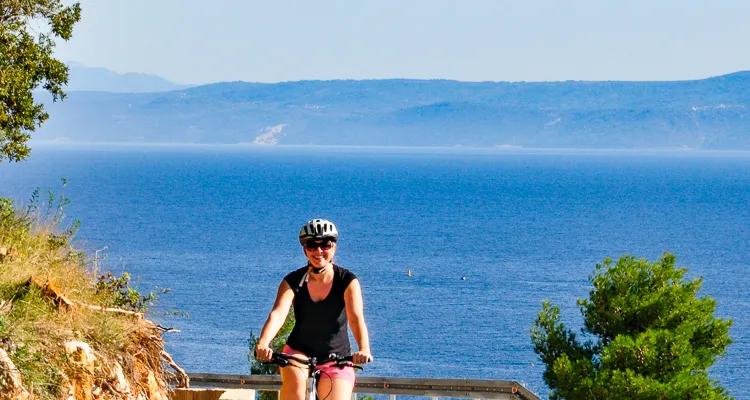 The turquoise colour of the water of the Mediterranean, Croatia's rough green coastline – a cycling holiday in Croatia is a holiday bliss! Add to that delicious food and wine and that special Mediterranean flair... Challenging or relaxed bike tours are rewarded with breaks at the beach, cultural highlights and architectural wonders from past eras. A cycling holiday in Croatia is absolute bliss for everyone who connects holiday with summer, sun, sand beaches and the sea!
Show more
Show less
Croatia's coast, with its many islands – both large and small – is best explored by bike & boat. The motor yachts, which provide a lovely relaxed atmosphere, take you from island to island and to your bike tours. They stop frequently in remote bays for you to take a dip in the blue. You can jump right into the crystal clear water of the Mediterranean from the boat. These bike & boat tours in Croatia have nothing to do with the Danube cruises! The bike tours call for a certain level of fitness as they take you up and down the hilly coastline. But the scenery and views are a suitable reward for the hills!
If you are looking for sea, sand, islands and the Croatian coast, but don't necessarily want to be cycling every day, then have a look at our family and bathing cruise tours. Brand new in our portfolio are these bike & boat tours and just the right holiday for people who are looking for some fun in the water off the Croatian coast. A mixture of swimming in the sea, short bike tours, guided city tours and pleasant walks. And the typical, relaxed atmosphere of our cycling holidays in Croatia is here too on the boats.
One tip you might like – the classic cycling tour from Trieste to Pula. You cycle along the green coastline of the peninsula from one idyllic little fishing village to the next. Your cycling holiday takes you to well-known beaches and bathing areas and also to the beautiful hinterland of Istria.
And another tip up our sleeve: When autumn has long since arrived in Central and Northern Europe, a cycling holiday in Croatia is just the right thing. The warm temperatures that continue into the autumn and the Mediterranean – still warm from the summer – provide the perfect requisites for a cycling holiday at the coast.
Show more
Show less