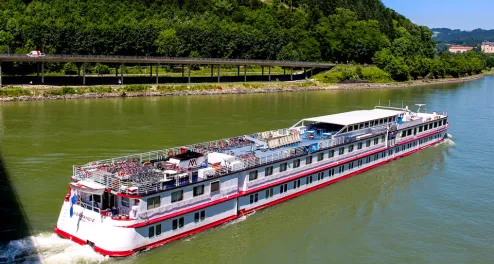 Boat and Bike in the Netherlands
Discover Windmills, Tulips and Picturesque Cities
 Amsterdam – Gouda – Amsterdam
City of cheese Gouda, Windmills of Kinderdijk, Seaport in Rotterdam
Daily routes ●●○○○
Altitude profile ●○○○○
Bike & Boat: MS Normandie
Locals lovingly call the province of South Holland the Green Heart. Countless waterways make it possible to comfortably explore diverse Zuid-Holland, as it is known in Dutch, by boat and bike. Bustling metropolises and untouched nature are very close in this region. On this 8-day Boat and Bike holiday in the Netherlands you will have the opportunity to explore Rotterdam, the porcelain town Delft, the Hague, the UNESCO world heritage site Kinderdijk with its 19 windmills and even the North Sea coast. The stages are interesting and varied, can be cycled without much effort and the routes are easy to follow due to the excellent Dutch signposting.
Booking Code
NL-SHSSN-08I
Start / Destination
Amsterdam
Duration
8 days / 7 nights
Length
approx. 255 – 285 km
Daily routes ●●○○○
between 30 and 70 km, Ø 45 km
Altitude profile ●○○○○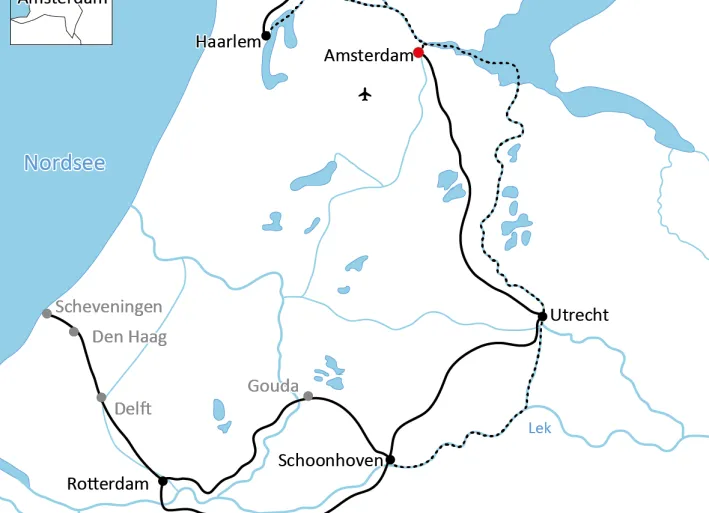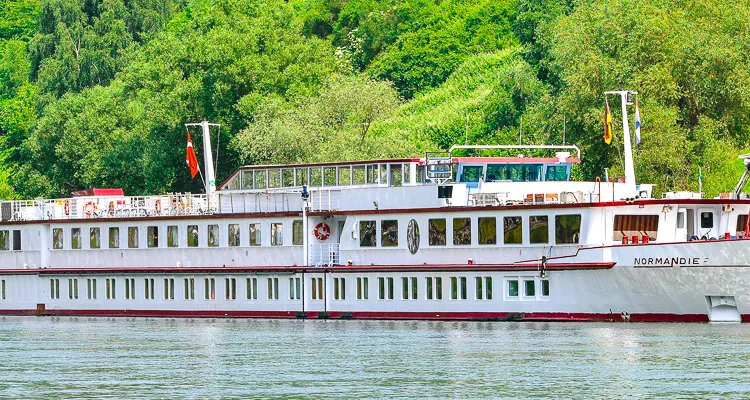 Day 1: Individual arrival in Amsterdam, Amsterdam – Haarlem (boat)
You start your boat and bike tour through South Holland in one of the most beautiful large cities in Europe. If you arrive early you will be able to have a closer look at the city, as it has so much more to offer than just the Vondelpark, the royal palace, or the Van Gogh museum. There is a lot to see, such as the 165 town canals, six windmills, 40 parks, and 1200 bridges. You will begin boarding your boat between 15.00 and 17.00. Your first boat trip will take you to Haarlem.
Day 2: Haarlem – Zaandam, approx. 30 km, Zaandam – Schoonhoven (boat)
You should go for a walk through Haarlem in the morning, as you will find everything you would expect from a typical town in the Netherlands: Windmills, town canals, drawbridges, as well as countless small shops and cafés. Your first bicycle tour will take you to Zaandam. Once you have arrived you will be visiting the famous open air museum Zaanse Schans (admission not included). About 250 years ago the first industrial area on earth was located here. This small area was used to operate more than 600 windmills. In the afternoon your boat will take you to the province of South Holland. You will arrive in Schoonhoven in the evening.
Day 3: Schoonhoven – Gouda – Rotterdam, approx. 50 km
After you got a good night's sleep  in Schoonhoven it's time to get on your bike and ride towards the cheese city Gouda.The city rose to fame because of the cheese it shares its name with. The cheese was produced in the area around the city, but was sold on the famous cheese market of Gouda. Dont miss visiting the town hall with its white and red shutters – It is said to be one of the oldest Gothic town halls in the Netherlands. Today's destination of your boat and bike tour through South Holland is Rotterdam, the second largest city of the country.Rotterdam is not only known for having the largest harbour in Europe, but also for the unusual architecture of its skyline.
Day 4: Rotterdam – Delft – Den Haag – Scheveningen – Rotterdam, approx. 40 – 70 km
Today you will be going on a trip from Rotterdam to one of two cities: You can either visit the chinaware town Delft, or you can ride your bike a little more and visit Den Haag. If you want to relax at the beach you can also continue cycling for another 15 km until you reach Scheveningen. On your way back you can either ride your bike or take the train(not included) back to Rotterdam.
Day 5: Rotterdam – Kinderdijk – Schoonhoven, approx. 45 km
You will leave the town with one of the largest harbours in the world and start your tour to Kinderdijk, where a series of 19 windmills has attained UNESCO World Heritage Site status. You will then head towards Schoonhoven, a typical small Dutch town. Historically, and still to this day, silver craftsmen have worked in the town. Alternatively you can also begin or end your cycling trip in Kinderdijk.
Day 6: Schoonhoven – Utrecht, approx. 40 km
You will leave romantic Schoonhoven and cycle through the polder landscape to Oudewater. In the de Waag museum, you can take the witch test and let yourself be weighed on original oak scales from 1482, which are also known as the witch scales. Utrecht is today's destination. Visit the gigantic cathedral and climb up approximately 500 steps – you will be rewarded with a fantastic view of the centuries-old university city.
Day 7: Utrecht – Amsterdam, approx. 50 km
Today you unfortunately set off on the last section of your town by bike and boat in South Holland. The route takes you along the Vecht back to Amsterdam. Numerous castles and villas line the pretty riverside, known locally as the Loire of The Netherlands. When you arrive in Amsterdam you can dive into the hustle and bustle of the town, or leave the crowds to go for a wander along any of the town's many canals.
Day 8: Individual departure or extension of stay in Volendam
After breakfast your Boat and Bike tour in the Netherlands unfortunately comes to a close. You will disembark and then begin your journey home.
Would you like to extend your holiday on Lake Yssel? Then simply book additional nights in a 4* hotel in Volendam, just 20 km from Amsterdam's city centre. You can also book additional nights at the beginning of the tour.
Included in the price are two bus tickets (bike cannot be taken on the bus) from the boat to Volendam and back to the jetty in Amsterdam. You can also park your car in Volendam for a week while you're out and about by bike & boat. This will save you high fees for parking in Amsterdam.
If you want to book the extra days in Volendam please note this in the free text field on the booking form. Please also include how many people will be staying, and if you want to stay in Volendam before or after your tour.
Show more
Show less
Basic Price
| | | |
| --- | --- | --- |
| | | |
| | | |
| | | |
| | | |
| | | |
| | | |
| Additional fee single use of double cabin 50% | | |
| | | |
| | | |
| | | |
| | | |
| | | |
| | | |
| Additional fee single use of double cabin 50% | | |
Services
7 overnight stays on board in the selected category
Full board (7 x breakfast, 6 x packed lunch, 7 x dinner)
Coffee and tea in the afternoon
Welcome drink
Daily cleaning of cabins
Bed linen and towels supplied and changed as needed
All harbour and lock fees
Daily Routing discussion, On-board tour guide
GPS tracks available on request
Cycle route description with maps (1 x per cabin)
7 day Service Hotline
Show more
Show less
Not included:
Drinks on board
Admission fees and excursions
Tips
Transfers
Fees for ferries
The minimum number of 60 participants must be reached 21 days prior to the arrival date.
Changes are possible on a ship journey due to the weather, water level, or technical conditions. We reserve the right to make changes.
Show more
Show less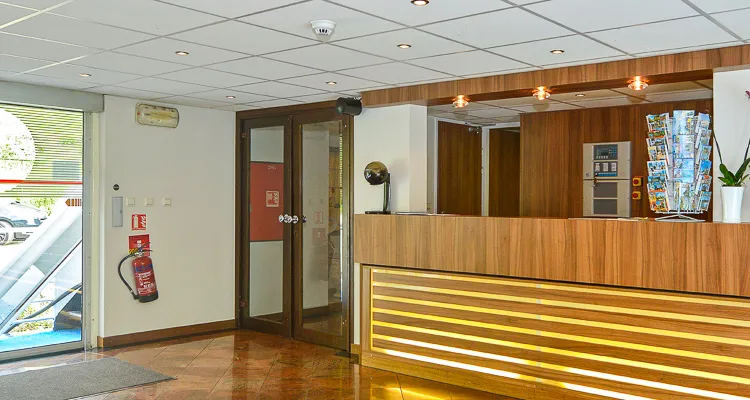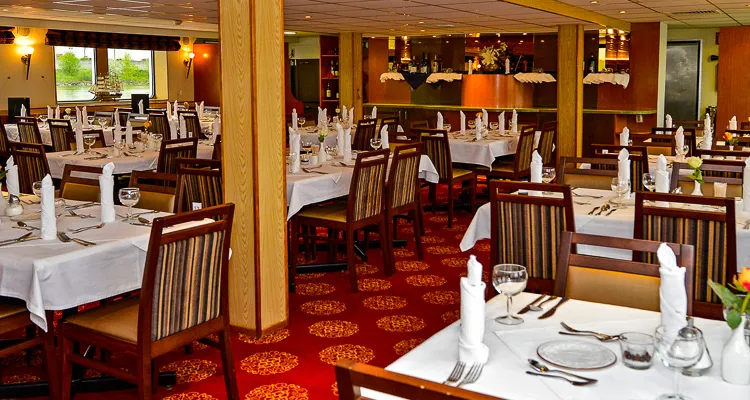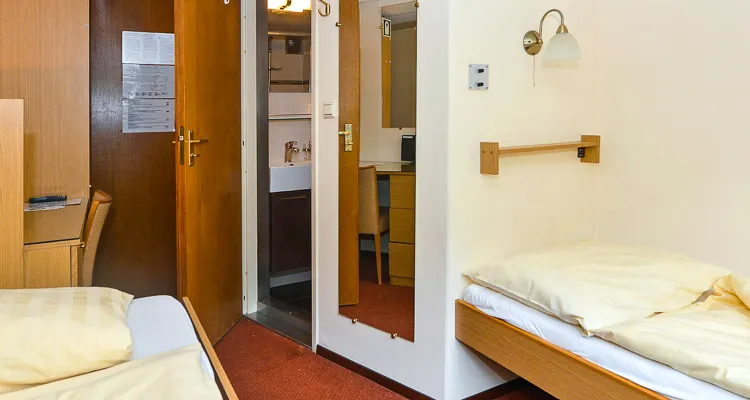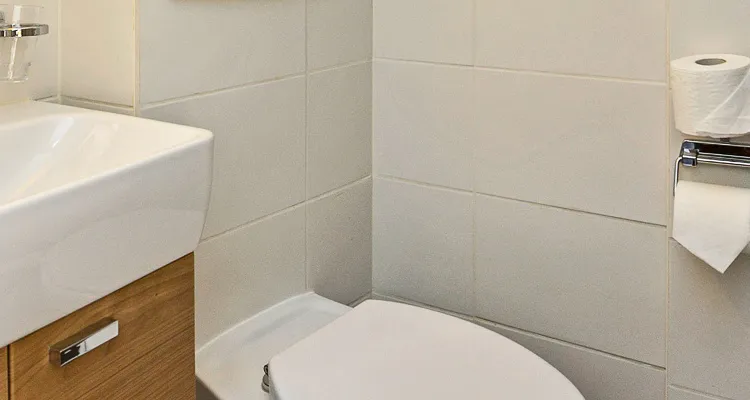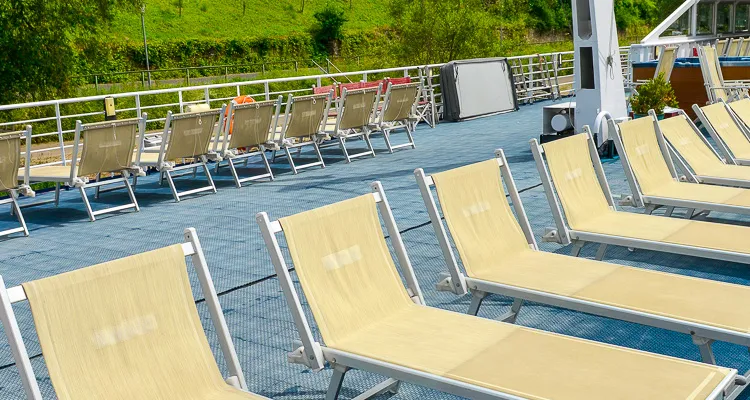 MS Normandie
Outer cabins: approx. 11 m²
Ground-level beds
Central air conditioning, shower / WC, TV, hairdryer, safe (deposit)
Main deck: 2-bed cabins. Windows cannot be opened.
Upper deck: 2-bed cabins. Windows can be opened.
On the upper deck you can also book the cheaper cabins in the back of the MS Normandie. Here, however, you can hear engine and generator noises when the ship is moving and in locks.
Single cabins: approx. 7 m²
Boat facts
Built in 1989
Renovated in 2010 / 2011
2 passenger decks | 50 outer cabins
Maximum capacity: 100 passengers
Length: 91 m
width: 10 m
Fittings: sun deck with garden furniture and deck chairs. Restaurant, saloon, bar
Entertainment: Live music
Language on board: German
Show more
Show less
Additional bookable services
Main deck

Upper deck

Surcharge for single use of double cabin

Discount cabins in the back
All prices are per person
Additional nights
Room

Breakfast

Main deck

Upper deck

Volendam
All prices are per person
Rental Bikes

Rental Bike
75 €

E-Bike
165 €
Booking Code
NL-SHSSN-08I
Start / Destination
Amsterdam
Duration
8 days / 7 nights
Length
approx. 255 – 285 km
Daily routes ●●○○○
between 30 and 70 km, Ø 45 km
Altitude profile ●○○○○
Parking information
Parking deck Oosterdok (nearby central railway station), approx. EUR 20/24h. No reservation possible through Radweg-Reisen.
Parking deck Amsterpark centralparking.nl/en, from 150 € per week, parking lot is bookable up to 14 days prior to arrival, has to be paid in advance. You will receive the registration form with your confirmation.
Minimum number of participants
The minimum number of 60 participants must be reached 21 days prior to the arrival date.
Changes to boat trips due to weather, water levels or technical conditions are possible; the right to change is reserved.
Own bikes
If you do not need a rental bike, please indicate in the booking form, whether you arrive with your own bike or your own E-Bike.
Tour operated by
Local cooperation partner
Mobility note
This holiday is suitable to only a limited extent for people with restricted mobility.
Please contact us if you have individual requirements.