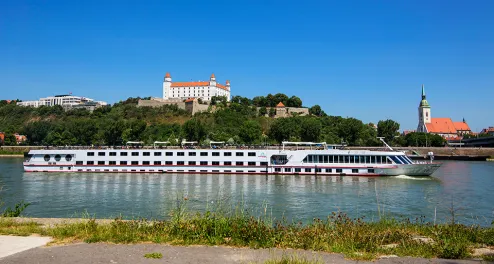 By Boat & Bike from Passau to Belgrade
Danube Cruise to the Iron Gate
  Passau – Iron Gate – Passau
four capitals: Vienna, Bratislava, Budapest, Belgrade
six countries: Germany, Austria, Slovakia, Hungary, Croatia and Serbia
Daily routes ●●○○○
Altitude profil ●○○○○
Boat & Bike: MS Carissima
During this two-week Danube cruise by boat & bike from Passau to Belgrade, you will explore the diverse landscape on the right and left of the river. Wine-growing areas, the endless expanses of the Puszta, the Schlögener Schlinge and the natural spectacle of the Iron Gate are the scenic highlights of this trip. You cycle through small, idyllic farming villages and get to know the big cities along the way: Vienna, Bratislava, Budapest and Belgrade. In order to cover the enormous distances, the ship often sails overnight so that you can enjoy the days on the bike and in the cities extensively and without time pressure. A quite fantastic way to get to know the different cultures in six countries!
Itinerary
Booking Code
DE-DOSET-15I
Start / Destination
Passau
Duration
15 days / 14 nights
Length
approx. 355 / 410 km
Daily routes ●●○○○
between 40 and 55 km, Ø 45 km
Altitude profile ●○○○○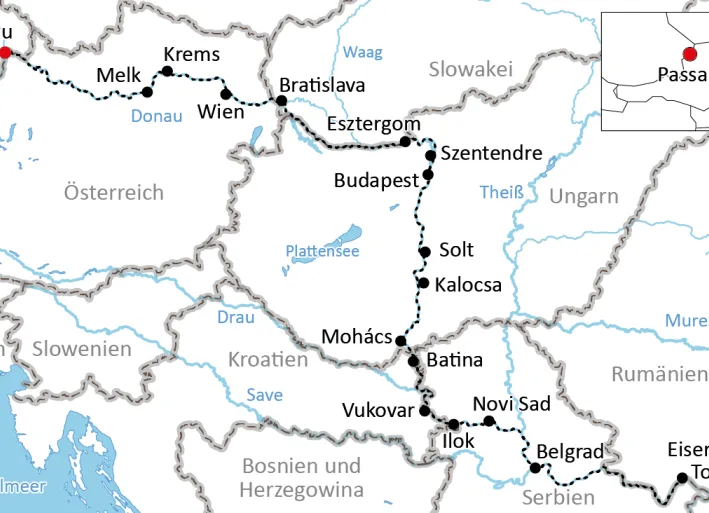 Your cruiser: MS Carissima
As soon as you enter the MS Carissima, you will feel the family atmosphere. The cabins are newly renovated, spacious and comfortable. Enjoy the passing landscape during the day from the sun deck and cool off in the pool. After an eventful bike tour you can relax in the whirlpool or sauna. There is always a refreshing drink in the panorama lounge and at the bar and regional delicacies in the cosy restaurant. Every day, the tour guide on board will inform you about the upcoming bike tour.
Show more
Show less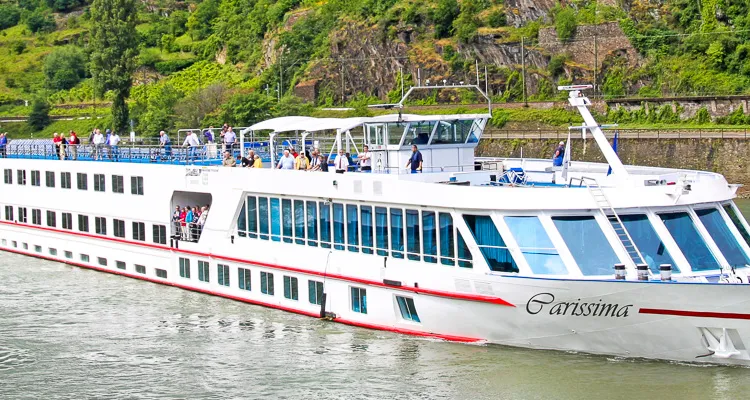 Day 1: Individual arrival in Passau, Passau – Engelhartszell (by boat)
Day 2: Engelhartszell – Aschach, approx. 40 km, Aschach – Devin (by boat)
Day 3: Devin – Bratislava, approx. 45 km, Bratislava – Budapest (by boat)
Day 4: Day at leisure in Budapest or cycle tour to Szentendre, approx. 55 km, Budapest – Baja (by boat)
Day 5: Baja – Mohács, approx. 40 km, Mohács – Belgrade (by boat)
Day 6: Leisure day in Belgrade
Day 7: Iron Gate National Park – Novi Sad (by boat)
You start the great cruise on the Danube by boat & bike in the three-river city of Passau, where the Danube, Inn and Ilz flow together. Arrive early enough to marvel at the world's largest church organ in St. Stephan's Cathedral and take a stroll through the charming old town. You can check in on the ship by 16:00 and it's time to cast off as early as 17:00! The next day begins with a leisurely bike ride to the first natural spectacle on this trip: At the Schlögener Schlinge, the river makes its way through the Bohemian Massif with a 180-degree bend. The next stage by bike takes you from Devin to the lively metropolis of Bratislava the next day. Experience the unique atmosphere of the Slovakian capital on a tour of the city.
The very next morning you will reach Budapest by ship. You will spend the whole day in the Hungarian capital, which you will get to know on a city tour – or take a bike tour to the artists' town of Szentendre. Overnight, the ship takes you to the city of fish soup, Baja. From there you cycle all the way to the south of Hungary, to Mohács. Not quite, because the last part of the journey is by ferry and you can enjoy the city from the water. The next highlight is not long in coming! The ship takes you to Belgrade overnight. Visit the Serbian metropolis by bike or bus and enjoy the evening, for example in the famous artists' quarter Skadarlija. Isn't your journey by bike and ship from Passau to Belgrade wonderful?
Until the early 1970s, this section was still considered the most dangerous on the Danube. Today, thanks to the defusing, you can relax on board and experience one of the most impressive valley breakthroughs in Europe from the water! Here, the river cuts through the Romanian Carpathians and foothills of the Balkan Mountains – the Iron Gate is now a wildly romantic fjord landscape in the middle of the Danube. Old castles and monuments, dense forests and steep gorges: So beautiful and yet so eerie – who doesn't get a shiver down their spine?
Show more
Show less
Day 8: Novi Sad – Ilok, approx. 50 km, Ilok – Batina (by boat)
Day 9: Batina – Mohács, approx. 45 km, Mohács – Kalocsa (by boat)
Day 10: Kalocsa – Solt, approx. 50 km, Solt – Danube Bend (by boat)
Day 11: Szentendre – Esztergom, approx. 45 km, Esztergom – Vienna (by boat)
Day 12: Leisure day in Vienna
Day 13: Leisure day in Vienna, Vienna – Wachau (by boat)
Day 14: Krems – Melk, approx. 40 km, Melk – Passau (by boat)
Day 15: Individual departure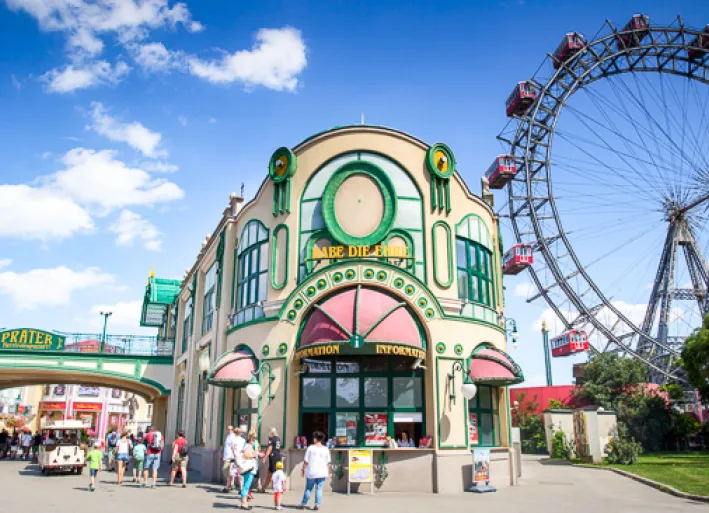 Overnight, your journey takes you by boat and bike to Novi Sad, from where you cycle upstream towards Ilok. You will cover the last stretch by ferry, which will take you through the hilly landscape at the foothills of Fruska Gora. The small town of Ilok is famous for its wines and it is worthwhile to have a wine tasting directly in a wine cellar. From the famous wine town you take the boat to Batina in the border triangle of Croatia, Hungary and Serbia. There you get on your bike and cycle through the Duna-Dráva National Park at the mouth of the Drava into the Danube to Mohács.
From the boat you enjoy the passing landscape until you reach Kalocsa, the capital of paprika. Learn all about Hungary's most popular spice at the Paprika Museum before getting back on your bike. Through the seemingly endless expanses of the Puszta, cornfields and orchards, you cycle leisurely to Solt, where you board the ship again and sail overnight to the Danube bend. On the bike you can now experience Hungarian joie de vivre at first hand as you cycle through small farming villages and soon the dome of the Basilica of Esztergom, the largest church in Hungary, will be visible from afar.
Now the boat will take you comfortably to Vienna, where you will have plenty of time to explore the city's sights. Whether during a city tour by bike or by Fiaker – you will experience Vienna up close! Feel all royal at Schönbrunn Palace, discover the child in you at the Prater and recover from the many impressions in a typical Viennese coffee house with a piece of Sacher cake. A journey by boat and bike from Passau to Belgrade would simply not be the same without culinary delights!
The last cycling stage leads through the Wachau, an internationally renowned wine-growing region. The best way to taste the great wines is at a wine tasting in the evening after a delicious meal with regional delicacies in one of the cosy Heurigen. From the ship, you can enjoy the conclusion of your journey by boat and bike from Passau to Belgrade the next morning: Marvel at the Schlögener Schlinge once more before you dock in Passau and disembark the ship at around 10.00 am. Two eventful weeks lie behind you and with numerous impressions in your luggage you will make your way home.
Show more
Show less
Dates / prices / services
Main deck
Season B
07.05.
11.06.
16.07.
17.09.
Middle deck
Season B
07.05.
11.06.
16.07.
17.09.
Upper deck
Season B
07.05.
11.06.
16.07.
17.09.
Services
14 nights on board in the selected category
Full board (14 x breakfast, 13 x lunch / packed lunch, 14 x dinner, 14 x midnight snack)
Coffee and cake in the afternoon
Welcome cocktail
1 Farewell dinner with farewell cocktail
Daily cleaning of cabins
Bed linen and towels supplied
Crew show
All harbour and passenger fees
Daily Routing discussion, On-board tour guide
Parking space when bringing your own bike or e-bike
Cycle route description with maps (1 x per cabin)
7 day Service Hotline
Show more
Show less
Not included:
Drinks on board
Admission fees and excursions
Tips
The minimum number of 90 participants must be reached 4 weeks prior to departure.
Changes are possible on a ship journey due to the weather, water level or technical conditions. We reserve the right to make changes.
Show more
Show less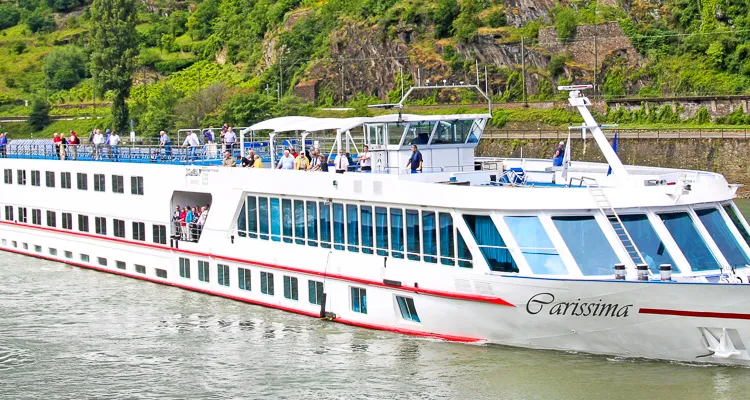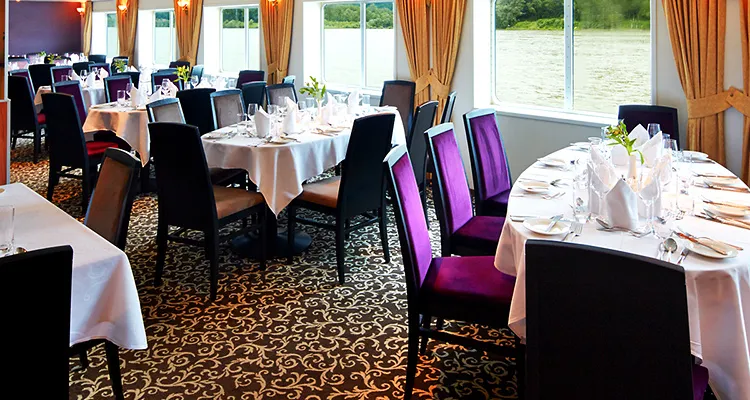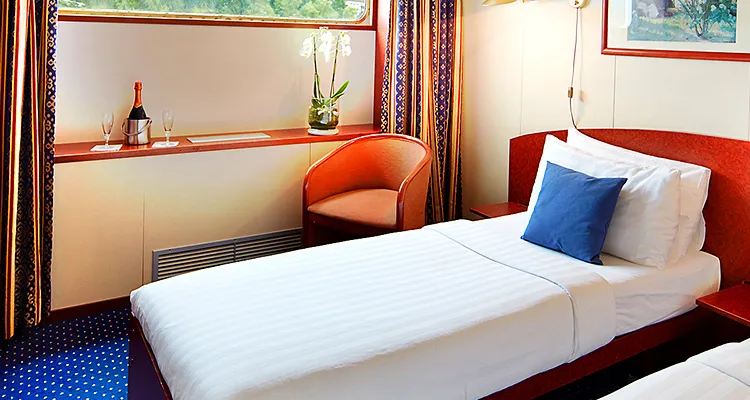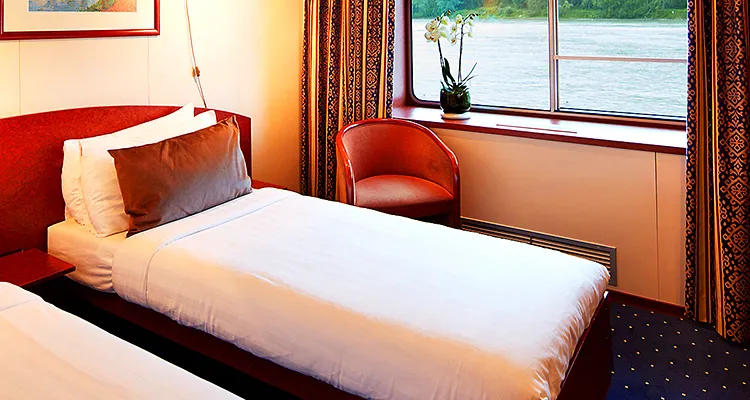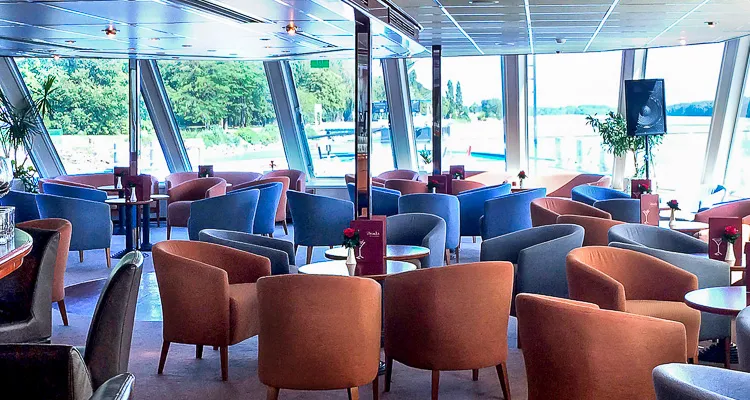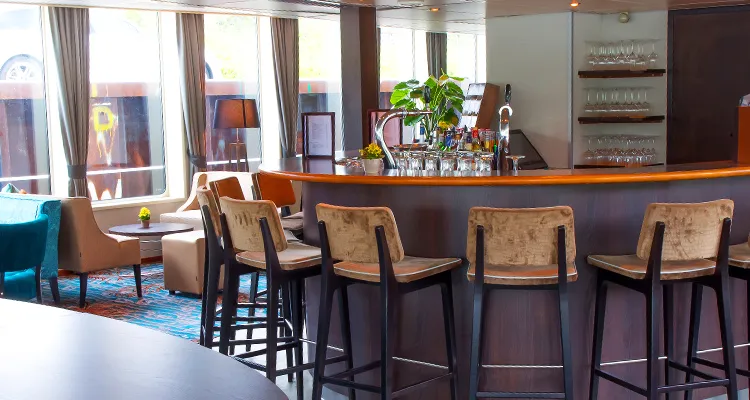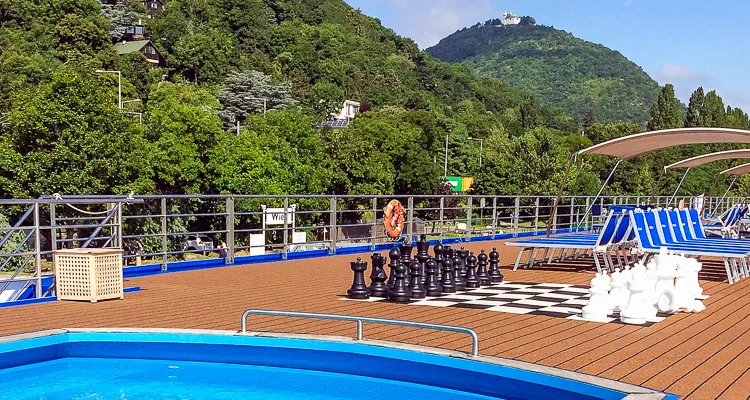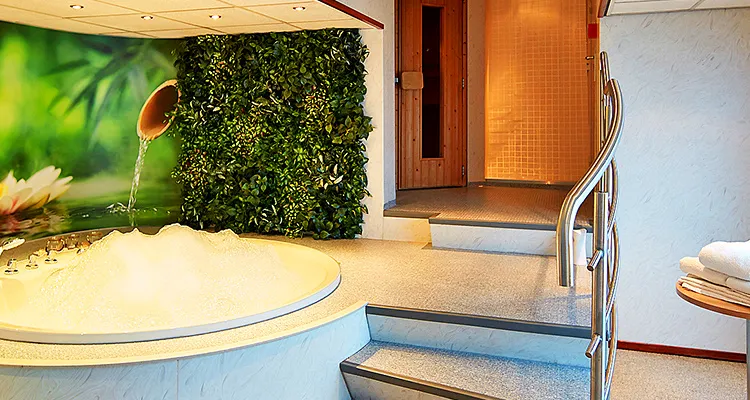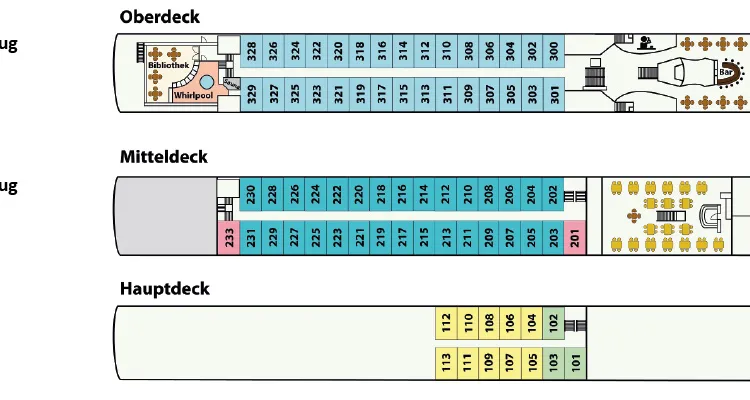 MS Carissima
75 outside cabins: approx. 14 m².
Double beds that can be separated into two single beds.
On the main and middle decks you can also book the cheaper cabins in the rear or front area of the MS Carissima. In these cabins, however, engine and generator noise can be heard when the ship is in motion and in locks.
Fittings: Individually controlled air conditioning, shower/WC, hairdryer, satellite TV, mini-safe, window
The windows on the main deck cannot be opened. The panorama windows on the middle and upper deck can be opened.
Boat facts
3 passenger decks | 75 outside cabins
Maximum occupancy: 150 passengers
Length: 110 m
Width: 11.4 m
Fittings: Lounge with large panoramic windows on three sides, bar, restaurant, sun deck with outdoor pool (June – August) and deckchairs, chairs and tables, wellness area with sauna and whirlpool, library, on-board shop
Languages on board: German, English
Show more
Show less
Additional Services
Additional bookable services
Main deck

Middle deck

Upper deck

Discount cabins in the front/back

Surcharge for single use of double cabin

Supplement guided cycling tours
All prices are per person
Additional nights
Room

Breakfast

Main deck

Middle deck

Upper deck

Passau
All prices are per person
Package with guided cycling tours
You can easily turn your individual journey by bike and boat from Passau to Belgrade into a guided bike tour. To do so, simply book our package with cycle tour guide.
Here, a cycle tour guide accompanies you on the daily cycle tours. In small groups of 10 to a maximum of 18 people, you will learn many details about the country and its people and be shown hidden sights or secret places.
You will also get to know Vienna, Budapest and Belgrade comfortably by bus on a city tour.
Included services:
Cycling tour guide
City tour by bus in Vienna
City tour by bus in Budapest
City tour by bus in Belgrade
Ferry fees
On the following travel dates you can book the package with guided cycling tours:
Show more
Show less
Rental Bikes
Rental Bikes

Rental Bike
89 €

E-Bike
199 €
| Rental Bikes | |
| --- | --- |
| 21- or 24-gear Rental Bike | |
| | |
Brief Information
Booking Code
DE-DOSET-15I
Start / Destination
Passau
Duration
15 days / 14 nights
Length
approx. 355 / 410 km
Daily routes ●●○○○
between 40 and 55 km, Ø 45 km
Altitude profile ●○○○○
Note
In Austria, helmets are compulsory for children up to the age of 12.
Parking information
Fenced, uncovered parking incl. transfer to / from the ship: 109 €.
Parking garage incl. transfer to / from the ship: € 123
You will receive the registration form for this with your travel documents.
Minimum number of participants
Minimum number of participants to be reached up to 28 days before departure: 90 persons.
For boat trips, changes due to weather, water level or technical conditions are possible and remain reserved.
Own bikes
If you do not need a rental bike, please indicate in the booking form, whether you arrive with your own bike or your own E-Bike.
Tour operated by
Local cooperation partner
Mobility note
This holiday is suitable to only a limited extent for people with restricted mobility.
Please contact us if you have individual requirements.