Cycling holidays along the Main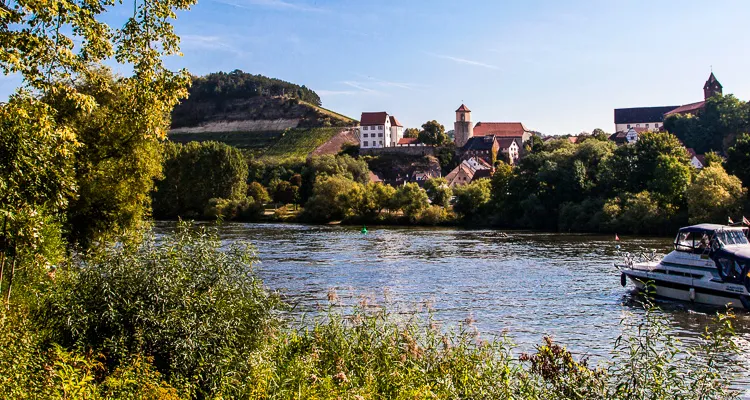 Hospitality and great beer – the Franconians are known for this throughout Germany!
The Main connects Beer Franconia with the lesser known Wine Franconia. Vineyard for vineyard can be found along this lovely lazy river. The grapes benefit from the mild climate and the many hours of sun. And you'll be raving about the pleasant temperatures, lots of sunshine and the peace and calm of the river on your cycling holiday! The cycle path is always alongside this lovely river. The peace and calm of the Main can be infectious on your cycling holiday. Idyllic villages line the banks. And bike tourists are taken care of very well: The paths are in tip-top condition, the signs are excellently positioned and the route follows level ground.A cycling holiday along the Main is something for the bon vivants among us. Delicious food, a lot of culture and of course some great beers and sophisticated wines are always to be found as you cycle along the Main.
Show more
Show less
The classic cycling holiday along the Main takes you from Bamberg to Aschaffenburg in a week. If you're planning a longer cycling holiday, from Bamberg you'll be getting closer to the source of the Main. And if you fancy a spontaneous quick break – that's no problem!
If you're more interested in beer than wine, then our Beer Tour is definitely something for you! This cycling holiday takes you through the heart of Beer Franconia. Numerous breweries and beer gardens are the reward for the occasional hill.
A cycling holiday along the Main - one of our insider tips is the connection between the Main and the Taubertal valley. From the beautiful Rothenburg ob der Tauber you cycle on a circular tour through the romantic Taubertal valley to the Main. This Bike Tour through Franconia takes you past some excellent wines, as there are some excellent grapes to be found along the Tauber.
Show more
Show less