Cycling holidays in France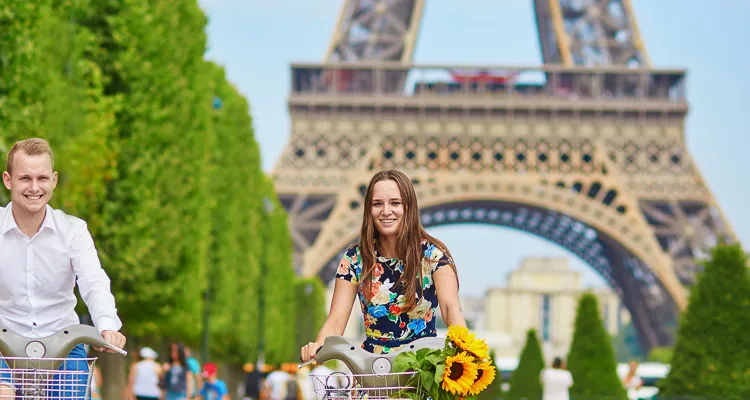 Bonjour et bienvenue en France! Welcome to France, welcome to the country that is yet to be matched! In France, the culture, almost inexhaustible historic treasures and unique landscapes all vie for your attention. On a cycling holiday in France, experience their well-known savoir-vivre up close! Explore a country full of opposites. Experience the cliffs in Normandy, the castles in Alsace, the countless palaces along the Loire, the centuries-old wine-growing traditions of Burgundy, the lavender fields of the Provence and the Seine metropolis of Paris. And there's lots to discover in France by bike & boat.
Your cycling holiday is also garnished with the French cuisine and top wines. The wine and food is known internationally, not to forget the sparkling champagne that is produced here. As a lover of fine wines, you will definitely enjoy the hours spent on a cycling holiday in France. A good glass of wine must be accompanied by a piece of cheese. Over 1000 types of cheese are produced in France. Try a Camembert au Calvados from Normandy, a Munster cheese from Alsace or a Banon from the Provence. As France doesn't just have one single type of cuisine you'll find there are many different local dishes to be tasted. Try a rich bouillabaisse, a hearty bœuf bourguignon or a savoury tarte alsacienne. France really is a land of connoisseurs. Enjoy it too!
Show more
Show less
Steep cliffs, picturesque beaches and historic delicacies - Normandy welcomes you with a warm salut! On a cycle ride in Normandy you can expect not just over 200 different landscapes, there are also countless cathedrals, palaces and estates to be discovered too. Get to know a region that is practically bursting with diversity and tops that with an excellent cuisine! Admire Notre-Dame cathedral in Rouen and discover the maritime charm of Honfleur. Follow the traces of the artist, Claude Monet, who made Normandy even more famous thanks to his impressionist works of art. A visit to the landing beaches in Bayeux is definitely worthwhile. Ideal if you want to pursue the events of the World War II.  
The Alsace awaits you further east. Because of its eventful history, sometimes part of France, sometimes part of Germany, the Alsace is well known today for its unique mix of cultures.
Between Vosges and Rhine on a cycling holiday in the Alsace you'll find seemingly endless vineyards along the Alsace Wine Route. Timber-framed houses, stork nests and castles waiting to be explored all line your way. Typical Alsace towns such as Strasbourg and Colmar bring to life Medieval history. Treat yourself to a glass of wine in any of the rustic wine cellars. Don't forget to order a tarte flambee with onions, bacon and creme fraiche on the side!
Located in the heart of France, Burgundy takes you on a pleasure trip through one of the most diverse regions of the country. Gnarled vines, weighed down heavily with grapes are lined in tight rows and produce some extremely fine wines. The internationally known Dijon mustard, Escargots á la bourguignonne or the meat from the Charolais cattle will be a source of enjoyment for every gourmet. Optically, France offers witnesses to the past you can really immerse yourself in. Cluny and Fontenay Abbeys will charm you, similarly Dijon, the capital of Burgundy.
At one of the last wild rivers in France, hundreds of fairytale-like castles and palaces await you along the Loire. From the Middle Ages onwards, wonderfully magnificent buildings were erected in this Valley of Kings along the Loire, which reflect France's history. The simple rustic charm of the Loire valley is a perfect contrast to these magnificent buildings. Wander along the traces of Jeanne d'Arcs in Orléans, cycle through France's gardens close to Tours and admire the tuffeau stone caves at Saumur.  
France's most watery river, the Rhône, begins in Switzerland and winds its way almost 800 kilometres to the Mediterranean. On a cycling holiday along the Rhône, you'll pedal past might mountain peaks and sunny vineyards. Look forward especially to your destination in Lyon - food capital of the world! In the Bouchons Lyonnais, try Lyon's traditional cuisine and treat yourself to a glass of red wine from Beaujolais.
In contrast the south of France awaits with violet fields of lavender, white horses and sleepy little villages. And the sea! No matter whether it's the Canal du Midi, the Provence or the Camargue, a cycling holiday in the South of France is pure relaxation. Get to know this country and its people at your own pace. Cycle along the Canal du Midi from Sète to Toulouse. Admire the canal's many locks and bridges. Don't miss the unusual cultural heritage of the pink town of Toulouse. Forget about time in the Provence when you wander through the old town of Avignon or the Camargue, where it's not unusual to find flamingos or black bulls in the streets!
Au revoir and à bientôt in France!
Show more
Show less