Cycling holidays around Lake Constance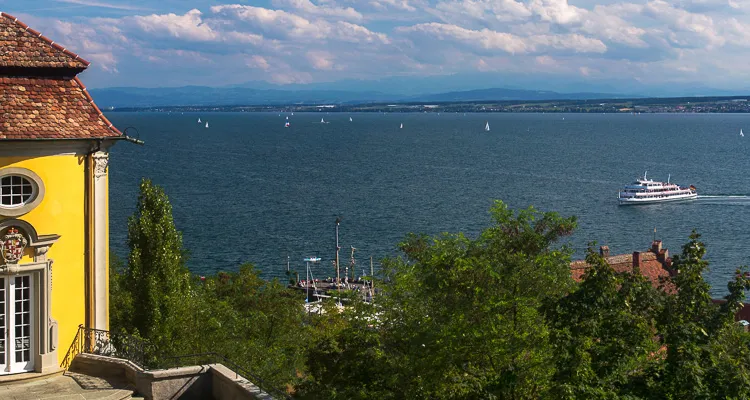 You cycle along level ground, following paths around Lake Constance, enjoying the views of the impressive Alpine peaks, the gentle hills of Upper Swabia or the volcanic mounds of the Hegau. Next to you, the water glitters in the sun. Cast a glance at our range of very different cycling holidays: On a cycling holiday on Lake Constance a whole range of wishes can be fulfilled. The region is popular not just because of its diversity.
No matter whether you're planning a spontaneous short break or a longer holiday: On our cycling holidays on Lake Constance, we've got something for everyone!
Show more
Show less
---
The classic Lake Constance cycling tours lead once around the lake according to the motto only the best. You visit the most famous sights, cycle through three countries and, if you want, even to the Rhine Falls. The classic Lake Constance cycling tour is available in two versions: The tour on the Lake Constance cycle path with boat trips and a detour to the Rhine Falls, or the Lake Constance cycle tour.
If you want to keep the daily sections short, to have more time for small and large sights, we recommend the cycling tour around the Upper Lake. The paths are on level ground here and the sections are pleasantly short. And if you're looking for a suitable cycling holiday on Lake Constance for you and your family, these cycling holidays are perfect. Even children can cycle these sections easily. And there's always enough time to hop into the lake for a dip or stop off for an ice cream.
The island of Mainau, the pile dwellings in Unteruhldingen or the Zeppelin Museum in Friedrichshafen – you can't decide which of the many sights you want to see? How about the great Lake Constance cycling Holiday. On this cycling holiday, ample time and many sights are already included. A slight detour takes you into nearby Appenzeller Land and to the impressive abbey in Saint Gallen.
If the sights are not as important as the time spent on your bike, then why not try one of our more athletic cycling holidays around Lake Constance: Whether once around or our short tour, every sporty cycling tour around Lake Constance has its very own challenge.
And if you think you've seen everything on Lake Constance already, well, we've got something up our sleeve for you: The Cycling Tour through Lake Constance Hinterland connects the most beautiful sections on Lake Constance with Upper Swabia and the Allgäu region. This wonderful cycling holiday is also available as a more advanced athletic version.
Show more
Show less