Cycling holidays in East Frisia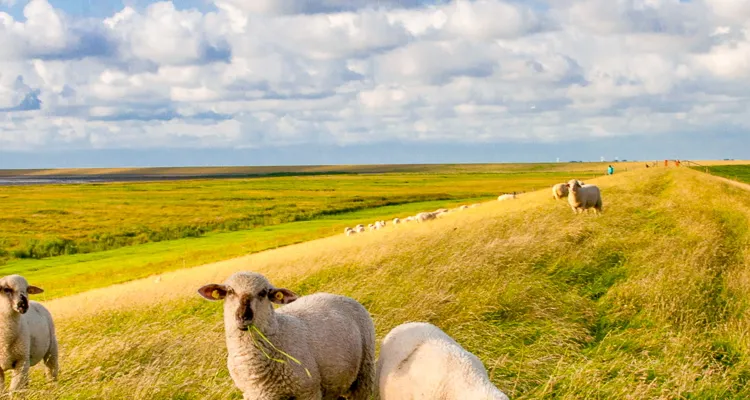 Our cycling holidays in East Frisia take you to the northwest of Germany. Small but beautiful, the region stretches between the North Sea, the Ems and the Jade Bay. Varied landscapes await you, characterised by geest areas, marshland and upland moors. The East Frisian Islands are located off the mainland and are strung together like a string of pearls. As part of the Lower Saxony Wadden Sea National Park, the islands not only offer you the daily experience of low and high tide, but also a unique flora and fauna that is second to none.
On our cycling holidays in East Frisia, you are never far from the water. Whether on land or on one of the islands, enjoy the fresh sea air, the seemingly endless view of the North Sea, small picturesque towns and the sweet idleness on the kilometres of fine sandy beaches. With a bit of luck, you might catch a glimpse or two of the seals and grey seals cavorting on the sandbanks. Thanks to the flat and well-signposted cycle paths, our cycling tours in East Frisia are ideal for cycling tour beginners, but connoisseurs and leisurely cycling holidaymakers also get their money's worth. Take part in a teetied, the famous East Frisian tea time. The East Frisians celebrate their enjoyment of tea on many occasions, including as a welcome drink. East Frisians have the highest tea consumption worldwide.
Show more
Show less
The seaport city of Emden is ideal for setting off on our cycling holiday East Frisia. In addition to excursions to the islands of Borkum and Norderney, you will get to know the shrimp cutter harbour in Greetsiel, the moated castle in Dornum, the seal station in Norden and the town of Jever, famous for the beer of the same name.
Our cycling tour in Germany and the Netherlands also starts from Emden. The route leads through places that were once created by moorland colonisation, including southern East Frisia. You will get to know the old port and trading town of Leer, also known as the gateway to East Frisia, and Papenburg, which is characterised by canals. You cycle past locks, bascule bridges, windmills and red-brick houses to the Dutch province of Groningen with almost no inclines.
Show more
Show less