Cycling holidays at the Danish North Sea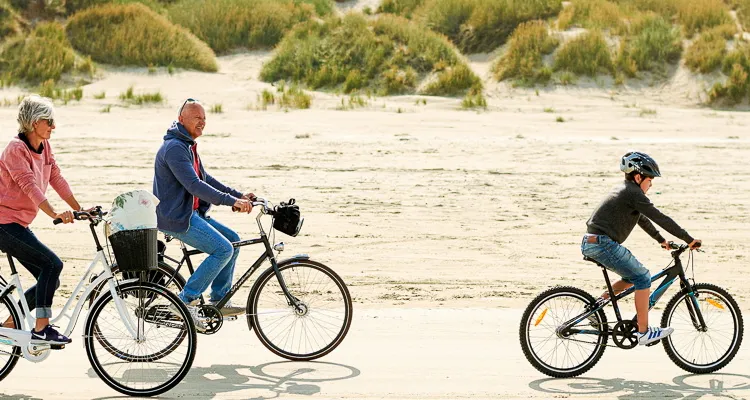 Take a deep breath and enjoy impressive coastal landscapes – the sky is the limit! With our cycling holidays at the Danish North Sea coast you can make it happen! Despite the somewhat rougher weather conditions at the North Sea, you will experience impressive and relaxed cycling holidays which you´ll keep in your memory for a long time. On our cycling holidays along the Danish North Sea coast you will discover the islands of Romo and Fano. All the beaches of Romo together represent Europe´s largest sandy beach and are a real paradise for sports enthusiasts.
You will be impressed by Fano´s long beaches, dunes and forests. Fano is the northernmost isle of the European Wadden Sea , covered with traditional fishing villages, reeds covered roofs and flower gardens – a dream come true! Just a stone´s throw away you find Esbjerg, Denmark´s youngest city. Its landmark – the sculpture Man Meets the Sea - can be seen from far away.

There are some more highlights worth to be seen on our cycling holidays at the Danish North Sea coast: the cities of Ribe and Tonder. With its charming ancient city centre, Ribe is regarded as Denmark´s oldest town. Formerly located on the coast, Tonder became famous through the craftsmenship of  pillow-lacing. On our cycling holidays at the Danish North Sea Coast you´ll find cycle paths easy to ride as well as fresh air and beautiful sunsets. Hiking across the Wadden Sea ground, you will learn a lot about its fascinating fauna and the interplay of flood and tide.
Show more
Show less
Flood and tide, rough coastal landscapes and endless beaches – our bike tour to Sylt, Rømø and Hooge leads you to the nicest North Sea islands. You will discover charming harbor villages, reed-covered roofs, lighthouses as well as the unique fauna of the Wadden Sea. Last but not least, you will also explore the wild coastlines of Jutland and Schleswig-Holstein.
The North Sea islands of Sylt, Rømø and Fanø can be discovered best on our North Sea Cycle Path in Jutland. Riding along the German-Danish Wadden Sea, you reach Ribe, Denmark´s oldest town with its splendid old city centre. Compared to that, Esbjerg – the destination of this tour – is a rather young city (approx. 150 years). Its harbor plays a significant role in Denmark.
Show more
Show less