Cycling holidays in North Frisia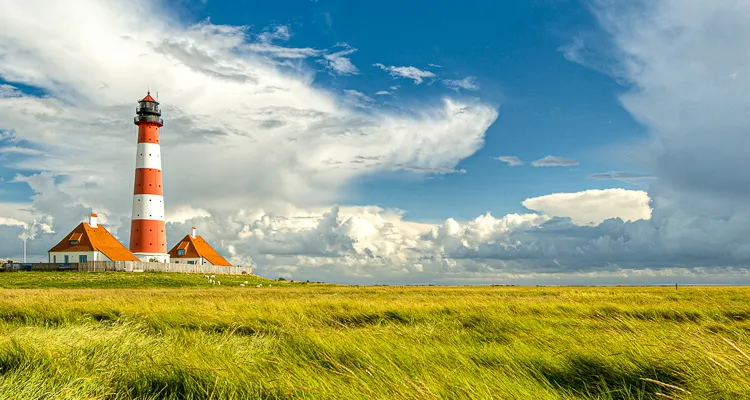 Sun and beach, wind and sea, peace and relaxation – on our cycling holidays in North Frisia you will experience the complete cycling holiday package in one of Germany's most popular holiday regions.
North Frisia, that is the North Frisian Islands and Halligen as well as the coastal strip between the German-Danish border and the river Eider. Our cycling holidays in North Frisia are ideal for getting to know the scenic and cultural diversity of a region by bike. Characterised by its typical Nordic way of life, towns and villages steeped in tradition, remarkable coastline, forest and dune areas, North Frisia leaves lasting impressions and memories of a very special stretch of land.

Special highlights of our cycling tours in North Frisia are the islands of Sylt, Föhr and Amrum and the Hallig Hooge in the middle of the Wadden Sea National Park. While Sylt, the largest island in the North Sea, is known for its chic lifestyle, the kilometre-long white sandy beaches on Föhr give you a Caribbean feeling. Amrum has the largest lighthouse on the German North Sea coast. Hallig Hooge offers pure idyll and seclusion. South of Husum you will find gems such as the Dutch town of Friedrichstadt or the old harbour town of Tönning, as well as the Eiderstedt peninsula with Sankt Peter Ording, famous for its kite surfers, and the picturesque Westerhever lighthouse and the Eider barrage.

On our cycling holidays in North Frisia, you can go on a mudflat hike that will introduce you to the special flora and fauna of this unique habitat as well as the tides. Freshly invigorated, your cycling will be much better. On our cycling holidays in North Frisia, try the many traditional North Frisian fish dishes, the Frisian cake and the Pharisee, a sweetened coffee with rum and cream.
Show more
Show less
Pure island feeling comes on our bike tour to Sylt, Rømø and Hooge. Here you combine experiencing the most beautiful North Sea islands with cycling fun along the coasts of Schleswig-Holstein and Jutland. Small harbour towns, thatched houses, colourful lighthouses and freshly caught fish – welcome to North Frisia!
Our Bike tour through Schleswig is an unforgettable journey through the rich history and breathtaking scenery of this region. Along the coast of the Baltic Sea fjord Schlei, the route takes you to idyllic fishing villages and offers spectacular views of the sparkling water. The rolling hills and green fields of the surrounding area invite you to enjoy nature and taste the regional cuisine in cozy inns.
Show more
Show less