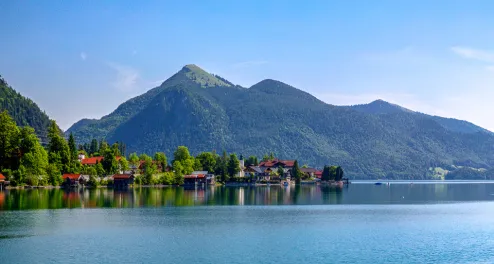 Cycle Tour through Upper Bavaria
From Munich to the home of the Zugspitze
Munich – Garmisch-Partenkirchen – Munich
Lakes Starnberger See, Osterseen, Staffelsee, Sylvensteinsee, Tegernsee
Zugspitze, the highest mountain in Germany
Daily routes ●●●○○
Altitude profile ●●○○○
For those who appreciate the proverbial Bavarian cosiness this cycling holiday in Bavaria is the right choice. The metropolis Munich with its countless rich cultural treasures is the start and finish point of this tour, which takes you to the famous lake district. Lake Starnberger See, Tegernsee, Staffelsee and Lake Eibsee wait to be discovered and an excursion to Mount Zugspitze is definitely a special highlight (not included).
Itinerary
Booking code
SO-BYMM9
Start / Destination
Munich
Duration
10 days, 9 nights
Length
approx. 330 km
Daily routes ●●●○○
between 30 and 60 km, Ø 50 km
Altitude profile ●●○○○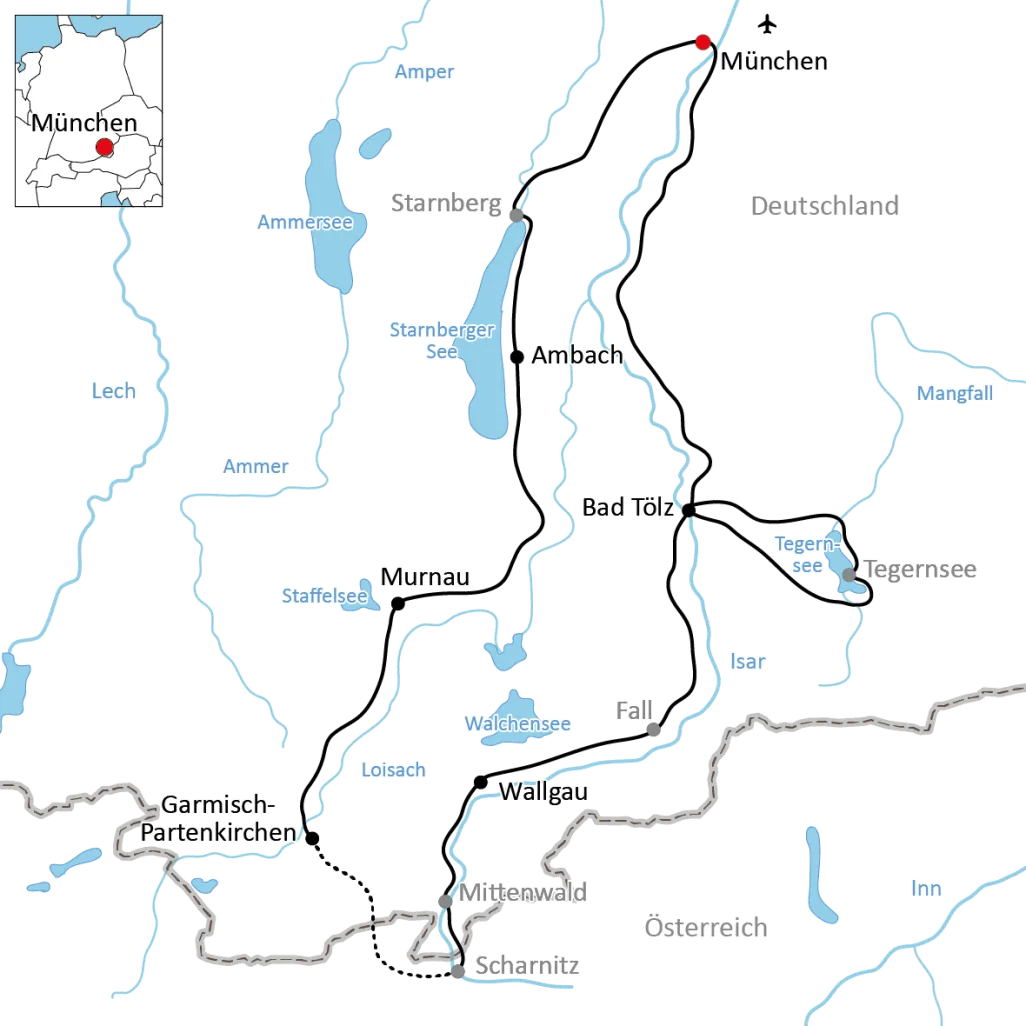 Day 1: Individual arrival in Munich
Linger in the hustle and bustle of the Bavarian Metropolis, enjoy the view from the Olympia Tower and discover the city's history by taking a look at the amazing architecture. You can also visit significant museums, such as the Pinacothek art galleries, or the famous Deutsches Museum (German Museum), in which one could spend days on end. 
Day 2: Munich – Starnberger See, approx. 45 – 60 km
The first stretch of your journey will take you through the Forstenrieder Park to the Starnberger See lake. This deep and mysterious lake became famous due to the death of the fairy-tale king Ludwig II. There is a small chapel in memory of him. There is an abundance of fish in the lake, which you can savour freshly caught.
Day 3: Starnberger See – Murnau am Staffelsee, approx. 30 km
On wonderful paths you will cycle through original Bavarian villages. The Osterseen and Riegsee lakes will prepare you for today's destination, the Staffelsee lake. On your way countless bathing sites invite you to linger. The largest community around the Staffelsee is Murnau which awaits you with the Castle Museum and the Münter House.
Day 4: Murnau – Garmisch-Partenkirchen, approx. 40 km
First you will cycle through the Murnauer Moos, a gigantic natural moor. Due to its geology and countless streams and lakes a uniquely diverse flora and fauna has been maintained. Afterwards you will reach today's destination, the old post station at the Via Claudia and the venue of the Olympic Games and ski world championships.
Day 5: Stay in Garmisch-Partenkirchen
Today you decide yourself what you want to do. There's truly more than enough to discover in and around Garmisch-Partenkirchen. A trip up to the Zugspitze with the Zugspitz train (not included) is definitely worthwhile, as it is Germany's highest mountain. An alternative is to leisurely discover the region by bike.
Day 6: Garmisch-Partenkirchen – Wallgau, approx. 45 km + train ride
After a short train journey to Scharnitz / Tyrol you will cycle slightly uphill through the charming Alpine Foothill region up to the source of the Isar at the end of the Hinterautal Valley. Water wells surprisingly insignificantly in many places until it unites to become a wild torrent. Beneath the mighty summits of the Karwendel range you will first cycle to Mittenwald, through which a Roman road led in the ancient world. Today's destination is the very traditional town Wallgau.
Day 7: Wallgau – Bad Tölz, approx. 50 km
Today you will pass the Sylvenstein Lake, a fjord-like reservoir in the Isarwinkel region. In Bad Tölz, the famous moor and saltwater spa, you can indulge your senses with colourful facade paintings, framed by wonderful parks and gardens. The generous spa gardens, in which you can stretch legs tired from cycling beneath old trees and enchanting flower arrangements, are located in the town centre. One of the most famous guests who spent their summers in Bad Tölz was Thomas Mann, who especially appreciated the quietness and fresh air.
Day 8: Excursion to Tegernsee, approx. 45 km
Through the charming landscape of the Tegernsee lake you will cycle to Gmund which offers a stunning panorama. You should definitely plan a boat trip here. Through the Gaißbach valley you will cycle back to Bad Tölz. For those who are tired of cycling there is the option of taking the train. Alternatively you can relax in the thermal water at the Alpamare spa.
Day 9: Bad Tölz – Munich, approx. 60 km
Enjoy the unforgettable mountain panorama once again, before returning to Munich. Discover the special flair of the city and relive the past few days while enjoying a fresh Maß – a true Bavarian beer.  The traditionally popular Hofbräuhaus promises sociability. The Marienplatz square with its famous column and new city hall is the centre of the lively and charming city life.
Day 10: Individual departure or extension of stay
Today your cycle tour through Upper Bavaria ends and you will return home. If you wish we can extend your stay in Munich.
Show more
Show less
Dates / prices / services
Services
9 nights incl. breakfast, national 3* level, in Munich 4* level
Luggage transport from hotel to hotel, no limit on the number of pieces, max. 20 kg / piece
Train ride Garmisch-Partenkirchen – Scharnitz excl. bike
1 x Weisswurst breakfast
Cycle route description with maps (1 x per room)
Service-Hotline (7 days, 8 a.m. – 8 p.m.)
Not included:
Bike ticket for the train ride Garmisch-Partenkirchen – Scharnitz, approx. 5 euro per bike
City or visitor's tax (if payable)
Show more
Show less
| Child reduction on basic price | | |
| --- | --- | --- |
| discount-icon discount-icon-baby | | |
| discount-icon discount-icon-lego | | |
| discount-icon discount-icon-football | | |
| discount-icon discount-icon-joystick | | |
Additional Services
Additional bookable services
| | |
| --- | --- |
| Additional fee single room | |
All prices are per person
Additional nights
Room

Breakfast

Price

Munich
All prices are per person
Rental Bikes
Rental Bikes

Rental Bike
109 €

E-Bike
259 €
| Rental Bike | |
| --- | --- |
| 7- or 21-gear Rental Bike | |
| | |
Brief Information
Booking code
SO-BYMM9
Start / Destination
Munich
Duration
10 days, 9 nights
Length
approx. 330 km
Daily routes ●●●○○
between 30 and 60 km, Ø 50 km
Altitude profile ●●○○○
Parking information
Parking in hotel garage, approx. 60 € für 10 days or free, unattended parking near the hotel. 
No reservation possible through Radweg-Reisen.
Tour operated by
Local cooperation partner
Mobility note
This holiday is suitable to only a limited extent for people with restricted mobility.
Please contact us if you have individual requirements.