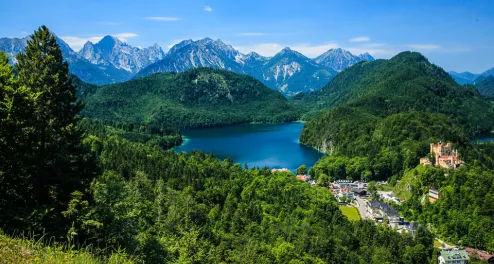 The Great Bike Holiday in Bavaria
From Constance through the foothills of the Alps to Salzburg
 Constance – Lindau – Bad Tölz – Chiemsee – Königssee – Salzburg
Lake Constance - Königssee cycle route
Magical castles, alpine panorama, many lakes
Daily routes ●●●●○
Altitude profile ●●●●○
Insider tip!
The hilly Alpine foothills are the backdrop for this bike holiday in Bavaria. Orchards, the peaks of the Alps, moors, forests and glittering lakes line your way. You will cycle through famous spa towns such as Bad Tölz and visit the magical fairy-tale castles Neuschwanstein and Hohenschwangau. Artful facade paintings and stately townhouses await you in the small towns along the way. In your breaks you can savour the delicious Bavarian cuisine.
Itinerary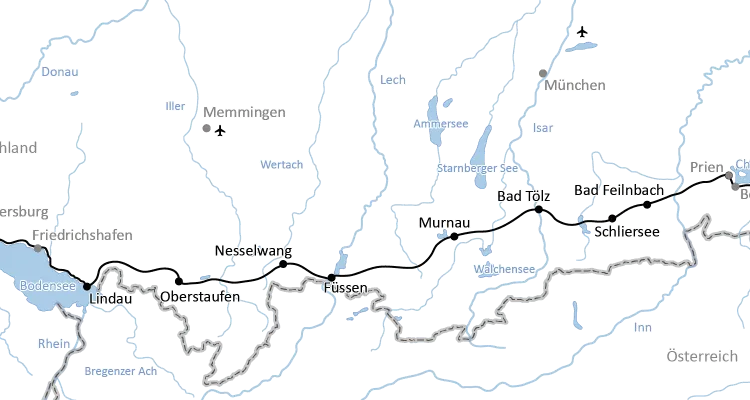 Booking code
SO-BOKO13
Start / Destination
Constance / Salzburg
Duration
14 days / 13 nights
Length
approx. 550 km
Daily routes ●●●●○
between 30 and 75 km, Ø 45 km
Altitude profile ●●●●○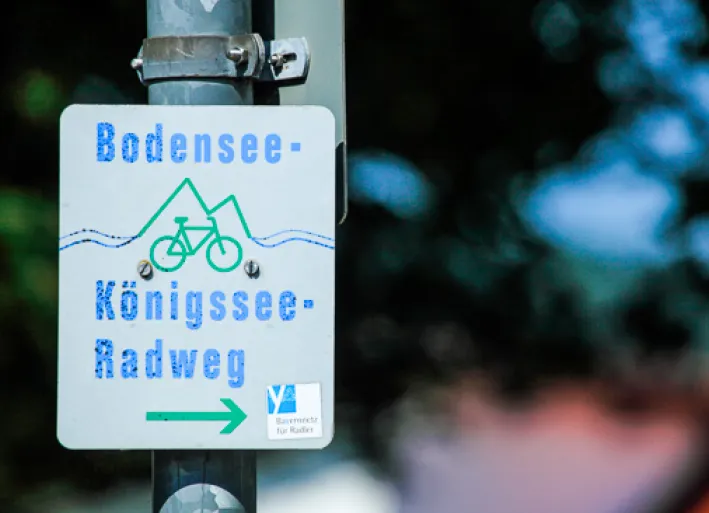 Day 1: Individual arrival in Constance
You start your tour in Constance, Lake Constance's biggest town. 600 years ago this was where the Council of Constance took place, the only council to elect a pope that was held north of the Alps. The Rhine leaves Lake Constance here and marks kilometer 0 on its way to the North Sea. Only a few minutes by foot from the medieval town centre is the Swiss town of Kreuzlingen with its lively harbour.
Day 2: Constance – Lindau, approx. 45 km + ferry
Take the car ferry to Meersburg and explore the historical town centre. When you have mastered the steep ascent to the picturesque castle, you will be rewarded with a fabulous view. You will cycle further along the lake, through Friedrichshafen, the birthplace of the Zeppelin and then to Lindau, the town located on an in island. The famous lighthouse and the harbour are a great destination for an evening stroll.
Day 3: Lindau – Oberstaufen, approx. 55 km
You will leave Lake Constance behind you and with a little luck you will have a beautiful panoramic view of the Alps. Your destination for the day is Oberstaufen which is a market town in Upper Allgäu. In the show dairy you can see not only how the tasty cheese is made but you get to try them, too. Enjoy the quiet atmosphere in these traditional places of the Alpine foothills in Bavaria.
Day 4: Oberstaufen – Nesselwang, approx. 50 km
You will cycle past the lake Großer Alpsee and through stunning valleys to Immenstadt. Green cow meadows, magnificent Baroque churches and crystal blue water characterise the landscape. After the lake Grüntensee you will reach Nesselwang. You can take the cable railway up to the peak of the Alpspitze. Alternatively, you can marvel at the more than 2500 painted and decorated eggs at the easter museum.
Day 5: Nesselwang – Füssen / Schwangau, approx. 30 / 35 km
An impressive mountain backdrop accompanies you to Füssen near the lake Forggensee. The picturesque landscape is crowned by Hohes Schloss, an impressive late Gothic castle. You will cycle further along the Romantic Road to Schwangau and soon you will feel like you're in a fairy tale: The picturesque Royal Palaces Neuschwanstein and Hohenschwangau are visible from afar.
Day 6: Füssen – Murnau, approx. 65 / 75 km
You will leave the castles of Neuschwanstein and Hohenschwangau behind you. En route to Murnau you will cycle through idyllic meadows filled with the romance of mountain pastures. You will pass the world famous Wieskirche, the church which embodies the Bavarian Rococo style. Set in a magnificent lake and moor landscape, the lake Staffelsee with its seven islands set against the backdrop of the Upper Bavarian Alps, comes into view.
Day 7: Murnau – Bad Tölz, approx. 50 km
You will first cycle to the lake Kochelsee and then further to Benediktbeuern. As early as the 8th century, a monastery was founded at the foot of the 1800 metre high Benediktenwand mountain range. Bad Tölz, the famous mud and saltwater spa, surprises visitors with colourful facade paintings. The extensive spa gardens offer a perfect opportunity to stop for a break. German novelist Thomas Mann was one of the most famous guests in the spa town.
Day 8: Bad Tölz – Schliersee region, approx. 35 km
Today's stage will take you along the edge of the Alps to Tegernsee, one of the best-known lakes and home to one of the most popular Bavarian beers. Enjoy the beautiful lake panorama in the small town of Gmund before cycling to Schliersee. This lake is typical for the Alpine foothills and is best explored from aboard a ship.
Day 9: Schliersee – Bad Feilnbach region, approx. 35 km
First you will cycle along the shore of Schliersee, afterwards your route will be slightly hilly. The city at the foot of Mount Wendelstein is a famous mud spa. Due to the mild climate and 30.000 fruit trees which grow in the region, Bad Feilnbach is also known as the Bavarian Meran. As today's stage is relatively short, you will have time to enjoy beautiful Upper Bavaria.
Day 10: Bad Feilnbach – Lake Chiemsee, approx. 35 / 50 km
Today you will cycle through the largest turf harvesting site in Bavaria. After crossing over the Inn river you will come to Neubeuern, which was once an important shipbuilding site. Cycling through Frasdorf with its cave museum you will finally come to the lake Chiemsee. As today`s route is short, you should take a trip to the Herren- und Frauenchiemsee islands.
Day 11: Lake Chiemsee – Inzell, approx. 30 / 45 km
Cycling around the Hochfelln, the local Chiemgau mountain, you will continue on along flat paths to Adelholzen, which is one of the oldest baths with healing waters in Bavaria. The Museum of Natural History and Mammoth Museum is located in Siegsdorf. The tour then leads you along the Roten Traun to the former mining village of Inzell which is now a spa town renowned for its clean, fresh air.
Day 12: Inzell – Berchtesgaden / Königssee, approx. 45 km
Up to now you were cycling along the edges of mountains, now the tour leads you through narrow valleys. In Schneitzlreuth you will reach the Saalach and follow the river to Bad Reichenhall, which to this day is one of the most important salt mines in Germany. Cycling along the Salinenweg route you will come Berchtegaden, which was an independent state up until 1803 and is dominated by the the well-known Watzmann mountain.
Day 13: Berchtesgaden – Salzburg, approx. 40 km
A beautiful circuit route leads you to Königsee in Berchtesgaden National Park. You will continue on along the Ache, passing through Marktschellenberg and on towards Austria into Salzburg territory. From afar you will be greeted by the Hohensalzburg, which towers above Hellbrunn Castle and will accompany you into the festival town.
Day 14: Individual departure or extension of stay
Today your bike holiday in Bavaria comes to an end and you begin your return journey home. We would, however, be more than happy to extend your stay in Salzburg.
Show more
Show less
Dates / prices / services
Season A
09.04. - 22.04.
25.09. - 08.10.
Season B
23.04. - 07.05.
04.09. - 24.09.
Services
13 nights incl. breakfast, national 3* level
Luggage transport from hotel to hotel to Salzburg, no limit on the number of pieces, max. 20 kg / piece
Boat trip Constance-Staad – Meersburg incl. bike
GPS tracks available on request
Cycle route description with maps (1 x per room)
Service-Hotline (7 days, 8 a.m. – 8 p.m.)
Show more
Show less
Additional Services
Additional bookable services
| | |
| --- | --- |
| Additional fee single room | |
All prices are per person
Additional nights
Room

Breakfast

Price

Konstanz

Salzburg

Salzburg (Season A+B)

Salzburg (Season C)
All prices are per person
Rental Bikes
Rental Bikes

Rental Bike
169 €

E-Bike
399 €
Types of rental bikes
8-gear unisex bike, hub gears with back-pedal brakes (men's bikes from 1.75 m)
27-gear unisex bike, derailleur gears with free-wheel (men's bikes from 1.75 m)
Electric bike with free-wheel
Fittings
pannier, handlebar bag, milometer, bike lock, pump, repair kit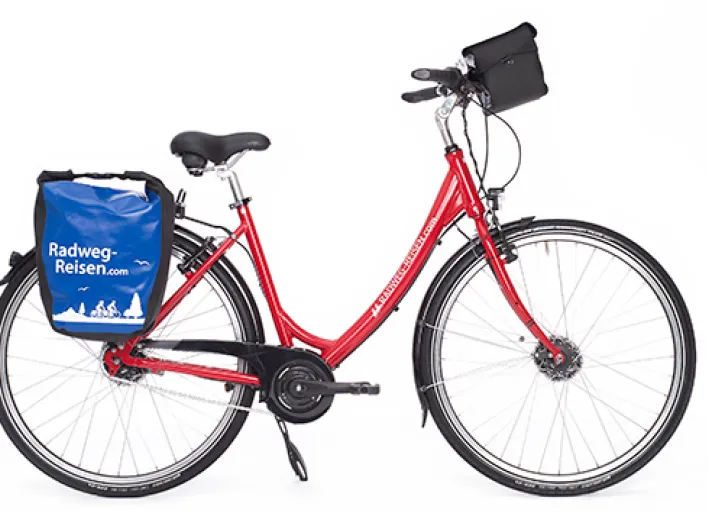 | Rental Bike | |
| --- | --- |
| 8- or 27-gear Rental Bike | |
| | |
Brief Information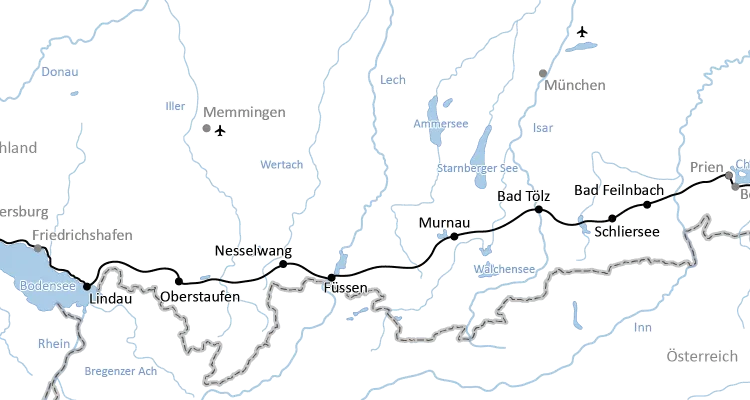 Booking code
SO-BOKO13
Start / Destination
Constance / Salzburg
Duration
14 days / 13 nights
Length
approx. 550 km
Daily routes ●●●●○
between 30 and 75 km, Ø 45 km
Altitude profile ●●●●○
Returning to Constance
Travel by train (on your own initiative); Connections hourly, duration approx. 6 hours, 1 – 3 changes.
Tour operated by
Local cooperation partner
Mobility note
This holiday is suitable to only a limited extent for people with restricted mobility.
Please contact us if you have individual requirements.