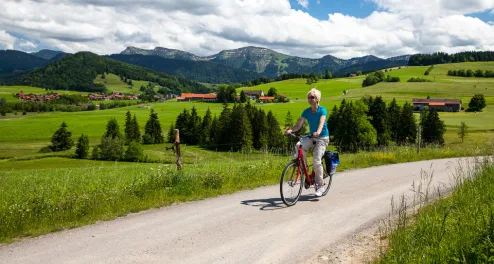 Cycling Tour through the Allgäu Region
Round trip from Lindau over green, rolling hills
Lindau – Füssen – Kempten – Lindau
Radweg-Reisen Tour
Cheese from the Allgäu region, Bavarian beers and Neuschwanstein Castle
Daily routes ●●●●○
Altitude profile ●●●●○
Along this cycling tour in the Allgäu region, the ever-changing backdrop of deep blue lakewater and high mountain peaks will accompany you along your way. From Lindau you get to know the countryside between Forggen and Lake Constance. This bike tour in the German-Austrian border area takes you through the beautiful countryside of the farmland of the Alpine foothills to fantastic castles. In the Allgäu your gaze will always drift to the magnetic sights of the snow-peaked mountains. Idyllic places, proud of their traditions and customs, line your route. The route is also wonderful in culinary terms! Try Allgäu cheese right from the dairy and allow yourself a Bavarian beer or two!
Itinerary
Booking code
BY-LL8
Start / Destination
Lindau
Duration
9 days, 8 nights
Length
approx. 310 – 345 km
Daily routes ●●●●○
between 25 and 70 km, Ø 55 km
Altitude profile ●●●●○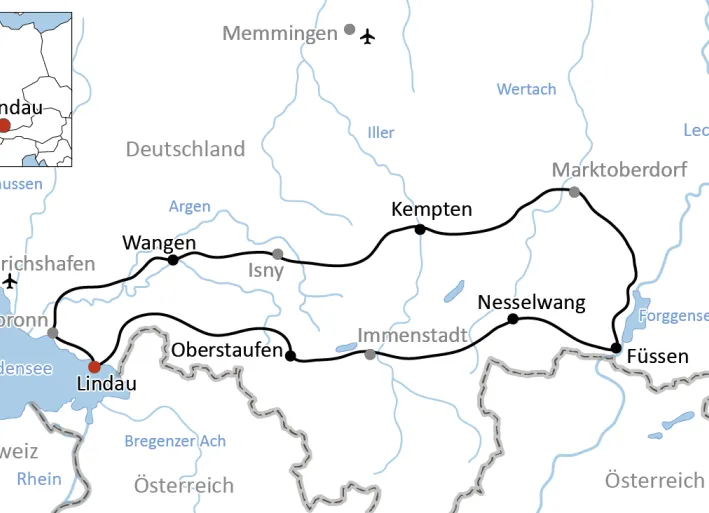 Day 1: Individual arrival in Lindau
Welcome to Lake Constance, the Swabian Sea. The labyrinthine Old Town of Lindau is home to beautiful shops and the Cathedral of Our Lady, which dates back to the year 810. It impresses with its ceiling murals as well as its Rococo-style interior. Stroll along the town fortifications from the 12th century or through the narrow laneways past the old town hall. Rental bicycles, if reserved, will be available for collection at your hotel and your Cycling Tour through the Allgäu Region can begin.
Day 2: Lindau – Oberstaufen, approx. 55 km
You will leave Lake Constance behind you and with a little luck you will have a beautiful panoramic view of the Alps. Your destination for the day is Oberstaufen which is a market town in Upper Allgäu. In the show dairy, you can see not only how the tasty cheese are made, but you get to try them too. Enjoy the quiet atmosphere in these traditional places of the Alpine foothills in Bavaria.
Day 3: Stay in Oberstaufen
Enjoy a wonderful day in the Allgäu. Leave your bike where it is and take the mountain railway up to Oberstaufen's very own Hochgrat mountain! Up at almost 1800 metres, you have stunning panoramic views of the Allgäu region. If you prefer relaxing, spend a day at the spa, swimming at the Aquaria baths. With the Oberstaufen card, this attraction as well as many more are included during your stay. It's a great relaxed way of enjoying sunny Allgäu.
Day 4: Oberstaufen – Nesselwang, approx. 50 km
You will cycle past Lake Großer Alpsee and through stunning valleys to Immenstadt. Green cow meadows, magnificent Baroque churches and crystal blue water characterise the landscape. After Lake Grüntensee you will reach Nesselwang. You can take the cable railway up to the peak of the Alpspitze. Alternatively, you can marvel at the more than 2500 painted and decorated eggs at the easter museum.
Day 5: Nesselwang – Füssen / Schwangau, approx. 25 / 60 km
You will soon arrive at Forggensee lake, Germany's biggest reservoir. In Füssen you can visit Hohe Schloss castle, the former summer residence of the Augsburg bishops. Today, it accommodates a gallery. Alternatively you can go on a trip to the fairytale castle of Neuschwanstein, the famous castle that belonged to Ludwig II.
Day 6: Füssen – Kempten, approx. 70 km
Idyllic Allgäu treasures lie on your route to Kempten, one of the oldest towns in Bavaria. Underneath the Erasmus chapel is a unique museum that tells the history of the town in a room that has been rediscovered. A unique museum. In the former residence of Kempten magnificent rooms await you – some decorated in brilliant colours and others quite simply designed. The various decorative elements give the rooms a special flair.
Day 7: Kempten – Wangen im Allgäu, approx. 65 km
Today you will cycle in the Württembergian Allgäu region. From Kempten you will cycle past the Raggenhorn mountain towards Isny. Here the Old Town is a tempting place to spend some time. You will then continue on to Wangen, which in earlier times was famous throughout the entire region for its farmers' market. The Old Town of Wangen is a picturesque self-contained ensemble of buildings spanning from the Early Middle Ages to the Late Baroque period.
Day 8: Wangen im Allgäu – Lindau, approx. 45 km
After you have left Wangen, your cycling tour through the Allgäu Region leads you back towards Lake Constance. At Tettnang the second largest hop growing area in Germany begins. The warm climate and the many hours of sunshine between the Allgäu and Lake Constance allow the climbing plants to grow very well. Past Kressbronn you cycle back to Lindau along the shores of the lake. Enjoy the view of the Austrian and Swiss mountains.
Day 9: Individual departure or extension of stay
After breakfast your cycling tour in the Allgäu region comes to an end. We would be more than happy to extend your stay on Lake Constance.
Show more
Show less
Additional Services
Additional bookable services
| | |
| --- | --- |
| Additional fee single room | |
All prices are per person
Additional nights
Room

Breakfast

Price

Wangen im Allgäu / Lindau

other places
All prices are per person
Rental Bikes
Rental Bikes

Rental Bike
99 €

30-Gear Rental Bike
129 €

E-Bike
239 €
Types of rental bikes
27-gear unisex bike, derailleur gears with freewheel (men's bikes from 1.80 m)
30-gear unisex bike, derailleur gears with freewheel (men's bikes from 1.75 m)
Electric bike / Pedelec with freewheel (minimum age 16 years)
Fittings
Pannier, handlebar bag, milometer, bike lock, pump, repair kit
Here you find further information and pictures of our rental bikes.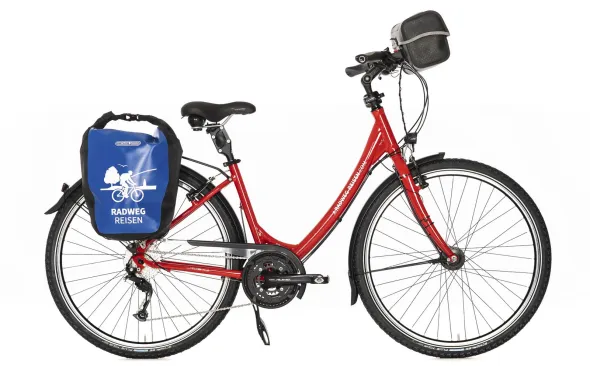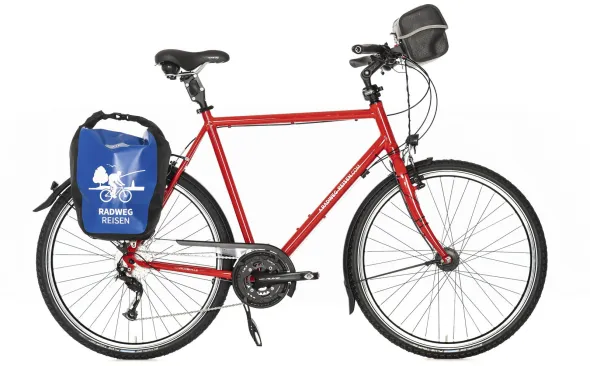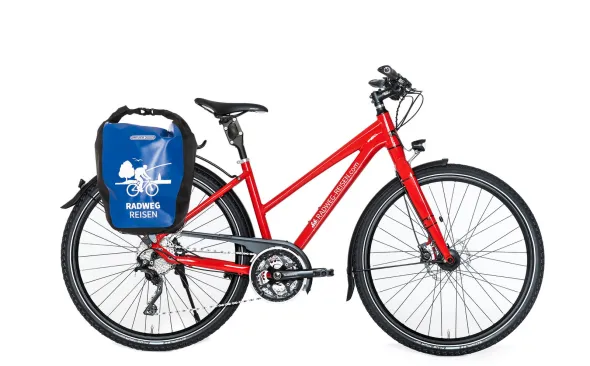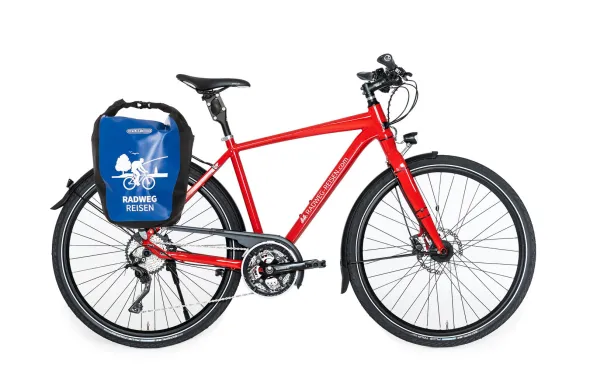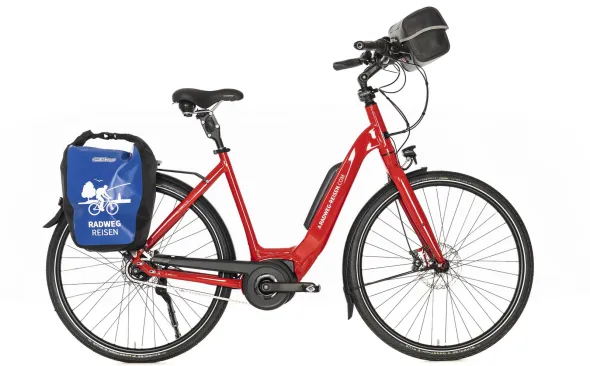 Brief Information
Booking code
BY-LL8
Start / Destination
Lindau
Duration
9 days, 8 nights
Length
approx. 310 / 345 km
Daily routes ●●●●○
between 25 and 70 km, Ø 55 km
Altitude profile ●●●●○
Route condition
The route runs mainly along quiet rural regional roads but partly along non-asphalted cycling and agricultural tracks. As the route leads through the hilly landscape of the foothills of the Alps, there are some flat sections but also some quite hilly sections.
Parking information
Karl-Bever-Platz P3, 254 parking spots, open 24 / 7, costs: approx. 10 € / day.
Seeparkplatz P5, 660 spots, open 24 / 7, costs: approx. 10 € / day.
No reservation possible through Radweg-Reisen.
Tour operated by
Radweg-Reisen
Mobility note
This holiday is suitable to only a limited extent for people with restricted mobility.
Please contact us if you have individual requirements.