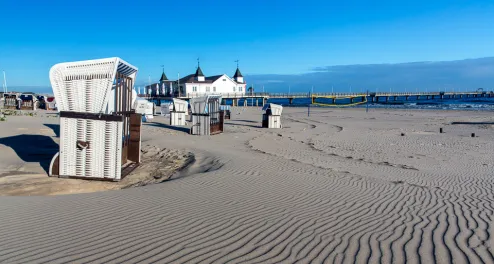 Baltic Sea cycle tour in Poland
From Szczecin via Usedom to Gdansk
 Szczecin – Leba – Gdansk
Beaches, Dunes and Forests
Hanse Town Gdansk
Daily routes ●●○○○
Altitude profile ●●○○○
Your cycle tour at the Baltic Sea in Poland runs alongside beaches and dunes, passing thick forests in the national parks of Wollin and Słowinski, through the quiet almost completely unspoiled Pomerania.The white sandy beaches along Poland's Baltic coastline stretch over 500 km. The countryside is interrupted here and there by old bathing places, where you feel as if time has come to a standstill since the 19th century. From Usedom and the highest lighthouse on the Baltic, you cycle to Gdansk, the elegant old Hanseatic town. The Baltic Sea cycle path takes you through the quiet unspoiled countryside of Poland's Baltic Coast.
This cycle tour is a semi-guided tour. You will be accompanied by a driver with whom you will meet at fixed transfer times. You have both the freedom of an individual cycle tour in terms of speed and break times, as well as the security of a guided trip. Because should you ever need help, there is always someone near you.
Itinerary
Booking code
EN-PLSD7
Start / Destination
Szczecin / Gdansk
Duration
8 days / 7 nights
Length
approx. 230 / 250 km
Daily routes ●●○○○
between 40 and 65 km, Ø 50 km
Altitude profile ●●○○○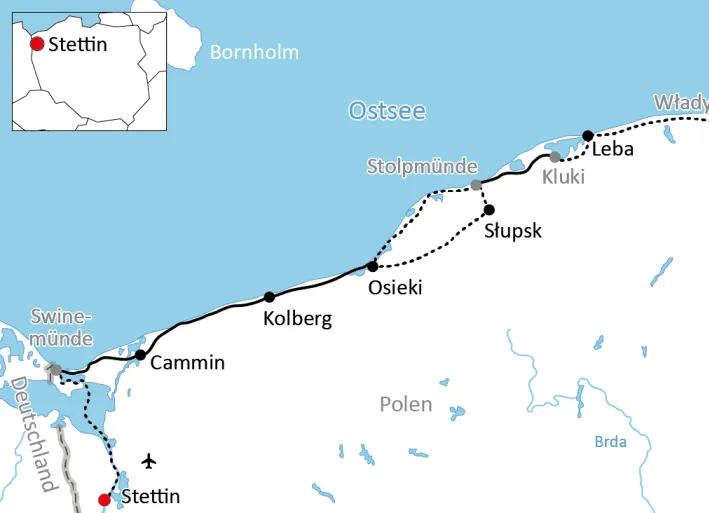 Day 1: Individual arrival in Szczecin
You spend your first night in the harbour town of Szczecin where the Oder flows into Szczecin Lagoon. At 5.30 pm you meet with your guide and start shortly thereafter for a city tour. Then you can wander through Szczecin's little Venice and feel the east wind on your face when you stop at the so-called Hakenterrace one of the most beautiful spots in Europe. Gourmets will love the cellar rooms of the Starka distillery, where they produce a unique type of vodka.
Day 2: Szczecin – Swinoujscie (bus), Swinoujscie – Kamien Pomorski, approx. 45 / 65 km
A boat takes you to Swinoujscie on Usedom. On your bike, explore the green forests of Wollin National Park. On the pier of the old spa resort of Misdroy you can take a break and admire the wonderful views of the cliffs. Passing idyllic lakes, which lie like tear-drops amidst the forests you finally reach today's destination. From the upper platform you have a beautiful view over the Kamien Pomorski Bodden.
Day 3: Kamien Pomorski – Kolobrzeg, approx. 50 km
In Kamien Pomorski you have ample time to visit the Piastenturm tower and the Gothic town hall, both built in typical red brick. You follow the Baltic Sea cycle path along the coast. In Hoff, if you take a closer look you'll see the ruins of a church on the cliffs. And what must be Poland's most beautiful lighthouse is also on your way. Stop in Niechorze and look out for it!
Day 4: Kolobrzeg ‒ Osieki / Słupsk, approx. 50 km + transfer
Today, the cycle path takes you through expansive lovely sandy dunes and a bird sanctuary. Cycling through small villages, you eventually arrive in Osieki, a picturesque village with only 200 inhabitants. If you stay overnight in Słupsk, you can easily reach the city in the hinterland of the Baltic Sea by the transfer bus.
Day 5: Osieki / Słupsk – Leba, approx. 45 km + transfer
A transfer in the morning takes you to Ustka. Leaving the summer capital, which has been a popular bathing resort for many centuries, you set off for Leba. On quiet roads, you cycle through the forested part of Słowinski National Park before reaching the small fishing village of Kluki, the last place in which the West Slavic language of Slovincian was spoken before it died out. A short trip by bus takes you to today's destination.
Day 6: Day off in Leba
Today you will find yourself in Poland's Sahara – surrounded by expansive sand dunes, some of which are shifting sand dunes. Some 10 m of forest are gradually covered by shifting sand dunes year for year. Leba lies between two lakes and the Baltic Sea – three stretches of water, which will tempt you to jump in for a swim on your day out of the saddle!
Day 7: Leba – Peninsula Hel, Hel – Gdansk approx. 40 km, by boat + transfer
Today you cycle along Poland's cow tail. The Hel peninsula is 34 km long but only 0.2 and 3 km wide – which is how it got its nickname. You can scrunch your toes in the sand on two beaches here. A ferry takes you to your destination of Gdansk, whose harbour-side silhouette cannot be mistaken. Neptune, God the Sea, watches over this magnificent Hanse town, which looks back on over 1000 years of history.
Day 8: Departure or extension of stay
Follow the footsteps of the characters from Günther Grass's novel The Tin Drum. Discover the hustle and bustle of the town which is a lively mix of different cultures, traditions and denominations. If you don't want to end your Baltic Sea cycle tour in Poland today, we are happy to extend your stay in Gdansk.
Show more
Show less
Dates / prices / services
Season A
06.05. - 20.05.
09.09. - 23.09.
Services
7 nights incl. breakfast, national 2* / 3*-level
Luggage transport from hotel to hotel until Gdansk, no limit on the number of pieces, max. 20 kg / piece
7 x Half board (Breakfast and Dinner)
Transfers Osieki – Slupsk – Ustka, Kluki – Leba and Leba – Wladyslawowo incl. bike
Sightseeing tour in Szczecin
Bus trip Szczecin – Swinoujscie incl. bike
Entrance open air museum Kluki
Boat trip Hela peninsula – Gdansk
Sightseeing tour in Gdansk
Cycle route description with maps (1 x per room)
Service Hotline (7 days, 8 a.m. – 8 p.m.)
Minimum number of participants: 2 people
Show more
Show less
All prices are per person
Additional Services
Additional bookable services
| | |
| --- | --- |
| Additional fee single room | |
All prices are per person
Additional nights
Room

Breakfast

Price

Danzig / Stettin
All prices are per person
Rental Bikes
Rental Bikes

Rental Bike
59 €

E-Bike
179 €
| | |
| --- | --- |
| 7- or 21 gear rental bike | |
| | |
All prices are per person
Brief Information
Booking code
EN-PLSD7
Start / Destination
Szczecin / Gdansk
Duration
8 days / 7 nights
Length
approx. 230 / 250 km
Daily routes ●●○○○
between 40 and 65 km, Ø 50 km
Altitude profile ●●○○○
Arrival
At 5:30 pm you'll meet your tour guide for a guided tour in Szczecin.
Please plan your arrival accordingly.
Parking possibility
Near the arrival hotel there is a guarded parking lot next to the hotel (chargeable).
No reservation by Radweg-Reisen possible.
Minimum number of participants
2 persons
Tour operated by
Local cooperation partner
Mobility note
This holiday is suitable to only a limited extent for people with restricted mobility.
Please contact us if you have individual requirements.