Cycling holidays on Funen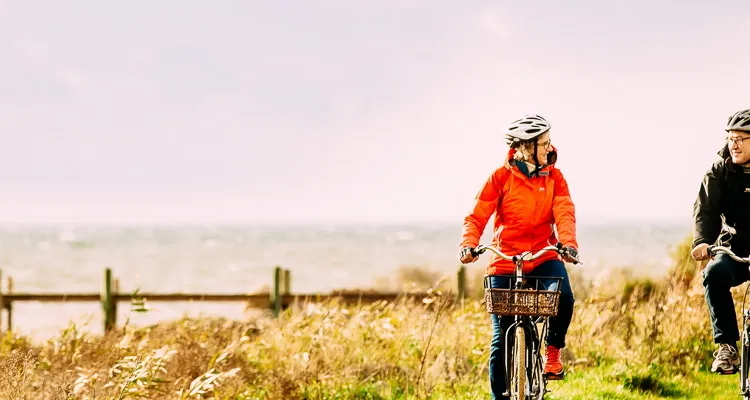 Welcome to the island of Funen! Funen – Danish: Fyn– Denmark´s third largest island – has everything that cyclists desire. On our cycling holidays on Funen you will discover relaxed towns and villages, romantic castles and impressive manor houses. Because of its rich flora and fauna, the island is also called Denmark´s Garden. While the north is rather flat, the south is more hilly and around Fåborg you find an area that´s called the Funen Alps. Funen is full of interesting sights worth to be seen, such as settlements of the stone age and over 120 castles and manor houses – more than in any other part of Denmark. One of the highlights on our cycling holidays on Funen is Castle Egeskov which belongs to Europe´s most beautiful water castles. Denmark´s most famous son, the writer Hans Christian Andersen who is known for his amazing fairytales was born in Odense. With its desert beaches and the smooth weather conditions, Funen belongs to the so-called Danish south sea.
Show more
Show less
The Little Belt is the strait between the island of Funen and Jutland. Starting in Flensburg, on our 8-day cycle tour around the Little Belt you will not only discover an area rich of whales but also lots of vivid harbor towns, charming villages as well as small and large islands.
On our tour on the Baltic Sea cycle path in Denmark you will ride along the coast of the Little Belt and discover the island of Funen. You will be inspired by the island´s relaxed atmosphere. On each leg there are idyllic castles, colourful houses and endless beaches waiting for you. With a fresh ocean breeze all around, you will get to know the cities of Middelfart, Fåborg and Svendborg. The peninsula of Helnaes and the island of Ærø are highlights of this 12-day tour, too.
Our cycle tour around Ærø also takes you to the Danish South Sea. From Fåborg and Svendborg, get to know the picturesque island of Ærø and the idyllic nature paradises of Lyø, Avernakø, Skarø, Drejø and Tåsinge. Each of the islands has its own charm worth discovering, which will let you spend a stress-free holiday.
On our family cycling tour on Funen you can enjoy a relaxed time – upon arrival in your hotel, your luggage is already waiting for you. Your starting point for each leg is Svendborg, a vivid harbour town in the south of Funen. Take the ferry to Ærø, go and explore Fåborg and Lundeborg as well as Egeskov Castle which belongs to Denmark´s most beautiful castles and was built on 1000 wooden piles around 500 years ago.  
Show more
Show less