Cycling holidays on Funen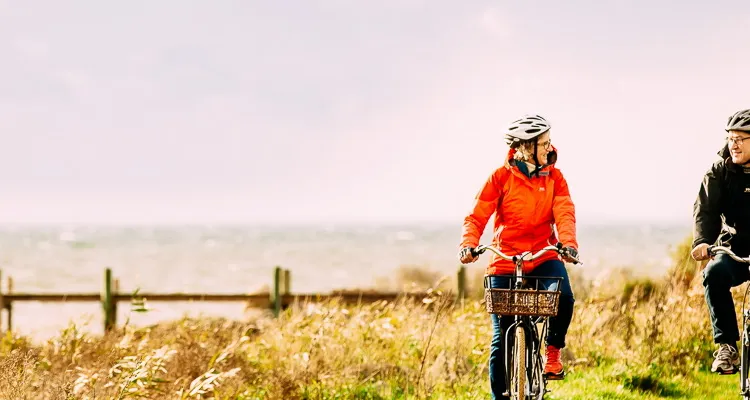 Welcome to the island of Funen! Funen - Fyn in Danish - is Denmark's third largest island. It offers everything a cyclist's heart desires. On our cycle tours on Funen, you will get to know relaxed towns and villages, romantic castles and sprawling manor houses. The island's lush flora and fauna have earned it the name Garden of Denmark. The north of the island is largely flat and even. The south, which is criss-crossed by hills, is striking and is home to the Funen Alps around Fåborg. The rich cultural landscape of Funen will inspire you on our cycle tours on Funen. Littered with historical testimonies documenting settlement since the Stone Age and well over 120 castles and manor houses, the number of which cannot be found in any other part of Denmark. One of the highlights of our cycle tours on Funen is Egeskov Castle, one of the most beautiful moated castles in Europe. The stories of the island's most famous son, the poet Hans Christian Andersen, who was born in Odense, are fairytale-like. He is commemorated in many places on Funen. With its offshore islands to the south, Funen is part of the Danish South Sea, which is characterized by secluded beaches and a mild climate.
Show more
Show less
The Little Belt is the strait between the island of Funen and Jutland. You start in Sønderborg and on our cycle tour around the Little Belt you will not only get to know one of the most whale-rich bodies of water in the world in eight days, but also a region characterized by small, lively harbour towns, picturesque villages and small and large islands.
On our tour on the Baltic Sea Cycle Path in Denmark, you will cycle along the coasts of the Little Belt and get to know the island of Funen. Be inspired by the relaxed island atmosphere. Discover idyllic castles, colorful houses and endless sandy beaches on every stage of the cycle route. With the scent of the sea in your nose, you will get to know the towns of Middelfart, Fåborg and Svendborg. The Helnæs peninsula and the island of Ærø are further highlights of this 12-day trip.
Our cycle tour around Ærø also takes you to the Danish South Sea. From Fåborg and Svendborg, get to know the picturesque island of Ærø and the idyllic natural paradises of Lyø, Avernakø, Skarø, Drejø and Tåsinge. Each of the islands has its very own charm worth discovering, allowing you to spend a stress-free vacation.
Show more
Show less