Cycling holidays in the Czech Republic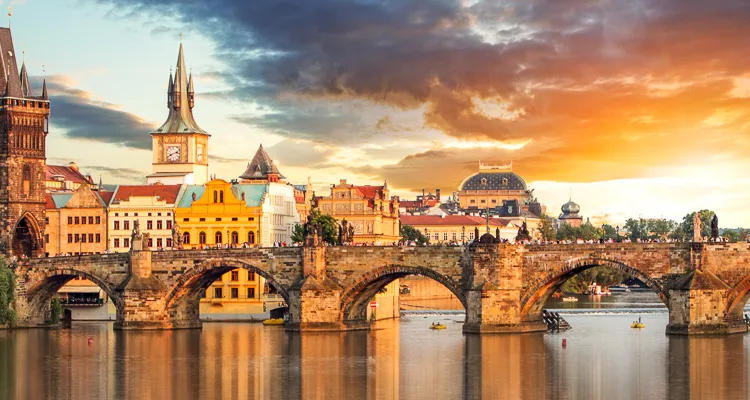 Our cycling holidays in the Czech Republic take you right to the heart of Europe, to a land of mountains, nature parks, forests, castles and medieval towns. The originality of nature immediately captivates all visitors. The most famous regions are Bohemian Switzerland, part of the Elbe Sandstone Mountains, the West Bohemian Spa Triangle with the fashionable spa towns of Karlovy Vary, Mariánské Lázn and Franzensbad, and the Giant Mountains. Some major rivers have their sources in the Czech Republic: the Elbe and Oder flow northwards, the Morava and Thaya towards the Danube. The longest river in the Czech Republic is the Vltava, which is crossed in Prague by the famous Charles Bridge and whose course Bedřich Smetana set to music in his symphonic poem The Vltava.
Cycling holidays in the Czech Republic are of the more demanding variety, as much of the country is hilly and mountainous. Historically remarkable and extremely well preserved cities can be found in the Czech Republic. First and foremost, of course, is the capital city of Prague, whose old town is a sight to behold. But Český Krumlov, which lies on the Vltava River in southern Bohemia, is also famous for its Gothic and Baroque buildings. For many, Krumlov is the most beautiful city in the country after Prague.
The Czechs are an extremely sociable people. This is also noticeable in the pronounced pub culture.
Show more
Show less
The cycle tour along the Elbe from Prague to Dresden takes you from the Czech capital on the popular Elbe Cycle Path past Mělník, Litoměřice, Saxon Switzerland to the Saxon Elbe Valley. Visit Schreckenstein Castle and marvel at the bizarre rocky world of the Elbe Sandstone Mountains. The historical capital of Saxony with its many baroque splendorous buildings awaits you at the end of your bike tour along the Elbe.
Show more
Show less