Cycling holidays around Copenhagen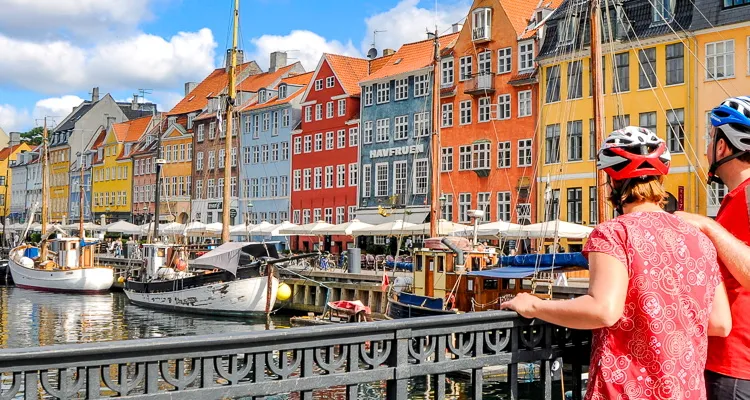 For our cycling holidays around Copenhagen, the Danish capital is the perfect place to set off on an exciting and comfortable cycling holiday. The city on the Øresund looks back on more than 800 years of history – this is noticeable at every turn. Royal castles in the middle of the city, colourful old houses by the harbour and in the middle of it all, modern architecture that make Copenhagen a charming and eventful destination. Far away from the serene hustle and bustle, we whisk you away on our cycling tours around Copenhagen to the city's hinterland, to Sealand. Enjoy a cosy atmosphere on Denmark's largest island that is second to none. The chalk cliffs of Stevns Klint, Frederiksborg Slot in Hillerød and the cathedral city of Roskilde are just a few of the many places worth seeing that will delight you. In between: small picturesque harbour towns, lush green meadows and forests as well as dreamy sandy beaches that tempt you to switch off and dream.
Our cycling holidays around Copenhagen take you beyond the borders of Denmark. How about Copenhagen as the destination of a cycling tour that starts in Sweden? Whichever of the tours you choose, on our cycling tours around Copenhagen you will spend your holiday in one of the most beautiful regions of Denmark, combined with the flair of one of the most relaxed cities in Europe.
Show more
Show less
Our cycle tour in Denmark takes you to the north of the island of Sealand. You start in Copenhagen and get to know the friendly harbour town of Helsingør, whose Kronborg Castle gained world fame thanks to Shakespeare's Hamlet. Spend a few refreshing hours on the beaches of Hornbaek and Gilleleje and feel transported back to Denmark's historic past in the magnificent Frederiksborg Slot in Hillerød. On a trip to neighbouring Sweden, you can explore the Kullen peninsula.
From Sweden's archipelago to the Danish coast on the Øresund in eight days? No problem! On our bike tour from Stockholm to Copenhagen you will not only get to know Sweden's capital Stockholm, but also the coast along the Kattegat. You can reach the island of Sealand and Copenhagen by ferry from Helsingborg.
Copenhagen is the ideal place to start a bike tour on Sealand. The lively metropolis contrasts with the cosy atmosphere that awaits you outside the city. Historical places, idyllic landscapes, beaches and always a view of the sea – get to know Denmark's largest Baltic Sea island in seven days, in a relaxed way by bike.
The Berlin-Copenhagen Cycle Route connects two worth seeing capitals. You'll start in Berlin, cycling along the idyllic lakes of Mecklenburg until you reach the rugged Baltic Sea coast. You'll reach the south of Denmark by ferry. On your way to the Danish capital, you'll marvel at proud mansions and impressive chalk cliffs.
Show more
Show less