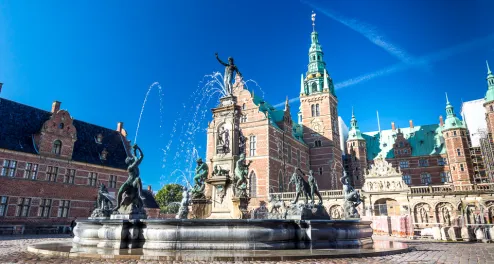 Cycle tour in Denmark
Copenhagen, Zealand and Scania
 Copenhagen – Helsingør – Hillerød – Roskilde – Copenhagen
Denmark's largest island, famous Bellevue Beach, Renaissance Castle Frederiksborg, UNESCO World Heritage Roskilde
Daily routes ●●●○○
Altitude profile ●●○○○
This cycle tour in Denmark not only takes you to the most important cultural centres of Denmark – Copenhagen and Roskilde. You will also experience the Danish life style and unspoiled nature when you set off on your bike to follow the traces of kings and Vikings through enchanting countryside and following the Öresund river. Explore the Southern part of Sweden, Skåne, as well during a day trip. This cycle tour in Denmark is also suitable for the less practiced cyclist, despite a few hilly sections.
Itinerary
Booking code
EN-DKSE6
Start / Destination
Copenhagen
Duration
7 days / 6 nights
Length
approx. 240 – 290 km
Daily routes ●●●○○
between 40 and 75 km, Ø 55 km
Altitude profile ●●○○○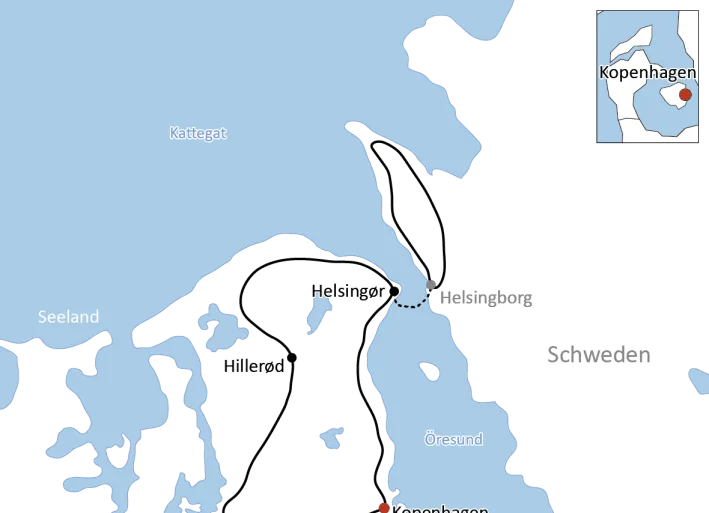 Day 1: Individual arrival in Copenhagen
The capital city of this kingdom is an attractive destination for many Scandinavian visitors. The landmark of the town is its rather inconspicuous mermaid from Christian Andersen's fairy tale. You must visit Castle Christiansborg, as well as the biggest pedestrian precincts in Europe – Strøget and Strædet – not to forget the Nyhavn harbour and Tivoli.
Day 2: Copenhagen – Helsingør / Snekkersten region, approx. 50 km
The first day of your tour takes you north. From Copenhagen you cycle mostly along the coast from Öresund to Helsingør. Along the way you will pass the famous Bellevue beach, which is simply waiting for you to dive in. In Helsingør you should take the time to visit Castle Kronborg. It was made famous by William Shakespeare's Hamlet and Holger Danske, the hero of a legend, who according to the story wakes up whenever Denmark is in danger to protect it.
Day 3: Excursion to Sweden approx. 40 – 75 km + ferry
The ferry trip to Sweden takes about 20 minutes (not included). From Helsingborg you can choose which cycle tour you want to do. The longest takes you to the Kullen peninsula, one of the most beautiful parts of southern Sweden. Rocky cliffs and pleasant bathing areas are the perfect setting for this section. Alternatively you can take the time to explore Helsingør and all its sights.
Day 4: Helsingør – Hillerød, approx. 60 – 75 km
Today you cycle along the coast, past famous bathing places such as Hornbaek and Gilleleje, which are perfect spots to get off your bike and relax. On the second part of the section, you leave the coast to head into the forests of Gribskov. You cycle to the beautiful Lake Esrom, before you freewheel the last few kilometres down to Hillerød. The landmark of this town is the renaissance castle of Frederiksborg, which stretches over 3 islands in the middle of Lake Frederiksborg.
Day 5: Hillerød – Roskilde, approx. 40 km
You set off to cycle through the countryside to Roskilde Fjord. There are some lovely places on the way to stop and admire the views. Fields, forests and beautiful beaches line the route to Süden. Today's destination, Roskilde, is where one of Europe's most important music festivals is held. And in Roskilde's cathedral, a UNESCO World Heritage Site since 1995, are the graves of 20 Danish kings.
Day 6: Roskilde – Copenhagen, approx. 50 km
Leave enough time to wander through the former Danish capital. Next to the cathedral is a maritime museum with a large number of dragon boats to be seen. After this, you cycle to Køge bay, pedalling through small villages and towns along the shore and back to Copenhagen.
Day 7: Individual journey home or extension of stay
After breakfast, your cycling tour in Denmark ends with people making their own way home. We would be happy to extend your stay in Copenhagen if you like.
Show more
Show less
Dates / prices / services
| Child reduction on basic price | | |
| --- | --- | --- |
| discount-icon discount-icon-baby | | |
| discount-icon discount-icon-lego | | |
Additional Services
Additional bookable services
| | |
| --- | --- |
| Additional fee single room | |
All prices are per person
Additional nights
Room

Breakfast

Price

Kopenhagen
All prices are per person
Rental Bikes
Rental Bikes

Rental Bike
99 €

E-Bike
299 €

Children's and Teenager's bike
79 €

Trailer
79 €
Brief Information
Booking code
EN-DKSE6
Start / Destination
Copenhagen
Duration
7 days / 6 nights
Length
approx. 240 – 290 km
Daily routes ●●●○○
between 40 and 75 km, Ø 55 km
Altitude profile ●●○○○
Route condition
Flat and slightly hilly path on seperate cycling paths, as well quiet side roads. You may reckon with more traffic volume in the cities. 
Tour operated by
Local cooperation partner
Mobility note
This holiday is suitable to only a limited extent for people with restricted mobility.
Please contact us if you have individual requirements.