Weekend cycling holidays on Lake Constance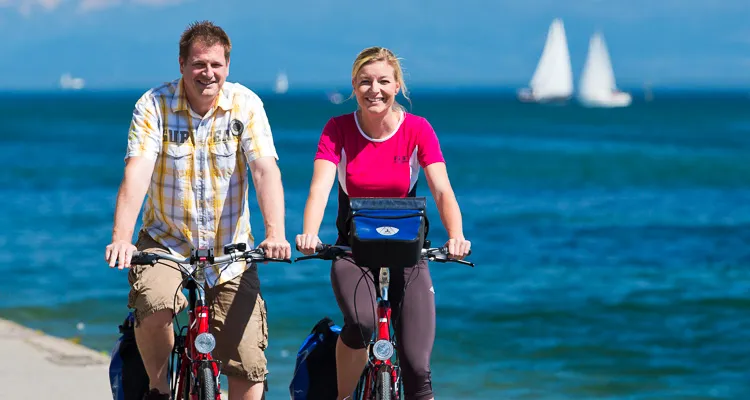 Have you been planning a cycling holiday round Lake Constance, but never had enough time to do it? No problem. You'll find the right tour among our short cycling holidays. Either over a weekend, or completely spontaneously - these tours can be started on any day of the week. Look forward to a cycling holiday on the Lower Lake. Tour round the western part of Lake Constance cycling convenient, short sections. You can expect to encounter longer sections on our athletic tour all round Lake Constance.
On all our weekend cycling holidays, you cycle along mostly level paths through the beautiful and varied Lake Constance countryside. Along the Lower Lake-Side, enjoy views of the Hegau volcanoes and continue cycling to the Rhine Falls. On a cycling holiday round the eastern part of Lake Constance, the Upper Lake, you'll be accompanied by spectacular views of the snow-topped Alpine peaks reflected in the water. When the weather is good, you could almost think the mountains start right on the lake banks. Alongside the scenic highlights, on our weekend cycling tours, the many attractive towns all round Lake Constance await your visit. Konstanz, Friedrichshafen and Lindau have lots of sights to offer. Have you also ever been to Meersburg, Radolfzell or Kressbronn? A wander through this lovely towns is a must. Experience even more variety on our combined cycle & sail holidays. You get an entirely new perspective on the beauty of the Lake Constance area from the water.
Show more
Show less
Cycling holidays round Lake Constance for people who don't want to be out cycling for a whole week - that's our weekend cycling tours. For cyclists who prefer shorter sections - we recommend our cycling tour on the Lower Lake and at the Rhine Falls. Right after your arrival, hop on to your bike and start the first section. The tour is characterised by the many scenic highlights. The volcanic cones of the Hegau mountains, Europe's biggest waterfall and medieval villages and towns will soon cast their spell on you.
On the short bike trip around Lake Constance the sections you cycle are somewhat longer. But there's still enough time to admire the many sights. In three days you go through three countries and can look forward to beautiful towns, remote places and wonderful views.
The cycling holiday all round Lake Constance is short and sweet. This tour is just right for people who like to be outdoors and enjoys longer sections. It starts in Konstanz and first takes you to the Lower Lake, passing beautiful scenery. You go on to get to know the pretty towns of Meersburg, Friedrichshafen, Lindau and Bregenz on the Upper Lake.
More than just a cycling holiday - try our active tour along the Upper Lake. You explore the Lake Constance area from the water. Enjoy views of the banks of Lake Constance on a 2-hour sailing trip. And you won't be neglecting your cycling. On a day tour, visit medieval Konstanz and Meersburg - which has the oldest castle in Germany that is still lived in. Another trip takes you to Bavaria's Lindau and the festival town of Bregenz.
Show more
Show less