Travel report: Bike tour around Freiburg
From our guests Christopher and Neil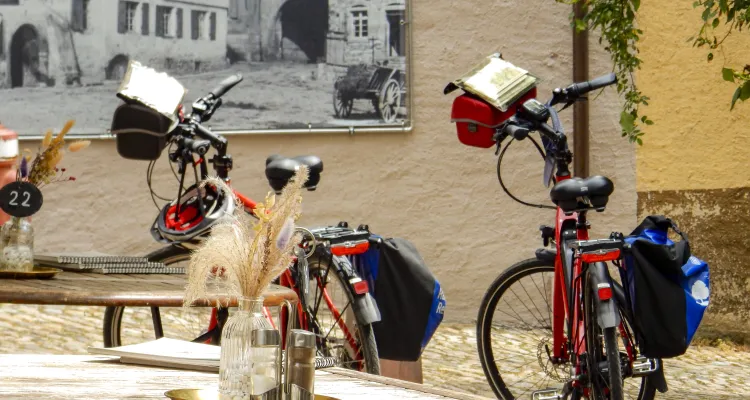 Arrival
Regular travellers with Radweg-Reisen, we had high expectations of comfortable accommodation, excellent breakfasts and interesting cycle routes - we were not disappointed. Our flights from the UK were delayed so we arrived at our hotel in the late evening; a fact that did not diminish the warm welcome from the Hotel. With just enough time to catch a beer at a local hostelry we were both looking forward to exploring a part of Germany and France as yet unknown to us.
Show more
Show less
Day one 
Following a hearty breakfast, we began our much anticipated adventure, exploring Freiburg would have to wait until we returned at the end of the week. Our hotel was located within the old town so within minutes we were able to access and the Rhine Cycle Path; with its smooth surface and few other cyclists our progress was fast and easy. Allowing our concentration to lapse, we zoomed along with little regard for navigation and very soon realised we had missed our turn-off and were deviating from the prescribed route. Following a few diversions, directions from locals and a more detailed study of our maps we were soon back on track passing through gentle countryside, charming villages and traffic-free roads, back on our route to our next stop - Breisach am Rhein. Crossing the border into France, our hotel for the next three nights was located in the tranquil setting of the île du Rhin, a few minutes cycle to the centre of Breisach and perfectly located for the next day's trip - the Kaiserstuhl.
Show more
Show less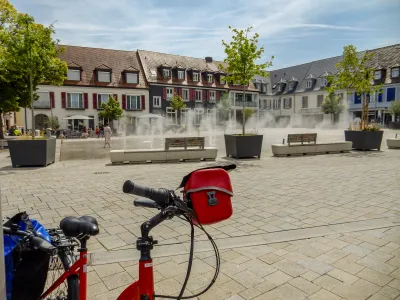 Day two 
We cycled along the east bank of the Rhine, along the Rhine Cycle Path, an easy if gravelly route to our first stop - Burkheim, arriving at mid-day and the village was just beginning to come to life. Burkheim is a small, delightful and charming village, is a pleasant stop to enjoy lunch and a beer, before travelling north. At Sasbach am Kaiserstuhl, we turned east to Riegel am Kaiserstuhl, before passing through vineyards and quiet villages arriving back in Île du Rhin. The route varied from smooth paths, farm tracks, a few tough hills and several fast down-hill sections. The scenery is wonderful and the sense of achievement immense. 
Show more
Show less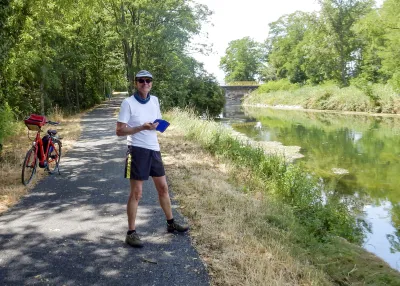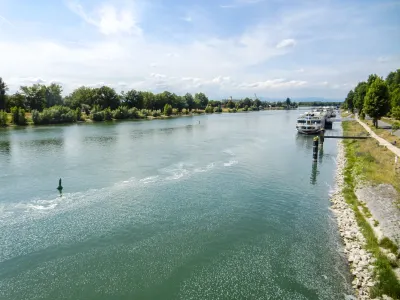 Day three 
Today was to be our longest ride, visiting the massive and impressive fortress town of Neuf-Brisach, before continuing on to Colmar, where we visited the Commonwealth War Graves WWI, situated to the east of Neuf-Brisach. Arriving in Colmar, we discovered a town with impressive buildings, both modern and old, its architecture a testament to the grandeur and importance of Alsace's largest town. Following a slow and pleasant lunch in one of the many restaurants, we left Colmar and travelled north on cycle paths that were even and flat. Cycling across wide fields, beside straight canals and shady woodland arriving at Marckolsheim and where our route took us east across the Rhine, back into Germany and south along the Rhine Cycle Path to Breisach am Rhein.
Show more
Show less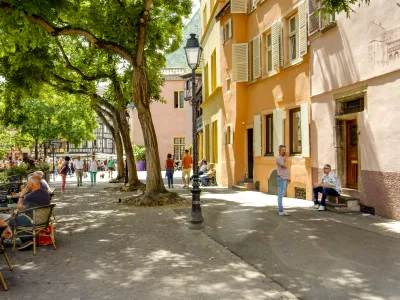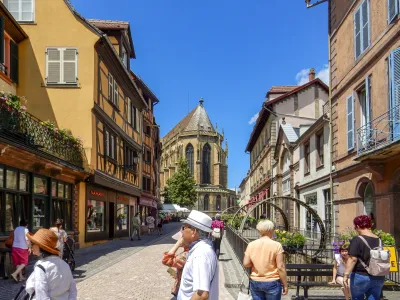 Day four
Heading south along the Rhine Cycle Path to our next overnight stay - Badenweiler. Cycled along the Rhine, through cool and shady woodland, along smooth paths, gravelly tracks and metalled roads, reaching Neuenburg am Rhein, where we turned east up some short but tough hills to our hotel in Badenweiler. Where we were rewarded with lovely views over lush meadows. Badenweiler is a town with many interesting and impressive buildings reflecting its importance as a fashionable place to 'take the waters' since Roman times.
Show more
Show less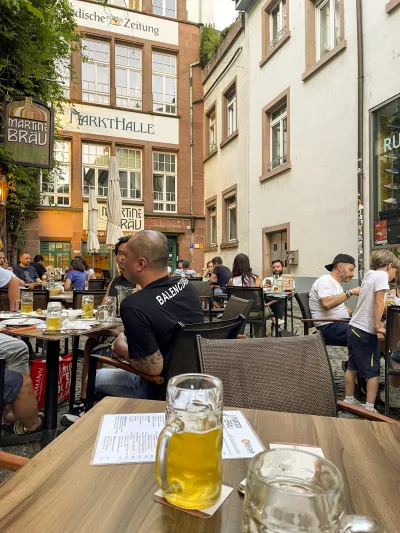 Day five 
From our hotel it was an easy, fast and smooth ride down to Müllheim, before we headed north-east to Freiburg and our original starting point. With a choice of two routes back to Freiburg we avoided the hilly route to the east, and cycled the alternative easier and flatter route via Heitersheim and Bad Krozingen. Travelling along the Südschwarzwald Cycle Path, assisted from directions from locals, we soon arrived back in Freiburg, in time for dinner and a relaxing beer.
Show more
Show less
Depart 
With its pleasant climate and relaxing countryside, its many cafe bars, traffic free streets and numerous shops this was the ideal place to relax enjoy the local wine and sample freshly made ice-cream. Wandering around the town we enjoyed a picnic lunch in one of the parks before travelling on to Basel for our flight back to the UK and home.
Show more
Show less