Travel report: The Neckar Cycle Path
From our guests Irmgard and Hans-Peter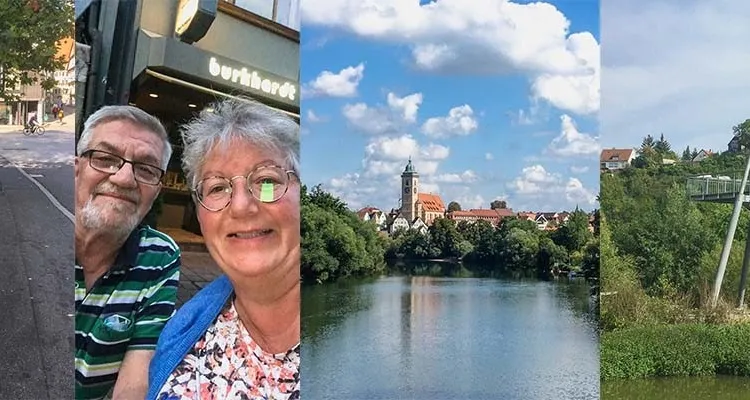 Day 1: Arrival in Tübingen
Arrival on Sunday by train to Tübingen - without any special incidents. The Hotel Krone is located directly on the Neckar River in close proximity to the old town. Tübingen is a beautiful city, especially on a sunny September day. We went to the ice cream parlor on the banks of the Neckar, admired the punting boats, toured the old town and ended the day in the beer garden in the evening.
Day 2: Tübingen - Esslingen
After a hearty breakfast, we picked up our bikes, beautiful red bikes (my favorite color), and set out on the tour. Today we ride from Tübingen to Esslingen in bright sunshine through a beautiful landscape with quaint towns and picturesque cities. Esslingen, an old town with alleys and squares, churches and beautiful beer gardens. Vacation can be so beautiful.
Day 3: Esslingen - Marbach
The next morning we had a little orientation problem and could not find the Neckar bike path, too many construction sites. But also in Esslingen there are very nice helpful inhabitants. An older gentleman saw us in helpless position handling maps and cell phone and offered himself as a guide. Without further ado he fetched his bike from the cellar and brought us back to the Neckar. Many thanks for that! The ride along the Neckar through floodplains, vineyards and meadows past Stuttgart to Marbach went well. Arriving in Marbach, we unfortunately had to wait in front of closed hotel doors of the Hotel Schillerhof. The old town is brisk and not for the faint of foot, but worth seeing. Unfortunately, the hotel had no elevator and no restaurant, and I won't say a word about the breakfast. In Marbach there are many old houses, but few possibilities to get dinner. With a lot of luck and searching we found an Italian restaurant that was open and also a place for us.
Day 4: Marbach - Neckarsulm
It is raining! It is no use, we drive off. On the way we find a cute street café in a small town and a Borussia fan! In Lauffen we meet Hölderlin and actually miss the Neckaruferradweg. Never mind, we find another, somewhat more difficult path and also eventually the Neckar again. At the day's destination Neckarsulm we arrived wet and dirty at the Hotel Nestor and could not believe that we should push the bikes through the lobby into a separate room. But that`s how it was. A nice hotel, super rooms, nice ambience and very friendly staff. In the brewery in the immediate vicinity of the hotel we let the evening end.
Show more
Show less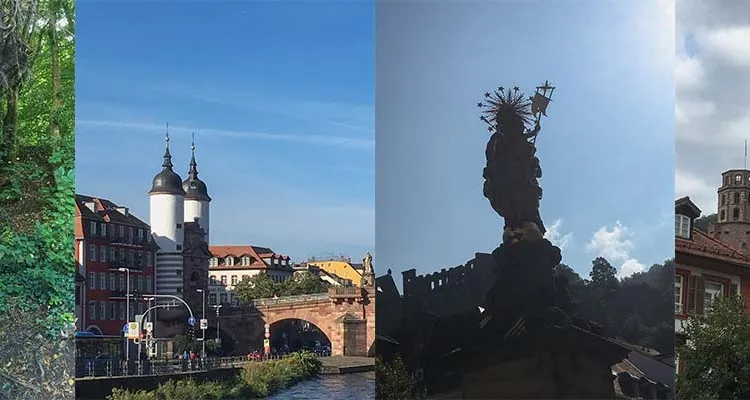 Day 5: Neckarsulm - Eberbach
At breakfast it rains again, but later it clears up. We cycle along the Neckar River towards Eberbach, past Guttenberg Castle and other castles and ruins. In the meantime, the sun is shining and a nice hotel, a Neckar promenade with a cruise ship and boars everywhere await us in Eberbach. Old town, churches and beer gardens convince us. Here the Neckar is already quite wide.
Day 6: Eberbach - Heidelberg
We leave Eberbach and cycle along the Neckar toward Heidelberg, passing through a ban forest, seeing castles from a distance and somehow being on the other side of the river. But that was not a disadvantage at all, because our hotel Bayrischer Hof is on this side of the Neckar. Heidelberg is beautiful. Pure life...
Extra night in Heidelberg
Heidelberg on foot, by sightseeing bus and by boat - just tourists on the way. It was a very good decision to book an extra night! Only negative point: the hotel is located directly at a traffic junction.
Departure from Heidelberg
The return trip by Deutsche Bahn was a bit of an adventure, but of course the tour operator couldn't help that.
The organization of our trip incl. e-bikes and luggage transport were excellent. I would book with Radweg-Reisen again at any time.
                                                                                                                                                                                                                                                                         Mönchengladbach, 30.10.2021
Show more
Show less
---