Cycling holidays in Rhineland Palatinate and Saarland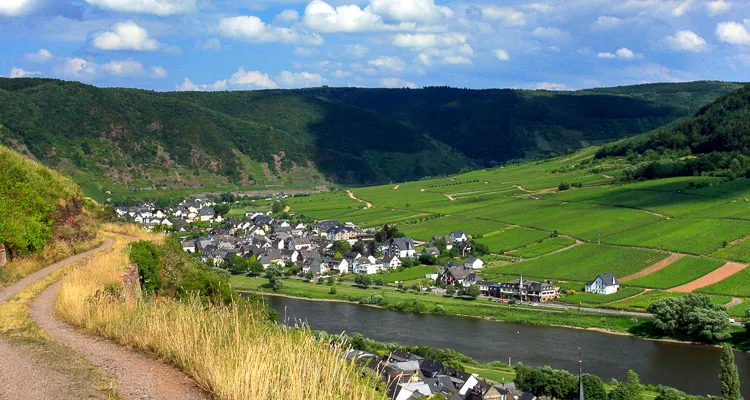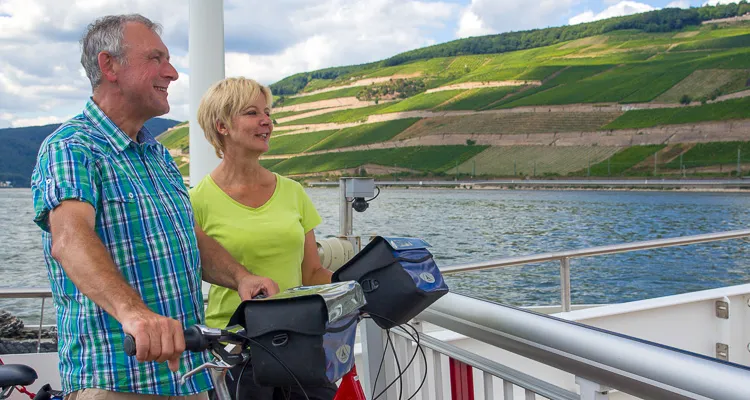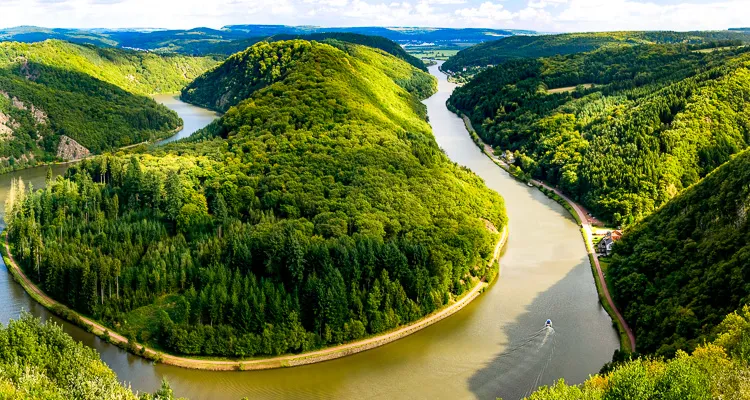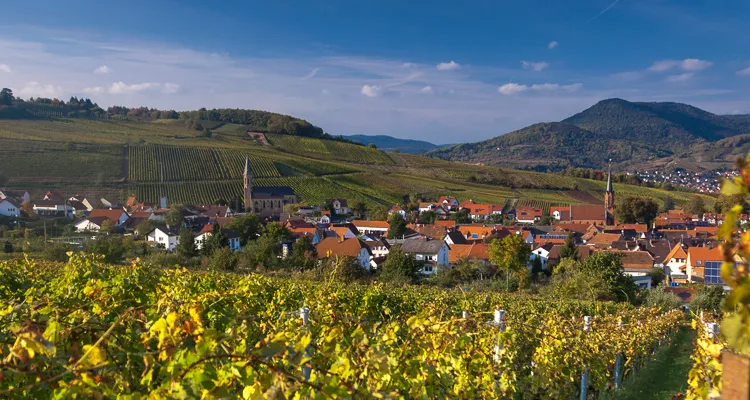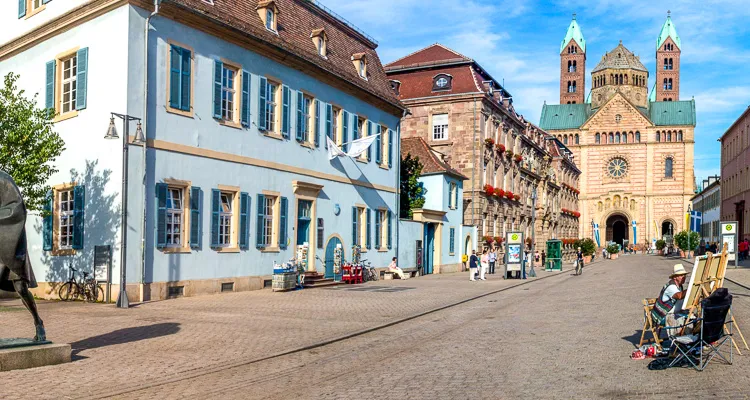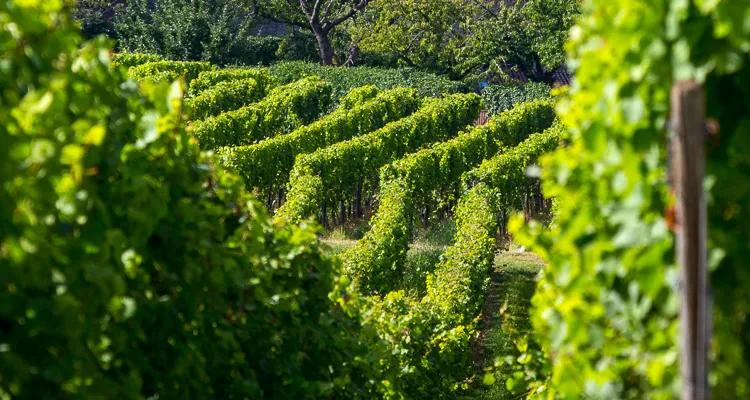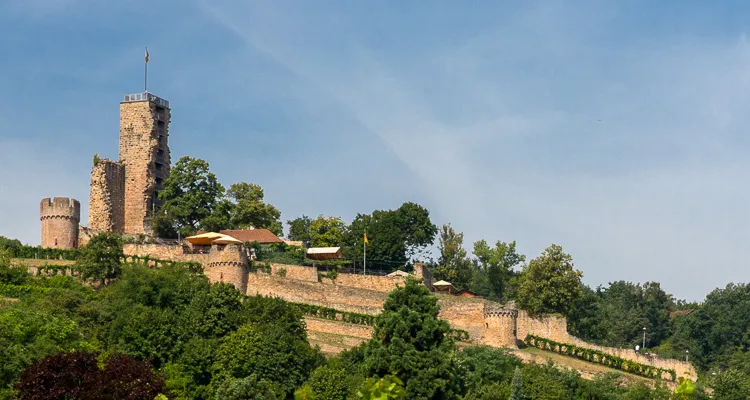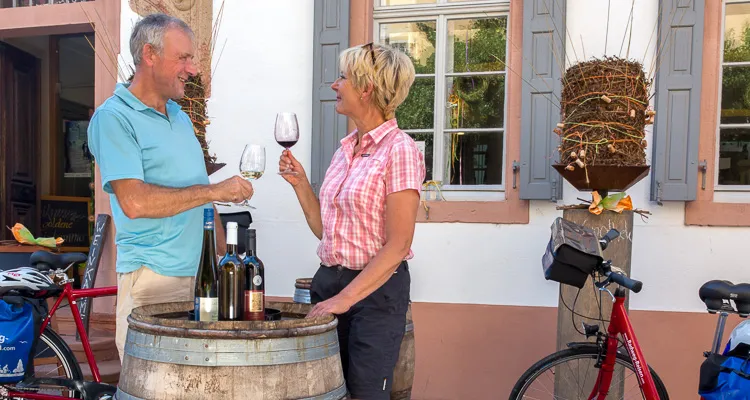 Nestled between the many mountain ranges and river landscape, Rhineland Palatinate and Saarland provide perfect conditions for a varied cycling holiday you're not likely to forget. An excellently developed network of cycle paths serves its purpose very well. No matter whether it's along the Mosel, with its many vineyards, castles and forts, or along the Middle Rhine and its impressive nature and cultural landscape, the German Wine Route, which lives up to its name, or the Saar where you can experience German and French history. A cycling holiday in Rhineland Palatinate and in Saarland is a true adventure.
In terms of cuisine, what Rhineland Palatinate and Saarland dishes have in common: they are hearty and wholesome! Tuck into some Palatinate pig's stomach and onion tarte, or try some Saarland Dibbelabbes (potatoes and ham), Hoorische (dumplings) and Schwenkbraten (pork cooked over a rotisserie). A glass of "Blue Portuguese" or one of the new wines of the season taste good with these meals! Cheers!
Show more
Show less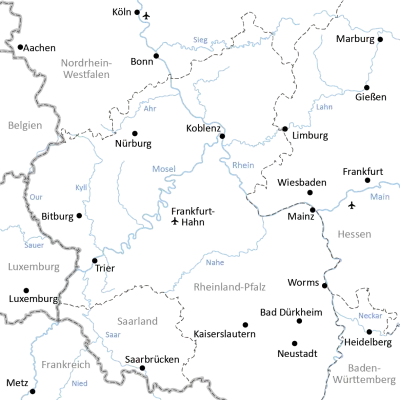 On a cycling holiday in Rhineland Palatinate, you won't get away with not seeing the Rhine. A special part of the Rhine is the Middle Rhine. Between Rhineland Palatinate's capital, Mainz, and the cathedral town of Cologne, the river initially flows through sun-spoiled Rheingau, passing the legendary Lorelei rock at St. Goar, the bridge at Remagen and Beethoven's town - Bonn. A true paradise for nature lovers and people interested in history and stories.
The biggest river in Rhineland Palatinate, the Mosel winds its way through the foothills of the Eifel and Hunsürck to Koblenz. Sprinkled with majestic strongholds such as the Reichsburg in Cochem or Eltz Castle at Treis-Karden, this area around the Mosel features remains of Roman settlements, and dreamy medieval towns that let you experience history at first hand. Visit Deutsch Eck in Koblenz with its Electoral Castle, the pretty, old quarter at Bernkastel-Kues or Trier, Germany's oldest town, founded by the Romans. It is also thanks to the Romans that this Mosel valley has turned into a well-known area for wine. Between the small wine-growing villages are many vineyards that make Rhineland Palatinate one of Germany's largest wine-growing regions. On a cycling holiday in Rhineland Palatinate, you will have to try one of these excellent grape juices! Drop in to one of the many wine cellars along your way and enjoy a glass of Riesling or a Kröver Nacktarsch. There's always time for a small glass, as they say here!
Show more
Show less
Similar to the Mosel, the Lahn also joins the Rhine. Coming from Marburg, it starts its final spurt about 245 kilometres from Limburg. The Lahn will also impress you with the many castles and fairytale palaces that line its banks. This countryside is shaped by dark forests, narrow gorges - one of the most romantic river valleys in Germany.
In the south east of Rhineland Palatinate, the German Wine route winds its way through the Rhine Valley and the Palatinate Forest. A must for all lovers of wine and countryside! Thanks to the mild climate, grapes grow particularly well here. Another highlight for a cycling holiday in Rhineland Palatinate are the Eifel mountains. Shaped by valleys course through by rivers, unusual rock formations and extinct volcanoes, you get to visit a very unique type of landscape here. Discover over 70 Maar volcanoes, ten of which are filled with water, or climb up to one of the many viewing points to see the countryside around you from a different perspective.
The small and not to be underestimated neighbour - Saarland - beckons too with a multitude of natural scenes and historic buildings. On a cycling holiday in Saarland, you can really experience the exchange of German and French culture. The river that gave Saarland its name - the Saar - unites river landscape, meadows, forests and vineyards. Charming natural beauties such as the Saar Bow at Mettlach or the waterfall at Saarburg as well as a visit to historic Saarbrücken and Völklinger Hütte round off a cycling holiday in Saarland and along the Saar.
Show more
Show less