Cycle touring in Lake Constance's hinterland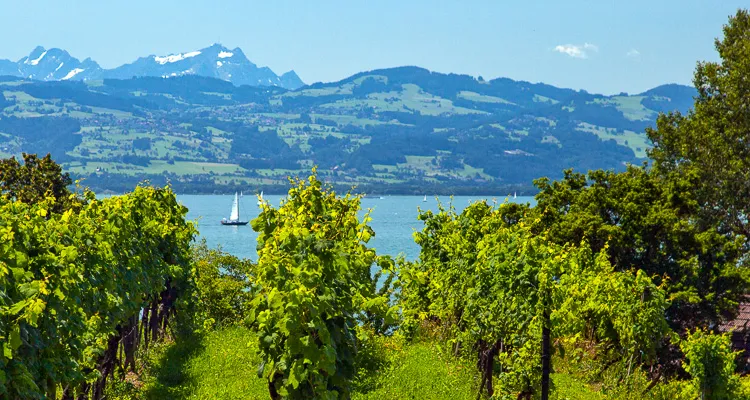 Lake Constance - paradise for cycle touring. There's easy cycling to be had away from the lakeside too. Discover Lake Constance's hinterland too by bike. You can head south or north of the lake - it doesn't matter: The beautiful Swiss countryside, the hills of the Allgäu and the Danube valley can all be connected perfectly with Lake Constance on a cycling tour.
Leave busy Lake Constance to head north. You'll soon be in the peaceful countryside of the Württemberg Allgäu. Let your gaze sweep over the luscious green meadows to the breath-taking panorama of the Alps. Treat yourself to the local culinary specialities - cheese pasta and "Nun's puffs"!
In a southern direction, cycle along the Swiss Lakes path into Lake Constance's hinterland. A round trip with many highlights: the Rhine Falls in Schaffhausen, the cosmopolitan city of Zurich and the scenic wonders of Appenzeller Land - to name but a few.
Set off on your bike and see for yourself just how fascinating the Lake Constance hinterland really is.
Show more
Show less
It's a particularly charming cycling tour and you get to see Lake Constance, the Rhine Falls, the Danube and the Allgäu. First you cycle along the beautiful scenic Lower Lake to the Rhine Falls. You soon leave Lake Constance to head north. Between the high limestone peaks, you cycle along the quiet cycle path along the young River Danube. Another scenic highlight awaits you on this tour - the Württemberg Allgäu with its luscious green fields and breath-taking Alpine panorama.
The Swiss lake route extends along Lake Constance right up high into the mountains. On this easy-to-cycle tour, you'll get to know the sights and attractions on 9 days of perfect pedaling. The highlights are definitely the Rhine Falls near Schaffhausen and a trip to Appenzeller Land with its luscious green fields and wonderful panorama of the Alps.
A perfect opportunity to link two cycle paths is provided by the Danube-Lake-Constance cycle path. Just right for athletic cyclists who love cycling through beautiful countryside. Starting in the Lake Constance area, the this tour takes you along longer sections through Upper Swabia to Ulm. You leave the Danube and cycle at quite a pace through Württemberg's Allgäu.
Do you fancy a more strenuous cycle tour? Then the Allgäu cycle path is just the right thing. Starting in Lindau you cycle along well-established cycle paths winding through the German foothills of the Alps. Accompanied by luscious green fields, deep blue lakes and views of snow-topped peaks, it's easy to master the hillier sections.
Show more
Show less