The Danube by Bike and Boat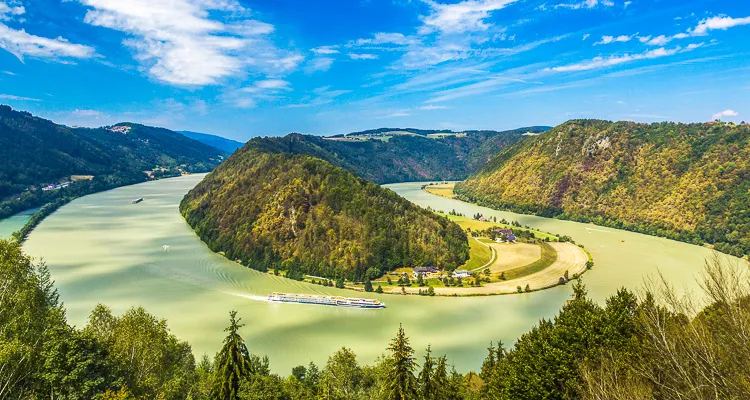 Bike and Boat holidays along the Danube are one of the classics in our program. The cycle path between Passau and Vienna is one of the most popular cycle routes in Europe – and rightly so! Your hotel accompanies you for your entire trip – a truly unique experience. During the day you explore the most beautiful stretches of the Danube Cycle Path and in the evenings you watch the beautiful river scenery roll past from the deck of your cruise ship. If you're ever not in the mood for a bike tour, you always have the option of staying on the boat instead.
Traveling by bike and boat also means you have more time to visit the towns along the Danube that are well worth seeing. After all, your boat will take you to the next highlight while you are still raving about the route you have just covered on your bike, the imposing baroque monasteries, or the wine taverns in the Wachau. Not only can you explore Passau and imperial Vienna, but you can also extend your boat and bike trip to Bratislava or even Budapest. And in the Danube Delta, a very special boat and bike trip awaits you on a raft.
Show more
Show less
The classic boat and bike tour on the Danube starts in Passau for a round trip to Vienna. You experience a relaxing week, cycling around the Danube Loop and along the once feared Strudengau. You visit the impressive Melk Abbey and spend a relaxing day in baroque Vienna. Or you can join the journey from Passau to Vienna, Bratislava and Budapest. The three cities, once centers of empires and kingdoms, still shimmer with the splendor of the monarchy today. Whether you want to travel on the MS Princess Katharina, MS Carissima or with more comfort on the MS Primadonna is entirely up to you.
An extended boat and bike trip on the Danube awaits you on the MS Carissima: in 15 days you will sail from Passau via Bratislava and Budapest to Belgrade, exploring the impressive Iron Gate on the border between Serbia and Romania. A special treat on this boat and bike trip: You have plenty of time for the Danube metropolis of Vienna.
Not a classic boat and bike tour, but an insider tip awaits you around kilometer 0 of the Danube on the Black Sea: a towed barge makes the tour by boat and bike in the Danube Delta possible. Your raft hotel, a small, cozy hotel ship, is brought to the various arms of the estuary by a tugboat. You explore the seemingly untouched, idyllic landscape, a very special habitat for numerous animal and plant species, by bike. In the evening, enjoy the view of the unique landscape from the sun deck.
Show more
Show less