Cycling holidays in Switzerland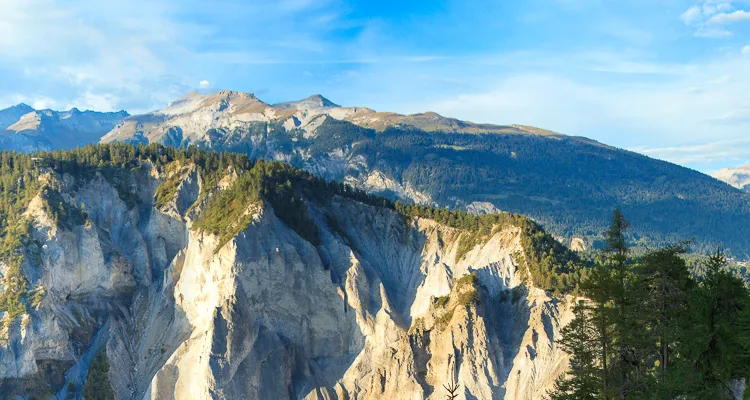 Cycling holidays in Switzerland – an unusual thought for lowland Tyroleans. A network of well-developed and well-signed national cycle paths, the so-called Velo Routes, courses through the country. The signposting for cyclists in Switzerland is exemplary. Very legible signs, local, regional and national bike routes usually on separate cycle paths, a close network of reliable public transport – these are the best prerequisites for a great cycling holiday in Switzerland.
Show more
Show less
And what can you look forward to on the way?
Wonderful architecture and culture in the country's largest towns: Zurich, Berne, Geneva, Lucerne and Basel. A large number of romantic towns, with medieval or Baroque characteristics such as Aarburg or Solothurn. Idyllic villages with happy cows, bustling with life, or relaxed and quiet. Stark contrasts between town and country, French and German, Romansh and Italian. Mountains, countryside, north and south.
You will become acquainted with the great variety and yet many similarities on your cycling holiday in Switzerland. The delicious cuisine of the country and the well-known Swiss hospitality, chocolate and Bündner meat, Emmental cheese, wine from Schaffhausen, milk from the mountains and an apero cocktail in a sophisticated cafe on Zurich's lakeside. A cycling holiday in Switzerland is simply wonderful!
And a lot of nature! The famous Swiss mountains, the gentle Alpine foothills and its varied inland countryside. The internationally known Bernese Uplands with the Matterhorn, Eiger, Bündner and Urner alps, Alpstein and Appenzeller Land. The wonderful lakes, for example Lake Lucerne, Lake Thun, Lake Brienz, Walensee lake, Lake Zurich, Lago Maggiore and of course, Lake Constance.
There are cycle paths for all tastes – level and relaxing along the Aare, with views of the mountains from the valley and then more of a challenge if you want to go up into the mountains themselves. Of would you prefer to explore the Mediterranean Switzerland – and visit Lago Maggiore? Switzerland has the right cycling holiday for everyone.
On the wild Alpenrhein and the romantic Hochrhein you cycle out of the Bünderland region past Chur to the modern city of Basel. The Swiss lake route takes you to the beautiful mountain lakes. The rough rock of the mountains looks like it rises right out of the water. On the cycling holiday along the Aare, you pedal from Interlake – with the distinctive peaks of the Eiger, Mönch and Jungfrau - via Biel, Solothurn and Aarau to where the Aare flows into the Rhine and then further upstream to Konstanz on Lake Constance. The big cycling holiday in Switzerland takes you from Zurich through the picture postcard countryside of the Swiss Confederation.
Show more
Show less