The Rhône Route in Switzerland
From the mountain backdrop in Wallis to the sophisticated town of Geneva
Oberwald – Montreux – Geneva
Wallis mountains, water castle Chillon, Lausanne, Lake Geneva
Wine tasting included!
Daily routes ●●●○○
Altitude profile ●●●○○
The Rhône Route in Switzerland is a wonderful destination for people who just can't get enough of the Swiss Alps, but don't want to cycle up them. Your cycle route, along national velo route no. 1, follows relatively level ground through the sun-spoiled Gomstal valley in the canton of Wallis. Great views of the mountain panorama are guaranteed! Particular eye-catchers are the brown wooden houses in the Wallis villages and the historic quarter of Brig, with its patrician houses. The vineyards of Sierre are known to have inspired many an artist. One of the prettiest views awaits you on the final day of the route: you cycle along Lake Geneva, with views of the glittering waves and a backdrop of the Mont-Blanc massif. Your cycling holiday along the Rhône Route in Switzerland ends in the cosmopolitan city of Geneva.
Itinerary
Booking Code
OE-CHOG7
Start / Destination
Oberwald / Geneva
Duration
8 days / 7 nights
Length
approx. 290 km
Daily routes ●●●○○
between 30 and 70 km, Ø 50 km
Altitude profile ●●●○○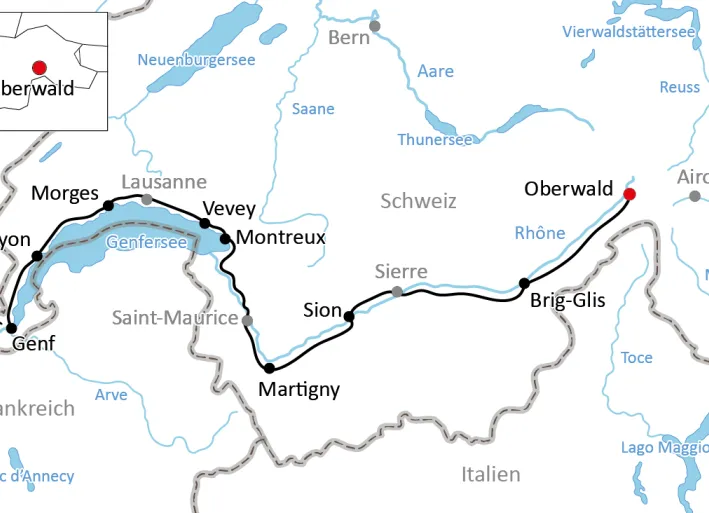 Day 1: Individual arrival in Oberwald (Cat. B) / Obergesteln (Cat. A)
When you arrive in Oberwald or Obergesteln, you'll have views over the expansive Gomstal valley. The two villages are typical mountain villages with old sun-weathered wooden houses. The Wallis Mountains set the atmosphere perfectly for your Rhône Route in Switzerland. 
Day 2: Oberwald – Brig, approx. 45 – 50 km
You cycle through the open valley with fascinating views of the mountains. The Rhône winds its way through the countryside. You cycle downstream. There are still a few inclines to tackle on your way to Brig. In the capital of Oberwallis, at the foot of Simplon Pass, the Baroque Stockalper Palace from the 17th century will catch your eye. In the nearby interactive World Nature Forum, allow each of your senses to become familiar with the world of the Alps.
Day 3: Brig – Sion, approx. 60 km
Along the still wild Rhône, you pedal along level cycle paths following the Rhône Route signs with the No. 1 - through Wallis Valley, which gradually becomes wider and wider. In contrast to the charming villages are the mountains - some of them up to 4000 metres high.Between Leuk and Sierre you leave the Rhone route and cycle through beautiful vineyards to a winery. At a wine tasting you can convince yourself of the quality of the wines. From here, French is spoken! You stay overnight in the medieval town of Sion with its wonderful castle towers.
Day 4: Sion – Martigny, approx. 30 km
Pedalling through luscious green vineyards and expansive orchards and fields of vegetables you make your way to Martigny. There are many sights here that have been witness to the town's rich history. Wend your way through the history of the Celts, the Romans and Napoleon's troops who have all left traces here. The town is well known for its castle ruin, La Bâtiaz. Martigny will convince you with its southern flair, delicious cuisine and historic heritage.
Day 5: Martigny – Montreux (Cat. B) / Vevey (Cat. A), approx. 50 km / 60 km
You cycle through ever opening countryside. Mountains and valleys alternate here along the Rhône Route. At Lake Geneva you'll find the town of Montreux, located in a protected bay and surrounded by vineyards. The snow-peaked Alps are breath-taking in their apparel. Passing the water castle at Chillon you get to Vervey via Montreux. The location, right on the lake, with views of the Alpine panorama is enchanting.
Day 6: Montreux – Nyon region, approx. 65 – 70 km
In the morning you cycle on along your route via Lausanne. Modern and diverse describe Switzerland's Olympia town, which also features a Gothic cathedral. Enjoy its unique location on Lake Geneva. The Mont-Blanc massif in sight, pedal alongside the lake to Morges. Visit Castle Morges with its four museums and walk along the lakeside promenade. From July to October, 1.5 km of the lakeside promenade is decorated with dahlias.
Day 7: Nyons – Geneva, approx. 30 km
After breakfast you cycle alongside the lake to Geneva. The villas and yachts get bigger the closer you get to Geneva. This French-speaking town is nestled between Alpine peaks in a bay where the Rhone leaves Lake Geneva. In the lively little streets of the old quarter of this sophisticated town, you will see many elegant boutiques. Valuable in another sense are the lakeside promenades with unique views of the beautiful water of the lake and a 140-m-high fountain.
Day 8: Individual departure or extended stay
After breakfast, your cycling holiday on the Rhône Route in Switzerland comes to an end. You will take many impressions of Wallis and Lake Geneva back home!
Show more
Show less
Dates / prices / services
Services
7 nights incl. breakfast, national 3* level, category B (OE-CHOG7)
7 nights incl. breakfast, national 3* / 4* level, category A (OE-CHOG7)
Luggage transport from hotel to hotel to Geneva
Wine tasting in Varen
GPS tracks available on request
Cycle route description with maps (1 x per room)
7 day Service Hotline
Show more
Show less
Additional Services
Additional bookable services
| | Category B | Category A |
| --- | --- | --- |
| Additional fee single room | | |
All prices are per person
Additional nights
Room

Breakfast

Category B

Category A

Brig

Genf

Oberwald / Obergesteln
All prices are per person
Rental Bikes
Rental Bikes

Rental Bike
129 €

E-Bike
259 €
Brief Information
Booking Code
OE-CHOG7
Start / Destination
Oberwald / Geneva
Duration
8 days / 7 nights
Length
approx. 290 km
Daily routes ●●●○○
between 30 and 70 km, Ø 50 km
Altitude profile ●●●○○
Route condition
Mostly flat routes on asphalted roads and country roads. Some inclines.
Parking information
Free of charge parking place nearby the station in Oberwald.
No reservation possible through Radweg-Reisen.
Return journey to Oberwald / Ulrichen
Travel by train (on your own initiative). Hourly connections, duration approx. 4 hours, 1 change.
Tour operated by
Local cooperation partner
Mobility note
This holiday is suitable to only a limited extent for people with restricted mobility.
Please contact us if you have individual requirements.