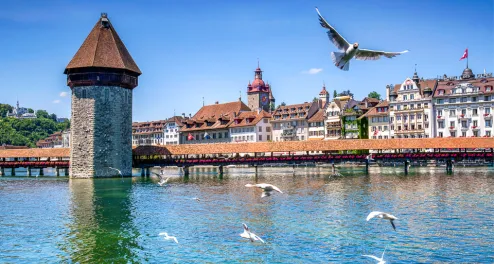 Cycling Tour at Lake Lucerne
Cycling Tours in the Central Switzerland
Day Trips from Lucerne
Vierwaldstätter Lake, Lake Zug, Lake Baldegg, Sempach Lake
Boat trips included!
Daily routes ●●●○○
Altitude profile ●●●○○
A cycling holiday as a star-shaped bike tour on Vierwaldstätter Lake from Lucerne in one of the most beautiful areas of central Switzerland. Experience four beautiful lakes on your cycling holiday: Vierwaldstätter Lake, Lake Zug, Lake Baldegg and Sempach Lake. Lucerne is a perfect starting point, located as it is, right on the lake. In addition to the many sights to see in Lucerne, you will discover further treasures and highlights in the surrounding area. From Kappelbrücke and rose gardens to Pilatus mountain - the cycle paths take you past idyllic lakes and dreamlike mountains. A basic level of fitness is preferred but lesser practiced cyclists will also still enjoy this tour.
Itinerary
Booking code
OE-CHLU6
Start / Destination
Lucerne
Duration
7 days / 6 nights
Length
approx. 275 km
Daily routes ●●●○○
between 50 and 60 km, Ø 55 km
Altitude profile ●●●○○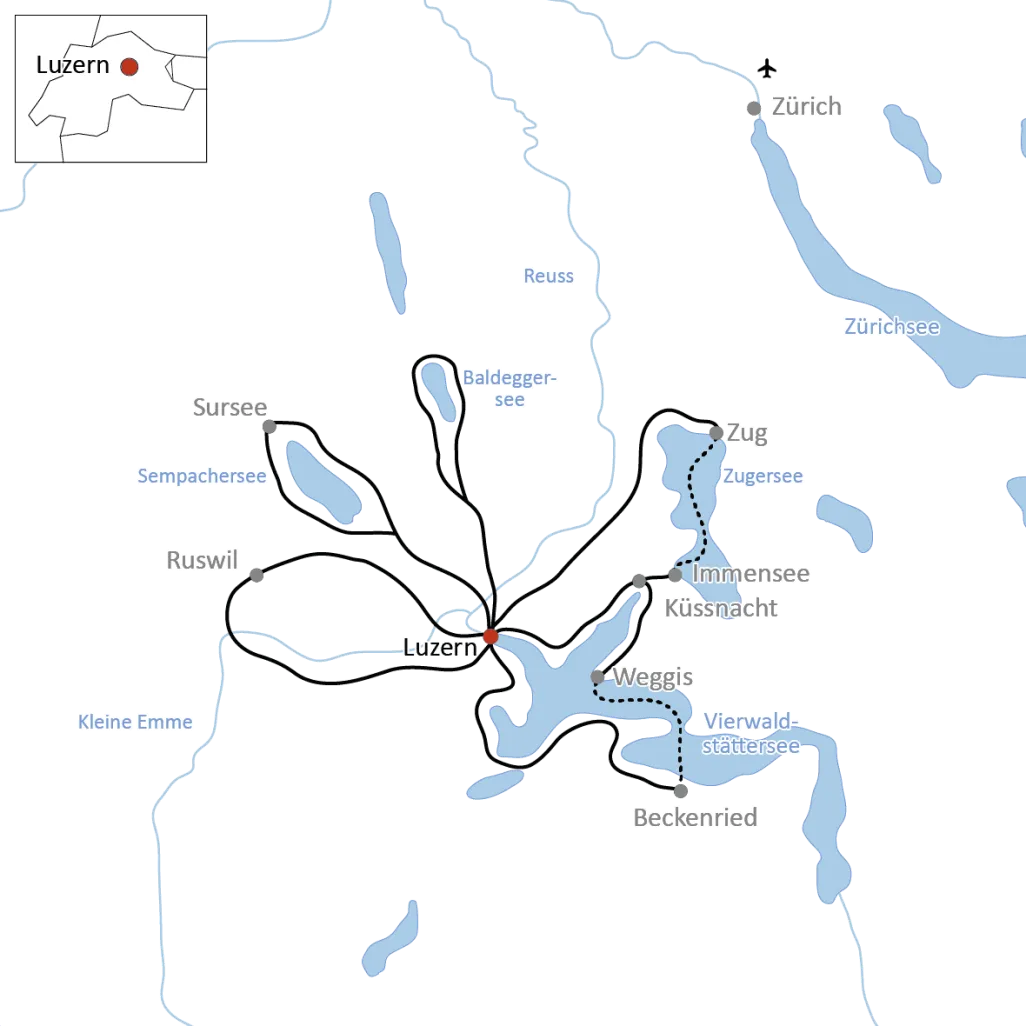 Day 1: Individual arrival in Lucerne
Welcome to Vierwaldstättersee Lake. In Lucerne one of the first things you see is the roofed wooden bridge. It is Europe's oldest wooden bridge and also the town's landmark. The water tower, Mount Rigi and the lion monument are also very sightworthy. Be charmed by the Mediterranean flair of the largest town on Vierwaldstättersee Lake and treat yourself to a tour of this wonderful area on paddle steamer.
Day 2: Trip on Vierwaldstätter Lake, approx. 50 km + boat trip
In the morning there is a short briefing about the tour. This is also when you are given any bikes you have booked. The focus of today's tour is Vierwaldstätter Lake. After you have climbed a small range of hills, you get  a view over the whole valley. Your route takes you via Küssnacht to Weggis. You cross over to Horw peninsula by boat. The view of Lucerne's local mountain, Pilatus, is stunning from here.
Day 3: Trip through central Switzerland, approx. 55 km
In the morning, you cycle through the neighbouring town of Emmenbrücke along the ridge of Brunau Berg to Ruswil, the largest settlement of farmers in Switzerland, with 245 farms. The late baroque parish church is one of the biggest and most valuable church buildings in the Lucerne region. Passing the wonderful monastery in Werthenstein, which can be seen from afar, you roll along the little Emme back to Lucerne.
Day 4: Trip to Sursee on Sempach Lake, approx. 60 km
Today you cycle to the town of Sursee, picturesquely located on Sempach Lake. The tour takes you past peaceful woods and lovely farmhouses. All the while you have great views of the nearby Alpine peaks and Pilatus mountain. According to legend, the Roman prefect Pontius Pilatus is buried here. Sursee which is so beautifully located here on the lake, is a perfect spot for lunch before you begin the return journey along Sempach Lake.
Day 5: Trip to Lake Zug, approx. 50 km + boat trip
The first section takes you to the already familiar Küssnacht on Vierwaldstätter Lake. Next, you cycle just a few kilometres to get to the beautiful Lake Zug in central Switzerland. Behind you is the Mount Rigi. In Arth, a boat is waiting for you to take you to Immensee. There's a short but steep hill to climb before you cycle back to Lucerne along the woody-adventure path.
Day 6: Trip to Heidegg Castle on Lake Baldegg, approx. 60 km
Passing Emmenbrücke, you get to Lake Baldegg which is the only lake in Switzerland to be privately owned. If is home to over 300 species of plant. Cycling around the lake you will enjoy a very picturesque route to Heidegg Castle, in the middle of a well-kept park and cultural landscape of national importance. Take a walk through the rose gardens before you get back on your bike one last time. We can recommend a relaxing stroll through the pleasantly scented rose garden!
Day 7: Individual departure or extended stay
After breakfast your star-shaped cycle tour of Vierwaldstättersee Lake and Lucerne ends with your individual return home. We would be happy to extend your holiday in Lucerne.
Show more
Show less
Dates / prices / services
Category B
Season A
15.04. - 12.05.
23.09. - 15.10.
Season B
08.04. - 14.04.
13.05. - 22.09.
Category A
Season A
15.04. - 12.05.
23.09. - 15.10.
Season B
08.04. - 14.04.
13.05. - 22.09.
Services
6 nights incl. breakfast, 4*-Hotel Continental, design room, category B (OE-CHLU6b)
6 nights incl. breakfast, 4*-Hotel Continental, lifestyle room, category A (OE-CHLU6a)
Boat trip Weggis – Beckenried incl. bike
Boat trip Immensee – Zug incl. bike
Cycle route description with maps (1 x per room)
Service-Hotline (7 days, 8 a.m. – 8 p.m.)
Not inlcuded is the city or visitor's tax (if payable).
Show more
Show less
Accommodation
The Hotel Seeburg (category B) is located directly on Lake Lucerne and was recently awarded national 4* certification. From your room you can enjoy the fantastic view of the lake and the city of Lucerne. There are two hotel-owned restaurants with a terrace. On site you will also find the associated lakeside bar where you can relax after your cycling tours. 
The Hotel Continental (Category A) is located in the heart of the city of Lucerne just a few minutes from the old town. After strenuous bike tours, you can relax on the roof terrace in the evening and enjoy the view of the surrounding mountain peaks. The adjoining restaurant will spoil you with delicious Ticino dishes. 
Show more
Show less
Additional Services
Additional bookable services
| | Category B | Category A |
| --- | --- | --- |
| Additional fee single room | | |
All prices are per person
Additional nights
Room

Breakfast

Category B

Category A

Lucerne
All prices are per person
Rental Bikes
Rental Bikes

Rental Bike
119 €

E-Bike
239 €
All prices are per person
Brief Information
Booking code
OE-CHLU6
Start / Destination
Lucerne
Duration
7 days / 6 nights
Length
approx. 275 km
Daily routes ●●●○○
between 50 and 60 km, Ø 55 km
Altitude profile ●●●○○
Route conditions
On cylce paths and quiet side streets, mostly flat with some short inclines.
Parking information
Paid parking directly at the hotel, CHF 24 per day. No reservation possible through Radweg-Reisen.
Tour operated by
Local cooperation partner
Mobility note
This holiday is suitable to only a limited extent for people with restricted mobility.
Please contact us if you have individual requirements.