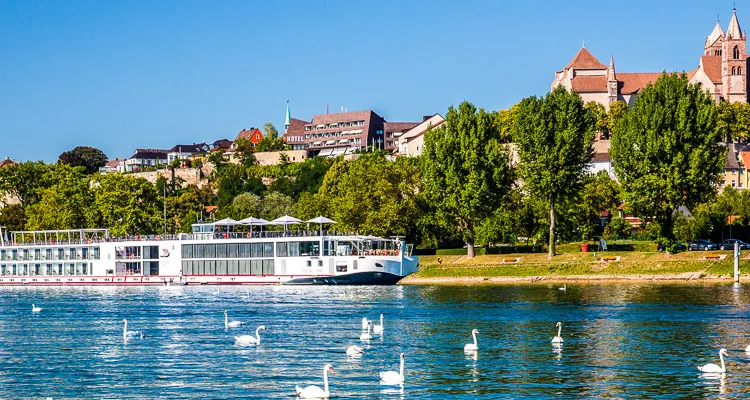 If you're looking for variety and adventure, then a tour by bike & boat through France is just the right thing. Floating hotels on the Rhine, the Marne, the Loire, Garonne, Dordogne and Gironde are perfect for seeing how varied France is - from a different perspective.
The romantic of the timber-framed houses in Alsace, lively Paris and the sparkling wines of the Champagne are just some of the highlights of a tour by bike & boat through France. And in between all that? Small, dreamlike villages, historic little towns and picturesque vineyards all with their own very special charm. Go for it - and let your tour by bike & boat become a unique experience.
A tour by bike & boat through France is also an experience thanks to the variety of the French cuisine. Dishes such as tarte flambee or Baeckoeffe from Alsace, onion soup from Paris, "Kuttelwurst" from Champagne, tarte Tatin from the Loire or Canelé from Bordeaux are waiting to be tasted. A glass of wine with your meal? In the wine cellars and restaurants you could well find a pretty fine wine waiting for you!
Show more
Show less
From the capital city of love to Champagne, the world-famous wine-growing region. Experience Paris' joie de vivre - you'll find it on every street corner! A whole host of architectural masterpieces, the Seine bridge and countless cafes make Paris an exciting start to your bike & boat trip in the Champagne region. Follow the course of the Marne to Meaux, well-known for its Brie - the queen of cheeses! Pedaling up and over the green hills of the Marne valley you reach Champagne. The self-named capital of Champagne, Épernay, is perfect for going on a tasting tour. In Chalôns-en-Champagne, just a few kilometres away, you'll find out why it has its nickname, Venise Pétillante.
Show more
Show less