Travel report: Around Lake Constance in 6 days
From our guests Bruno and Elisabeth
DAY 1, WEDNESDAY, ARRIVAL
After loading our bikes, packing and loading our car, we set off from Obernau towards Constance at around 1.30 pm. On the way, we made a short loading (for the car) and coffee (for us) stop in Wunnenstein West near Stuttgart at around 3.00 pm. We checked into the ABC Hotel in Constance in bright sunshine and greeted by the zeppelin directly above our room window. The impressive zeppelin kept popping up all over the place throughout the week, but we were put off by the cost of such a sightseeing flight. We were able to park and load our bikes in the bike cellar. We set off on a short walk towards the city center and had a delicious dinner in the lively pizzeria L'Osteria. The generously laid out and lively cycle paths and the many young people throughout the city were striking.
Show more
Show less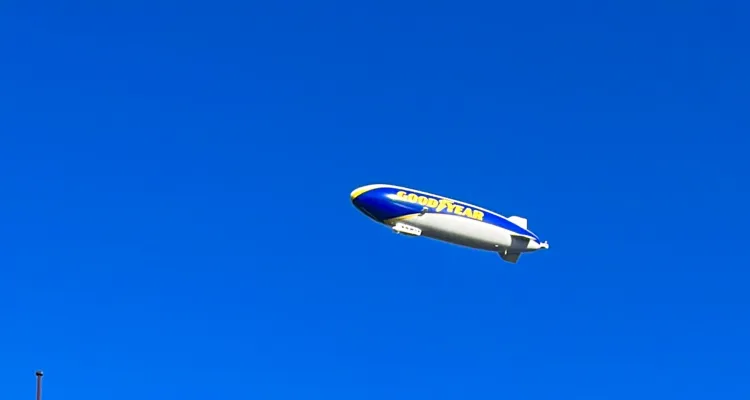 DAY 2, THURSDAY
After a hearty breakfast, we set off on our first round trip from Constance via Stein am Rhein (Switzerland) back to Constance. We cycled along the Seerhein through Tägermoos, past Ermatingen, Steckborn and Mammern through the orchards to Stein am Rhein, a wonderful medieval town with an excellent gelateria, where we treated ourselves to a delicious Swiss iced coffee. The Sankt Georgen monastery was being renovated, so we only looked at it from the outside and continued our journey on the other side of the Rhine on the German side. My mishap happened near Öhningen, in a small S-bend I got my pedal stuck on the ground and fell on my right knee. My left elbow hit the handlebars. But after a short breather, I was able to continue on to Gaienhofen, where we took a small ferry back to the Swiss side to Berlingen. From there, we cycled back to Constance along the route we had already covered in the morning, where I first stocked up on wound gel at a pharmacy. After a refreshing shower, we cycled into Constance city center and enjoyed our dinner with the first Swabian specialties (real Maultaschen and Reichenau vegetables) in the beer garden of the Constanzer Wirtshaus. Kilometers cycled: 61
Show more
Show less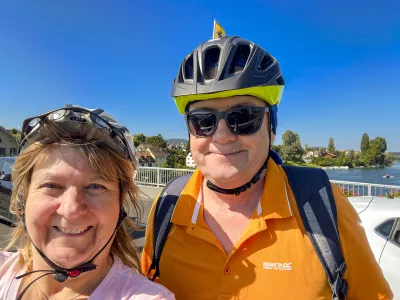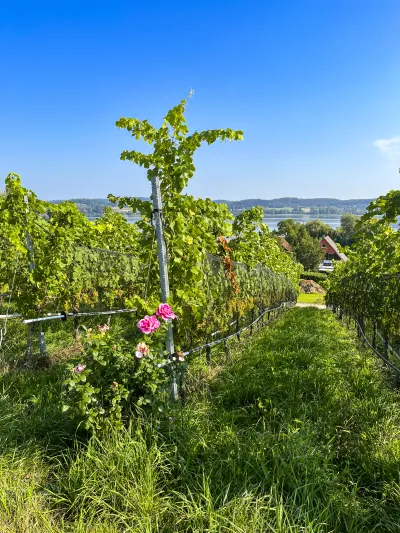 DAY 3, FRIDAY
Today, after breakfast, we set off from the ABC Hotel with a small amount of luggage on our actual tour around Lake Constance. We parked our car outside the hotel walls on the roadside without any problems. Our bags were transported to the next stage destination by Radweg-Reisen. First, we explored the UNESCO World Heritage Site, the island of Reichenau. Far away from the hustle and bustle of Lake Constance tourism, the vegetable and monastery island is very tranquil and you feel like you've stepped back in time. We passed huge greenhouses with tomatoes and eggplants and fields of pumpkins, celeriac and every conceivable type of vegetable before reaching St. George's Monastery and St. Mary and St. Mark's Minster, where the monastery garden has just been replanted. We took a small private ferry to Allensbach on the mainland. In Radolfzell, we then took a short lunch break at the harbor pier with the water level indicating sculpture El Niño and fortified ourselves with a juice spritzer and pretzel. Afterwards, we drove through the town center with its cathedral and fools' fountain.
Then came the climb over the Bodanrück, which separates Lake Überlingen from Untersee. The apple harvest was in full swing in the orchards. The huge green fruit crates with all kinds of apples and pears were everywhere along the way and the fruit growers' cold stores were filled with the harvest. We stopped for refreshments at the kiosk Hafenmauer 1826 in the small harbor of Ludwigshafen before climbing the steep slope to our hotel Landhaus Sternen in Sipplingen. I actually had to push for the last stretch. But it was worth it, our luggage was already there and the view from our balcony over the lake was magnificent. We treated ourselves to a burger dinner at Seeliebe Beach, where the supposedly chic society gathered for White Night. The ascent back to our hotel forced me to push a bit again, but it was still nice. Cycled kilometers: 44
Show more
Show less
DAY 4, SATURDAY
Bruno's 60th birthday began with a great breakfast buffet at Landhaus Sternen and a video call with his grandchildren Tayo and Emil. Apart from that, the day was as quiet as he wanted it to be, with congratulations only being received via WhatsApp. We rolled downhill to Überlingen, where the weekly market was taking place. We parked our bikes and strolled through the alleyways, past the Bodenseereiter fountain, St. Nicholas Minster, the town hall and the Fauler Pelz municipal gallery. Then we continued to Unteruhldingen to the pile dwellings. Here we had the obligatory iced coffee with a view of the lake. We continued on to Meersburg, where the tourists were thronging through the town - the Lake Constance Wine Festival and busy ferry service were attracting an endless number of people, so we quickly escaped the hustle and bustle and continued on through Immenstaad to Friedrichshafen. Our luggage was already waiting for us in the newly renovated Hotel City Krone. After a short tour of the city, we had coffee and birthday cake at Café Antonius. After a refreshing dip in the hotel pool, we had our birthday dinner at the Wirtshaus am See. We had Swabian specialties, roast onion and pork cheeks with spaetzle. After a nightcap in the hotel bar, we were once again only able to endure the tropical night with the windows wide open. Cycled kilometers: 41
Show more
Show less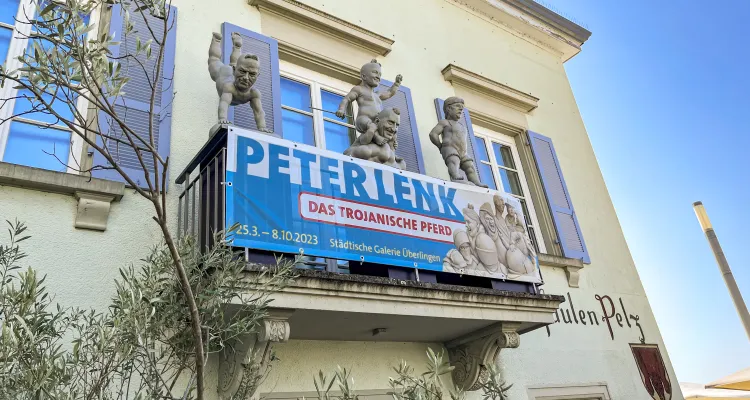 DAY 5, SUNDAY
Today we took a break from cycling. We took the MS "Graf Zeppelin" to Lindau to the Bayerischer Löwen. Here we walked around the island town and admired the half-timbered houses, arcades and facade paintings. The Haus zum Cavazzen was unfortunately covered in scaffolding and only hinted at its splendor. There was a lot going on in the small town due to the Sunday shopping and craft market. We enjoyed coffee and cake in the Theatercafé. When we got back to Friedrichshafen by boat, we couldn't resist: We wanted to cycle to dinner after all. A small moment of shock: Bruno's rear tire was flat. We quickly pumped it up with an air pump from the bike shed and headed to the Seehof restaurant. Bruno had Lake Constance fish and I had cheese spaetzle, again with a view of the lake. The tire had held its air... at least for the time being... Kilometres cycled: 3
Show more
Show less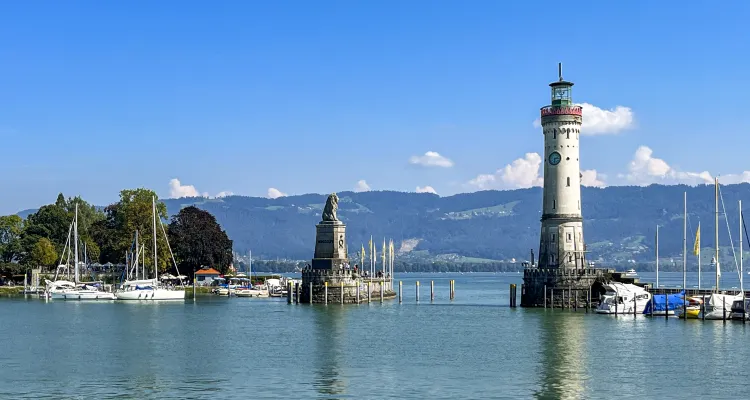 Day 6, MONDAY
After a delicious breakfast buffet, Bruno discovered that his rear tire was flat again and had it repaired at a nearby bike store. Thank you 18 Grad Bikestore for the quick help. We set off for Austria right on time at 10.00 am. In Langenargen, we passed the third-oldest suspension bridge in Germany, leaving Kressbronn and Lindau to the left, as we had already explored the latter the day before. We only noticed the border crossing to Austria because of the excellent cycle path on the Austrian side. In Bregenz, we enjoyed another delicious iced coffee on the lakeside with a view of the dismantling work on the famous lake stage. A short tour of the town took us past the narrowest house façade in Europe (57 cm) and a very spacious pedestrian zone. We left the Pfänder (1064 m) and its cable car to the left. The last part of the route to our destination of Höchst took us along busy roads across the Rhine to our "Smart Hotel". We weren't really impressed with Höchst: lots of traffic, hardly any cycle paths in the town and our luggage wasn't there yet either. At least we were able to get into our room and take a refreshing shower without any problems and without the reception desk being manned. After a short siesta, we were told by the nice member of staff, who had arrived in the meantime along with our bags, that we should drive to the Rhine delta below the village, where there was a campsite with two nice restaurants. No sooner said than done. And that was a very good tip - a wonderful restaurant Il Porto with delicious pasta dishes and a beautiful harbor, lake and Rhine delta view. A successful end to the day with tiramisu. Cycled kilometers: 51
Show more
Show less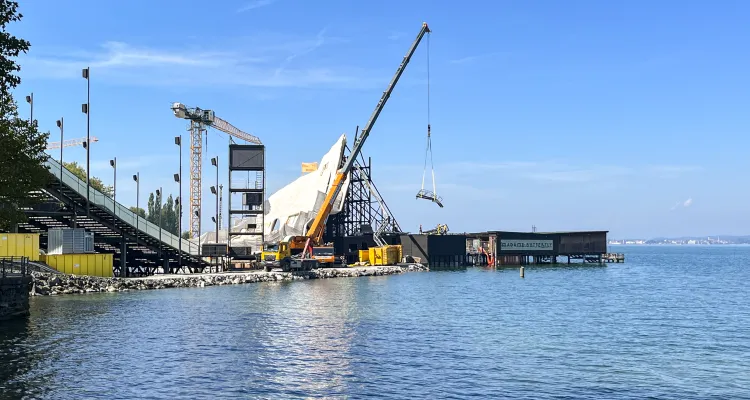 DAY 7, TUESDAY
Immediately after breakfast, we set off towards Switzerland and crossed the border at Gaißau. Continuing along the Swiss-Austrian border, we passed St. Gallen-Altenrhein airport, when a work of art of a special kind suddenly appeared at a noisy traffic circle full of construction sites: the Altenrhein market hall, designed by Friedensreich Hundertwasser. We descended and climbed up the building with its colorful ceramics, golden onion domes and wonderful green roof - all without paying an entrance fee. We then headed back along the lake to Rorschach with the Kornhaus dating from 1749 and the Würth Museum with fantastic outdoor sculptures by Niki de Saint Phalle. At the Hafen-Treff in Steinach, we enjoyed a delicious sandwich at Swiss prices and then cycled on via sleepy but pretty Arbon and Romanshorn. The Swiss also take a siesta - many stores were closed at lunchtime. After a long cycle across flat and sunny countryside, we finally found a nice patisserie in Scherzingen with a very special iced coffee for €11.50 (no joke). Via Kreuzlingen we were quickly back in Constance at our ABC Hotel, where we checked in at the same time as our luggage. It was getting dark and a big thunderstorm was brewing, albeit with very little rain. So we were able to take our bikes to the Brauhaus Johann Albrecht for dinner and round off our vacation with a very tasty dinner (salad with fish crispies and roast onions). We had already driven the car to the hotel parking lot beforehand to charge it, where it was safely parked overnight and fully charged at a reasonable price. Kilometres cycled: 56
Show more
Show less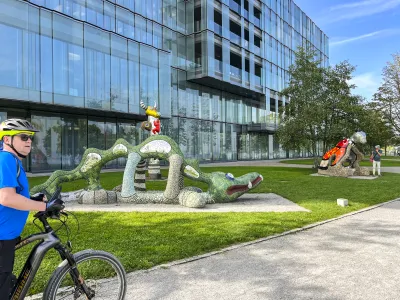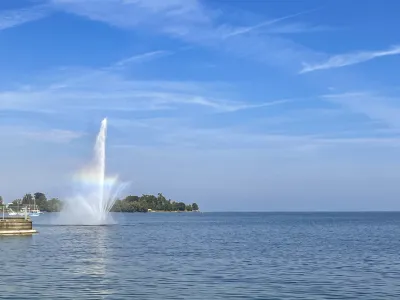 DAY 8, WEDNESDAY, DEPARTURE
Today, after breakfast, we loaded our car with luggage and bikes and took the car ferry to Meersburg. There we bought a few wine souvenirs from the winegrowers' association and then drove via Ravensburg towards Nördlingen. There we used our loading stop to have lunch with Karl, an old friend who lives in Nördlingen. We arrived home at 4.00 pm. It was lovely, with consistently great summer weather, super organization by Radweg-Reisen and lots of lovely moments!
Show more
Show less