Travel report: In 4 days around Lake Constance
From our guests Manuela and Andreas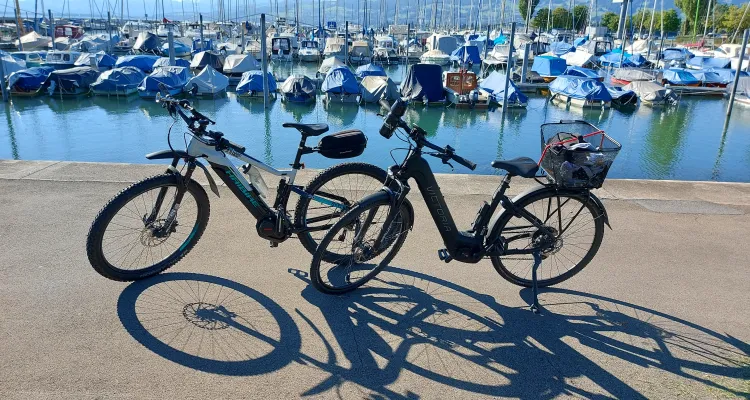 In June 2022, Manuela and Andreas went to Lake Constance, or rather to the Obersee (Upper Lake). Starting in Constance, they cycled to Meersburg, the towns of Lindau and Bregenz and the Swiss lakeshore. On the way, they enjoyed a good glass of wine here and there, including beautiful views, and mostly in glorious summer weather!
Show more
Show less
Wednesday, 22.06.2022 / Preparation 
The suitcases are packed, the bike rack with the bikes is already mounted on the car so that we can leave at 6.00 in the morning on time. We have to be at Radweg-Reisen in Constance by 10.00 a.m. at the latest so that our luggage can be collected. The individual travel documents, water bottles and hand luggage are stowed separately in the rucksack. Alarm clock set for 5.00 a.m. Our first cycling trip is waiting for us.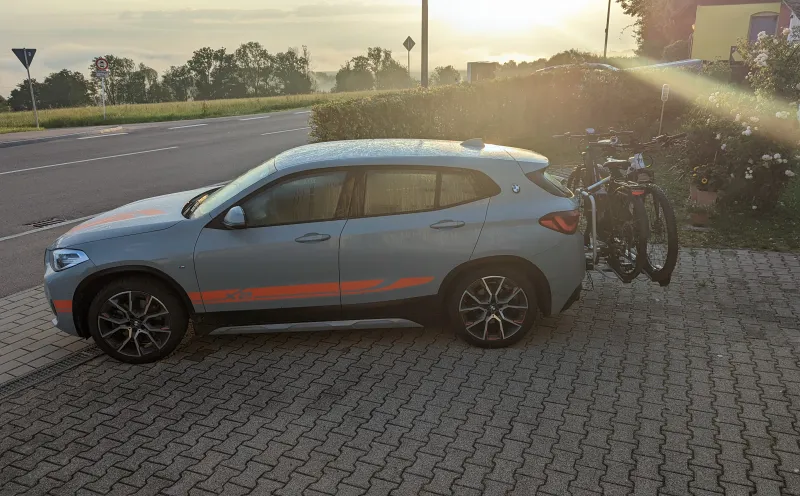 Day 1: Thursday, 23.06.22 / Temperature 36 degrees
6.00 a.m. Departure, the day will be beautiful, only some early morning fog. After a 225-kilometre journey, punctual arrival in Konstanz at Radweg-Reisen shortly after 9.00 a.m.. After a friendly reception and a welcome coffee, everything is explained to us. The pick-up service for our suitcases is already there and loads our luggage. Then we are shown the parking space for our car, which we have booked. After a short briefing in which the way to the ferry is explained to us, we sit on our e-bikes and ride off. After a short time we are already at the harbour and the ferry to Meersburg is already there.
On board, we already pull out our mobile phones to take the first pictures. The ticket was included in our booking. The sun is shining brightly and we are in a real holiday mood. At exactly 10.00 a.m. we are on the other side of the lake, in Meersburg. We take a look at the nice little town, but want to continue. The cycle path is well signposted and we cycle along vineyards with beautiful views of the lake.
Show more
Show less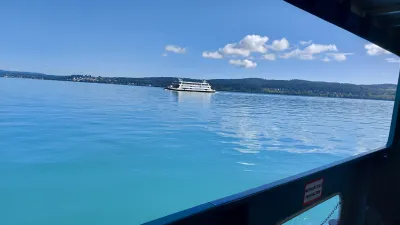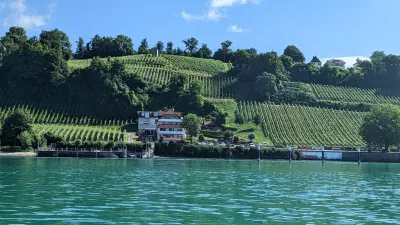 We cycle through Hagnau and Immenstaad and arrive in Friedrichshafen at 12.00. Hungry and thirsty, we take a break at the Beach Club on the promenade. Fortified with Coke Zero, water and "Elsässer Art" tarte flambée, we continue on the Bodensee cycle path. The relaxed cycle tour continues along apple orchards, through forests and meadows and through varied and flower-filled villages. Above us there is always a zeppelin cruising peacefully around Lake Constance.
The tour continues via Eriskirch, Langenargen, Kressbronn, Nonnenhorn and Wasserburg. After 52 kilometres, we arrive at the Hotel Schreier on the island of Lindau at around 02.00 p.m.. The hotel is beautifully situated directly on the lakeside promenade. We receive a friendly welcome and check in. The pretty guest room (room Amarena) is equipped with a small balcony with a side view of the lake, minibar and air conditioning.
Show more
Show less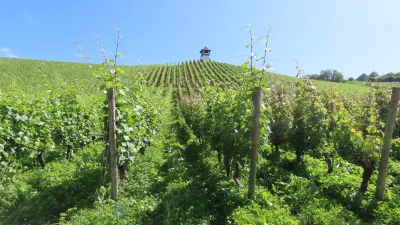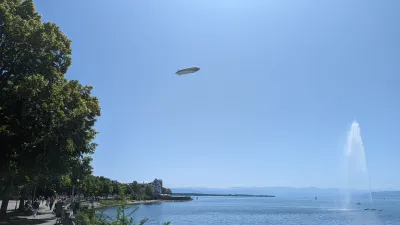 As the outside temperature has risen to over 30 degrees in the meantime, we allow ourselves a little midday nap. Our luggage is delivered at 4.00 p.m. After a shower and fresh clothes, we take a walk through the town and treat ourselves to an iced coffee and a Radler. Lindau is really a town worth seeing with many sights.
We had dinner at Wissinger's Schlechterbräu, a somewhat hidden beer garden with very tasty food and great service! After a Händelsalat (large salad plate with fried strips of chicken breast) and Bodenseematjes in Hausfrauensoße (red-eye fillets with herb potatoes) and two Lindauer Hell, we are completely satisfied. We end the day on our sweet little balcony with a Lake Constance wine from the hotel fridge at reception (very good selection!!). (TIP: white wine Müller-Thurgau "Feldchen" from Hagnauer Burgstall). A heavy thunderstorm is approaching towards the end of the day.
Show more
Show less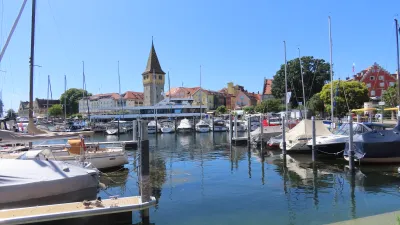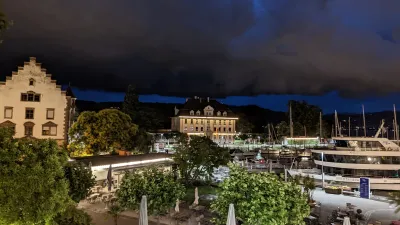 Day 2: Friday, 25.06.22 / Temperature 22 degrees
It rained during the night, so today it is cloudy and the temperature is much more pleasant. We have our delicious breakfast in the in-house Café Schreier with a view of the lake. At 8.45 a.m. we start the new day freshly strengthened. Near Leiblach we cross the border to Austria, in Bregenz we take a look at the scenery of the lake stage "Madam Butterfly". We take a short break in Gaißau at Roberto's Pizzeria before heading into Switzerland. There is also a shop opposite the pizzeria where we stock up on marching rations. The sky was getting darker and it started to rain lightly. Since the lakeshore in Switzerland is in a nature reserve, we drive in a big loop into the hinterland, past water buffaloes, cow pastures and farms. In Rorschach it really started to rain, so we drove non-stop to Arbon, after 52 kilometres we arrived at the Hotel Wunderbar at 1.45 p.m.. Unfortunately, the room was not ready yet. So first a cool blond beer... despite the rain on the terrace!
The Hotel Wunderbar used to be the canteen of the Swiss company Saurer and was converted into a hotel in 2010. The industrial charm was preserved. A very idiosyncratic concept. When our room was ready, we checked in, our luggage also arriving at 3.00 p.m.. After a little nap in the Eggli room, a shower and fresh clothes, all was right with the world again. The rain had let up a bit and so we looked around a bit in the old town of Arbon. Of course we tried the speciality "St. Gallen Bratwurst" in the evening, as recommended in the guidebook. Definitely try it!
Show more
Show less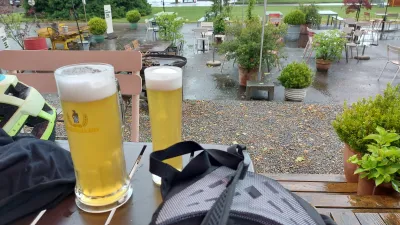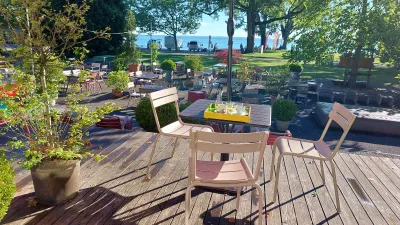 Day 3: Saturday, 26.06.22 / Temperature 26 degrees
We can enjoy breakfast on the terrace of the Hotel Wunderbar, as the weather is very kind to us. The sun is shining, the air is fresh, simply wonderful cycling weather. There was no sign of yesterday's rain.
We set off full of expectation, eager to see what we would experience today. First cappuccino break in Romanshorn at Café Panem with a view of the harbour.
Show more
Show less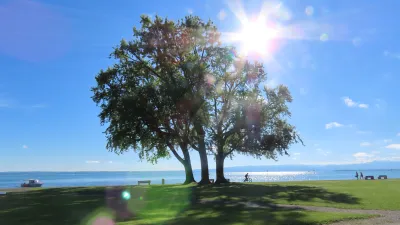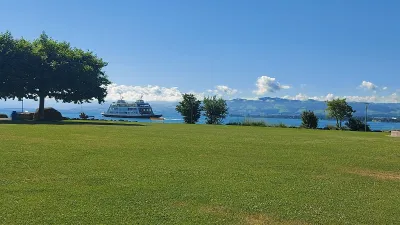 We continue under a bright blue sky along the railway tracks on the cycle path past cow pastures and apple orchards. We take a second break in Kreuzlingen at the Café Alti Badi so that we can spend our last Swiss francs.
After another 500 metres, we are back in Konstanz again after a total of 154 kilometres much too quickly. We drive to the car park, pick up our car and then drive briefly to Radweg-Reisen to check out, then quickly go shopping and at 12.30 p.m. we are at the ABC-Hotel. The building was once a French officers' casino and was renovated in 1994 and then converted into a hotel. At 1.00 p.m. we can check into our room, which was equipped with a small kitchen and fridge, and SKY TV was also free. We have a small snack in our room. This time our luggage arrived already at 2.30 p.m.. Freshly strengthened, we sit on our bikes again, explore the harbour and take an extended break in the Augustiner beer garden. Afterwards, we ride along the Rhine for a while.
Show more
Show less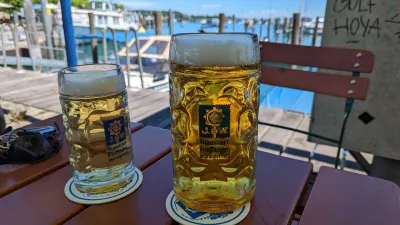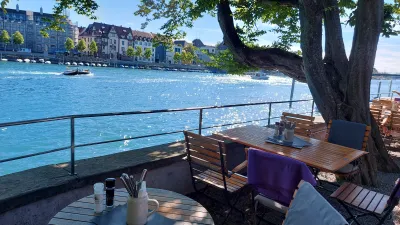 We have our dinner at the Constanzer Wirtshaus. I had char filet in lime sauce with vegetables from the Reichenau and roast potatoes and Andi roast pork from the Swabian-Haellian Landschwein with bread dumplings, served with two Constanzer Hell...very tasty. Make sure to book in advance, preferably with a view of the Rhine.
Over a glass of Lake Constance wine from Kressbronner Berghalde in the ABC-Hotel, we let our varied cycling tour come to an end and review it once again; the trip was very entertaining, entertaining and well organised. This will not be our last booking with Radweg-Reisen. Tomorrow we are going home again. It was great!
Show more
Show less