Cycling vacations on the Drava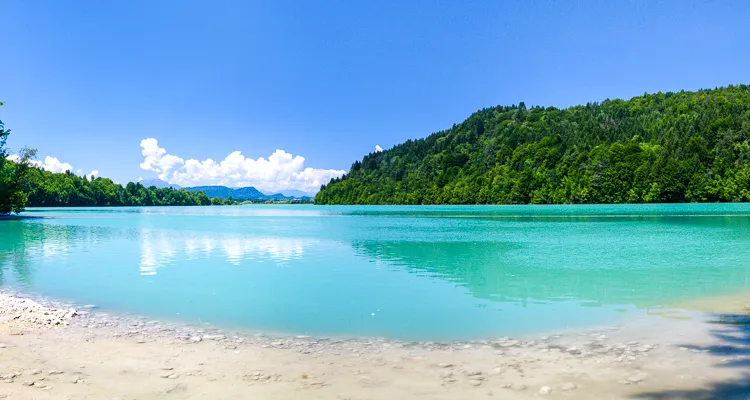 Cycling vacations on the Drava will take you to the southernmost province of the Alpine Republic of Austria. Carinthia awaits you with mild temperatures and a density of waters that is second to none. The most beautiful thing about Carinthia is the interplay of lakes, mountains, the incredibly delicious food and the mild temperatures. It never gets boring here, because the mix is right.
The Drava Cycle Route is rightly considered one of the most beautiful and attractive cycle routes in Austria. The cycle paths are well signposted, pleasantly flat and mostly lead along the banks of the Drava. Delicacies such as Carinthian cheese noodles and Carinthian Reindling, a cake, will delight gourmets. You should not miss this. The Buschenschanken along the cycle paths also serve delicious wine.
Cycling vacations on the Drava are therefore not only a feast for the eyes, but also a treat for body and soul.
Show more
Show less
The classic cycling holiday along the Drava is one of our most popular cycling tours. Pack your swimming trunks and explore sun-drenched Carinthia. From Lienz you cycle via Spittal and Villach past countless lakes, against the spectacular backdrop of the Karawanken and Dolomites. It is not without reason that Carinthia is called Austria's lake country. Around 200 lakes are embedded in a unique landscape with high peaks, lush meadows and tranquil villages.
If you can't get enough of lakes, you shouldn't miss the cycling tour around the Carinthian lakes. A whole six lakes await you, including the turquoise blue Lake Faak, the Lake Ossiach and the famous Wörthersee. Even the composer Johannes Brahms discovered the Wörthersee for himself, was inspired by the unique panorama for his 2nd symphony and spent the summer months in Pörtschach. You can also visit the ruins of Glanegg Castle and the beautiful provincial capital of Klagenfurt with its numerous Italian-style palaces and squares.
Show more
Show less