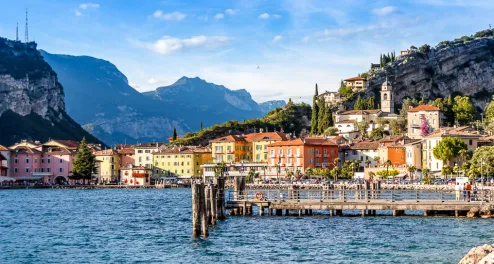 Bike Tour through South Tyrol
The south side of the Alps
Merano – Bolzano – Lake Garda
Orchards and vineyards, Ötzi in Bolzano, Lake Kaltern
Daily routes ●●●●○
Altitude profile ●●○○○
Bestseller!
No matter if you're travelling in spring, summer or autumn, south Tyrol is worth it. A glittering world of ice, breath-taking mountains, rich orchards and vineyards will turn this cycle tour into an unforgettable experience. Follow the Adige river down the valley, past Rosengarten. The scenery will be a wonderful backdrop of mountains to some, and to others the kingdom of the mythical Dwarf King Laurino. Discover the capital city of Bolzano, which is where you will find the famous mummy, Ötzi the Iceman. A basic level of fitness is required for this bike tour through South Tyrol.
Itinerary
Booking Code
IT-ETMR6
Start / Destination
Merano / Riva/Torbole
Duration
7 days / 6 nights
Length
approx. 235 km
Daily routes ●●●●○
between 30 and 70 km, Ø 45 km
Altitude profile ●●○○○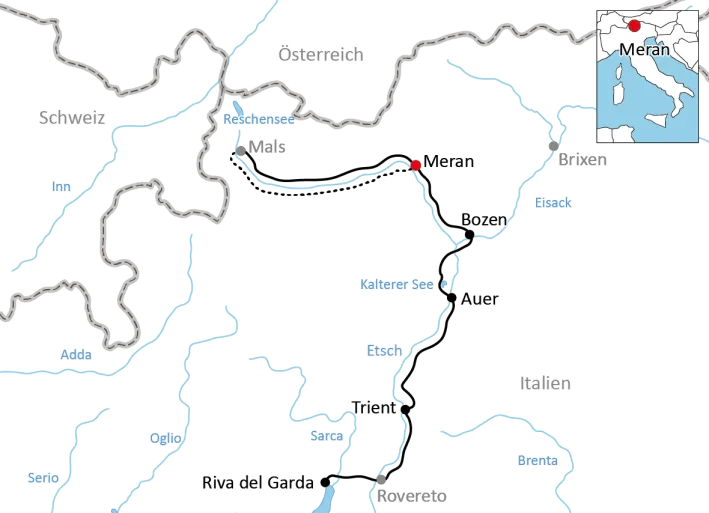 Day 1: Individual arrival in Merano
Welcome to South Tyrol. Merano welcomes you with its mild climate and glittering mountain summits. Discover the wonderful old part of the town and get a taste of South Tyrolean wine-making or visit the huge thermal bath complex, which was opened in 2005. Reserved rental bicycles are parked at the hotel ready for you.
Day 2: Round trip to the Vinschgau region, approx. 70 km + train ride
Relax and enjoy the views from the Vinschgau train that takes you to the Reschenpass. Back on your bike you set off from Mals via Glurns and Schlanders and then back to Merano. In Glurns you will be able to see the wonderfully preserved medieval town wall. Castles and forts either line your path or can be espied high up in the hills. Enjoy the view of the impressive Ortler Alps and Stelvio Pass. For a shortcut you can always take the Vinschgau train on this stretch.
Day 3: Merano – Bolzano, approx. 45 km
From Merano, your route takes you through many orchards and vineyards along the South Tyrolean wine route. You cycle pass well-fortified forts, castles and ruins, to Eppan and then continue to Bolzano, the capital of South Tyrol. A visit to the South Tyrolean archaeological museum is a must, where Ötzi the Iceman, a mummy of a man from the Bronze age, is exhibited.
Day 4: Bolzano – Auer, approx. 30 km
Today you cycle smoothly along the bank of the Adige to Auer. If you prefer a more beautiful but more strenuous route you can cycle via Eppan and see the ruin of the impressive Hocheppan castle. St. Pauls offers a pretty church, also referred to as the country cathedral. You continue cycling to Lake Kaltern, one of the biggest lakes in South Tyrol and the warmest swimming lake of the Alps, located in the South Tyrolean wine-producing region.
Day 5: Auer – Trient, approx. 45 km
You will mainly be cycling along the Adige and through orchards to Salurn, the southernmost village of South Tyrol. Along the vineyards you reach Trentino, capital of the self-governed province of the same name. Wander through the historic city centre and view the beautiful cathedral, San Vigilio and Castle Buonconsiglio, the former residence of a number of prince-bishops. Numerous museums await your visit.
Day 6: Trient – Riva / Torbole, approx. 45 km
Near Rovereto, which used to be known for its silk manufactories, you leave the Adige Valley and cycle towards Mori. After a short stretch uphill you reach Lake Garda, situated wonderfully between the Alps and the Po Valley. The lake was formed by the Adige Glacier in the last ice age. It is regarded as the largest and most beautiful Italian lake. Over Torbole, located on the coastal road Gardesana Orientale, you will reach Riva del Garda.
Day 7: Individual departure or extended stay
Your bike tour through South Tyrol ends after breakfast. We would be happy to extend your stay here if you wish.
Show more
Show less
Dates / prices / services
Season A
01.04. - 14.04.
30.09. - 07.10.
Season B
15.04. - 12.05.
09.09. - 29.09.
Services
6 nights incl. breakfast, national 3*/4* level
Luggage transport from hotel to hotel, no limit on the number of pieces, max. 20 kg / piece
Trip on the Vinschgau train Meran – Mals incl. bike
1 x pistachio ice cream
GPS tracks available on request
Cycle route description with maps (1 x per room)
Service Hotline (7 days, 8 a.m. – 8 p.m.)
Show more
Show less
| Child reduction on basic price | | |
| --- | --- | --- |
| discount-icon discount-icon-baby | | |
| discount-icon discount-icon-lego | | |
| discount-icon discount-icon-football | | |
| discount-icon discount-icon-joystick | | |
Additional Services
Additional bookable services
| | |
| --- | --- |
| Additional fee single room | |
| Return transfer incl. own bike, Torbole/Riva – Meran | |
| Return transfer excl. own bike, Torbole/Riva – Meran | |
All prices are per person
Additional nights
Room

Breakfast

Price

Meran

Torbole / Riva
All prices are per person
Rental Bikes
Rental Bikes

Rental Bike
99 €

E-Bike
239 €
| Rental Bike | |
| --- | --- |
| 7- or 21-gear Rental Bike | |
| | |
Brief Information
Booking Code
IT-ETMR6
Start / Destination
Merano / Riva/Torbole
Duration
7 days / 6 nights
Length
approx. 235 km
Daily routes ●●●●○
between 30 and 70 km, Ø 45 km
Altitude profile ●●○○○
Parking information
Public parking near the hotel for about 35 € per week, payable on site.
No reservation possible through Radweg-Reisen.
Returning to Merano
Optional: travel by chartered minibus (only saturday, sunday and monday in the morning and on tuesday in the morning or in the afternoon), duration approx. 1,5 hours. Please include this option in your original booking.
If you do not want to continue your journey directly after the transfer, you can book additional nights in Merano.
You can also book the transfer from Riva/Torbole to Merano before the bike tour. So you can continue your tour from Riva/Torbole right after the tour. Please write your booking request in the online booking form in the free text field.
Alternative: Make your own way by bus to Rovereto, and from there by train to Merano.
Bus ride Riva – Rovereto: Duration is about 50 minutes, with several connections leaving daily. No bike transport possible.
Train ride Rovereto – Merano: Duration is about 2 - 2,5 hours, with connections leaving every hour, involving 1 change. Only a very limited number of bikes can be transported.
Own bikes
If you do not need a rental bike, please indicate in the booking form, whether you arrive with your own bike or your own E-Bike.
Tour operated by
Local cooperation partner
Mobility note
This holiday is suitable to only a limited extent for people with restricted mobility.
Please contact us if you have individual requirements.