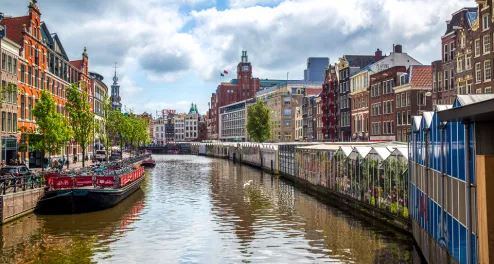 Bike Tour from Bruges to Amsterdam
Through Flanders, Zeeland and Holland
 Bruges – Dordrecht – Amsterdam
Idyllic villages, historical cities and natural landscape
Kinderdijk windmills
Daily routes ●●●○○
Altitude profile ●○○○○
This diverse Bike Tour from Bruges to Amsterdam will take you through Belgium and the Netherlands. Explore small, idyllic villages and big cities with long histories, such as Bruges and Amsterdam. Enjoy beautiful natural landscapes, which are mostly characterised by water and green meadows. From Bruges, the gem of Flanders, you will first cycle through the Flemish region, and after crossing the border, through Zeeland Flanders. Via the Western Scheldt estuary you will visit numerous islands and peninsulas, where beautiful sandy beaches await you. You will cycle past the 19 impressive Kinderdijk windmills, before your cycling holiday ends in the lively and unique bicycle city Amsterdam.
Itinerary
Booking Code
NL-BA7
Start / Destination
Bruges / Amsterdam
Duration
8 days / 7 nights
Length
approx. 315 – 340 km
Daily routes ●●●○○
between 50 and 80 km, Ø 55 km
Altitude profile ●○○○○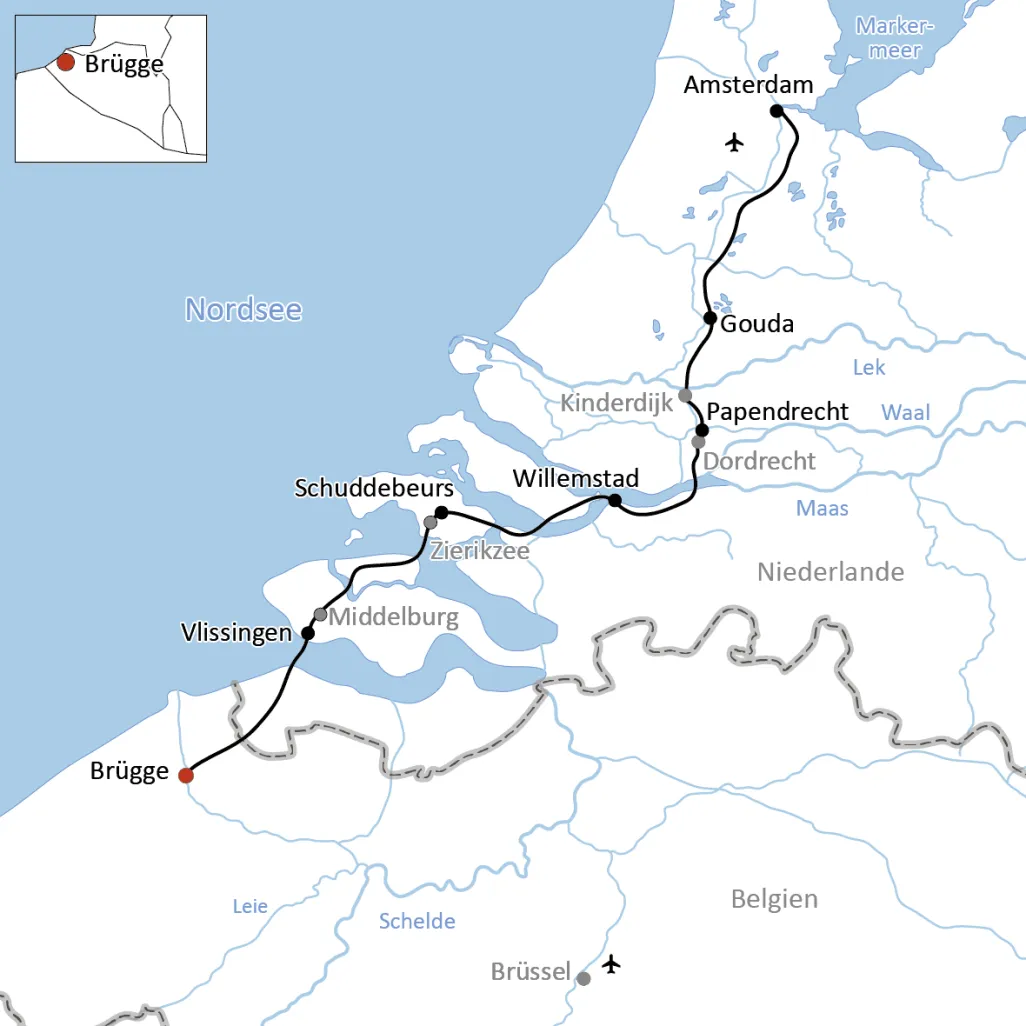 Day 1: Individual arrival in Bruges
Bruges, also known as the Venice of the North, is Belgium's most important cultural hub and hosts many museums. Explore the rich history of what might be Flanders' most beautiful city – take a cruise through the medieval city centre on one of the many canals and get a feel for Bruges medieval past, when the city was the centre of European fabric and wool trade. Your rental bikes will be ready at the hotel.
Day 2: Bruges – Vlissingen / Middelburg, approx. 65 km
Your bike tour starts with a diverse stage through green meadows and extensive wetland areas. First you will cycle into the small and charming town Damme. Shortly afterwards you will cross the Dutch border. You will cycle through Zeeland Flanders before your ferry takes you to your destination Vlissingen. The beach is the perfect spot to watch a beautiful sunset.
Day 3: Vlissingen – Schuddebeurs / Zierikezee, approx. 40 km
In Middelburg you have reached the capital of the Zeeland Flanders region. Take a look at the Stadthuis, one of the Netherlands' most important gothic town halls. The village Veere was significantly shaped by its trade with Scotland. Explore the Scottish traces on a stroll through the charming small town. Cycle through Zierikzee to reach your destination Schuddebeurs.
Day 4: Schuddebeurs – Willemstad, approx. 50 km
Beautiful sandy beaches line the island Schouwen-Duiveland. You will cycle through the poldern landscape, which is reminiscent of a mosaic, past dunes and sandbanks before you return to the mainland.  The centre of the small fortress town Willemstad is home to numerous well-restored buildings from the 17th and 18th century. The town centre forms a seven-pointed star, which is completely surrounded by water.
Day 5: Willemstad – Dordrecht – Papendrecht, approx. 65 km
You will cross the Hollands Diep river and cycle along the national park De Biesbosch – a unique freshwater tidal wetland, which was created after a large flood in 1421. Hundreds of birds breed in this labyrinth of streams and islands. Dordrecht, which is located on the island with the same name, is Holland's oldest town. The area around the harbour in particular will give you a feel for Dordrecht's past. Today you spend the night in Papendrecht, which is just a bit further north of Dordrecht.
Day 6: Papendrecht – Gouda, approx. 40 km
Take a break at Holland's most famous windmills on your journey North. 19 windmills stand in a row in Kinderdijk, which were built to pump water from the polders into the river Lek. When cycling further to Gouda, you are in fact 2 metres below sea level. The famous cheese town has an impressive town centre.
Day 7: Gouda – Amsterdam, approx. 80 km or 55 km + Train
Cycling through the Netherlands' Green Heart you will get ever closer to your journey's destination. A unique landscape of rivers, wide polders, lakes and marshland stretches around you. You will cycle past lakes, canals and many small villages before reaching the Dutch capital. There are so many sights in this harbour city that it can be hard to decide where to start.
Day 8: Individual departure or extension of stay
After breakfast your bike tour from Bruges to Amsterdam ends. In case you want to enjoy Amsterdam for a few more days, we would be happy to extend your stay in the city of canals and bicycles.
Show more
Show less
Dates / prices / services
Season A, monday - saturday
Services
7 nights incl. breakfast, national 3* / 4* level
Luggage transport from hotel to hotel to Amsterdam, 1 piece of luggage per person, max. 20 kg / piece
GPS tracks available on request
Cycle route description with maps (1 x per room)
Service-Hotline (7 days, 8 a.m. – 8 p.m.)
Show more
Show less
Additional Services
Additional bookable services
| | |
| --- | --- |
| Additional fee single room | |
All prices are per person
Additional nights
Room

Breakfast

Price

Amsterdam

Bruges
All prices are per person
Rental Bikes
Rental Bikes

Rental Bike
139 €

E-Bike
239 €
All prices are per person
Brief Information
Booking Code
NL-BA7
Start / Destination
Bruges / Amsterdam
Duration
8 days / 7 nights
Length
Length
approx. 315 – 340 km
Daily routes ●●●○○
between 50 and 80 km, Ø 55 km
Altitude profile ●○○○○
Parking information
Parking available at the start hotel, approx. 25 € / week.
No reservation possible through Radweg-Reisen.
Returning to Bruges
Self organized by train, connections several times in a hour, 1 – 3 x changes, duration approx. 4 hours
Tour operated by
Local cooperation partner
Mobility note
This holiday is suitable to only a limited extent for people with restricted mobility.
Please contact us if you have individual requirements.