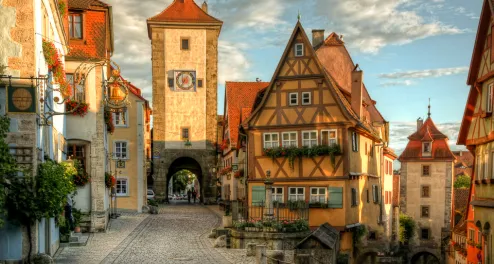 The Romantic Road Cycling Trip
Bike tour around Rothenburg through Swabia & Franconia
Rothenburg – Nördlingen – Rothenburg
Radweg-Reisen Tour
Medieval Rothenburg, the Ries-Crater Museum, the Renaissance Castle of Langenburg
Daily routes ●●●○○
Altitude profile ●●●●○
Following the Romantic Road, this cycling trip takes you along Germany's best-known and most popular holiday route. The harmony of countryside, culture and hospitality are major reasons why it is so popular. Medieval timber-framed houses straight out of a picture book and enchanting castles mark this round trip. From Rothenburg ob der Tauber, you pedal through attractive villages such as Dinkelsbühl and Nördlingen. The wonders of the countryside here such as Nördlinger Reis, Ipf mountain and the narrow Jagst valley are particularly special features of this tour.
Itinerary
Booking code
BY-ROM6
Start / Destination
Rothenburg ob der Tauber
Duration
7 days / 6 nights
Length
approx. 250 km
Daily routes ●●●○○
between 40 and 60 km, Ø 50 km
Altitude profile ●●●●○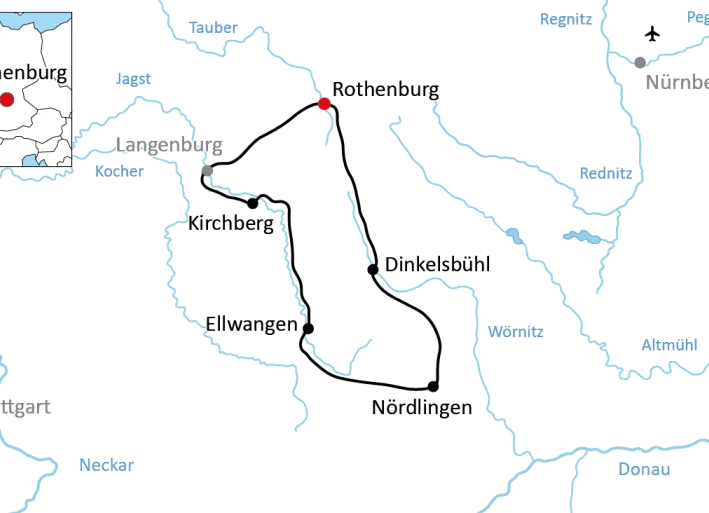 Day 1: Individual arrival in Rothenburg
Your trip begins in Rothenburg, situated in the Tauber valley. You will find lean towers, flower-clad timber-frame houses and imposing ancient defence facilities. Rothenburg's well-preserved historic centre, with its intricate alleys, is regarded as the archetypal medieval German town and is particularly popular tourists. Pre-booked rental bikes are ready for you at the hotel.
Day 2: Rothenburg – Dinkelsbühl, approx. 60 km
Your tour now leads you on towards Schillingsfürst, where an attractive Baroque castle of the same name is situated. Your journey will then continue on towards Feuchtwangen, the market square of which is known as the Ballroom of Franconia.  Dinkelsbühl is the next town on the route and is over 1000 years old, well preserved and completely enclosed by a fortified town wall. Treat yourself to some Franconian specialities in the evening.
Day 3: Dinkelsbühl – Nördlingen, approx. 40 km
Today you will cycle through a geological sensation: 15 million years ago a stone meteorite hit this point, leaving behind a crater with a diameter of 20 to 25 km. The town of Nördlingen is surrounded by a perfectly preserved fortified town wall which can be walked around on. Further highlights include the Ries-Crater Museum, the Tanner Quarter and the Daniel, the 90 m high bell tower of the Church of St. Georg.
Day 4: Nördlingen – Ellwangen, approx. 45 km
From Nördlingen you cycle to Bopfingen and Ipf hill - an imposing rock outcrop. The outcrop has been inhabited since the Neolithic Ages. The very well preserved walls have been renewed regularly. The place where you stay the night, Ellwangen, developed from a monastery to a magnificent provostry and, with its basilica, offers a very historical contrast to the impressive countryside in this section.
Day 5: Ellwangen – Kirchberg, approx. 45 km
Today you will be cycling over the high plateau to Crailsheim. The town is on both sides of the Jagst and is framed by the Crailsheimer Hardt mountain range. We can recommend taking a break in the beer garden of the water tower. Next, you continue on along the Jagst to Kirchberg, a small pretty town. Every single building in this town is a listed building!
Day 6: Kirchberg – Rothenburg, approx. 60 km
You cycle along a section of the Kocher-Jagst cycle path, and then your route takes you up a short but pretty steep incline to Langenburg. The historic centre of the smallest town in Baden-Württemberg has numerous beautiful listed buildings. The Renaissance Castle of Langenburg is still inhabited today. Small villages and wonderful countryside line your way back to the Taubertal valley.
Day 7: Individual departure or extension of stay
Your Romantic Road cycling trip ends after breakfast and you start your individual departure back home. We would be happy to extend your holiday in Rothenburg.
Show more
Show less
Dates / prices / services
Services
6 nights incl. breakfast, national 3*-level
Luggage transport from hotel to hotel, no limit on the number of pieces, max. 20 kg / piece
Guided tour Rothenburg with the night watchman
Entrance Ries crater museum Nördlingen
Cycle route description with maps (1 x per room)
7-day Service Hotline
Show more
Show less
| Child reduction on basic price | | |
| --- | --- | --- |
| discount-icon discount-icon-baby | | |
| discount-icon discount-icon-lego | | |
| discount-icon discount-icon-football | | |
Additional Services
Additional bookable services
| | |
| --- | --- |
| Additional fee single room | |
All prices are per person
Additional nights
Room

Breakfast

Price

Rothenburg

other places
All prices are per person
Rental Bikes
Rental Bikes

Rental Bike
89 €

E-Bike
199 €

Teenager's bike
45 €
Brief Information
Booking code
BY-ROM6
Start / Destination
Rothenburg ob der Tauber
Duration
7 days / 6 nights
Length
approx. 250 km
Daily routes ●●●○○
between 40 and 60 km, Ø 50 km
Altitude profile ●●●●○
Parking information
There is free parking at the station (unattended) where you can park your car for the duration of your trip. However, since this car park is used by many commuters, it is often full.
P1 Friedrich-Hörner-Weg, unlimited time, costs approx. 6 euros / day
P4 Galgentor, unlimited in time, costs approx. 6 Euro / day
P5 Bezoldweg, unlimited in time, costs approx. 6 Euro / day
Alternatively, parking is available depending on the booked hotel, costs approx. EUR 5 - 15 per day. Details can be found in the travel documents.
No reservation possible through Radweg-Reisen.
Tour operated by
Radweg-Reisen
Mobility note
This holiday is suitable to only a limited extent for people with restricted mobility.
Please contact us if you have individual requirements.