What is an all-inclusive cycling holiday? What do I do if it rains all day? What are the next steps after having booked online?
We often hear the same questions. That's why we've put together the answers to frequently asked questions right here. If you can't find the answer to your questions in the overview here, then please don't hesitate to contact us directly!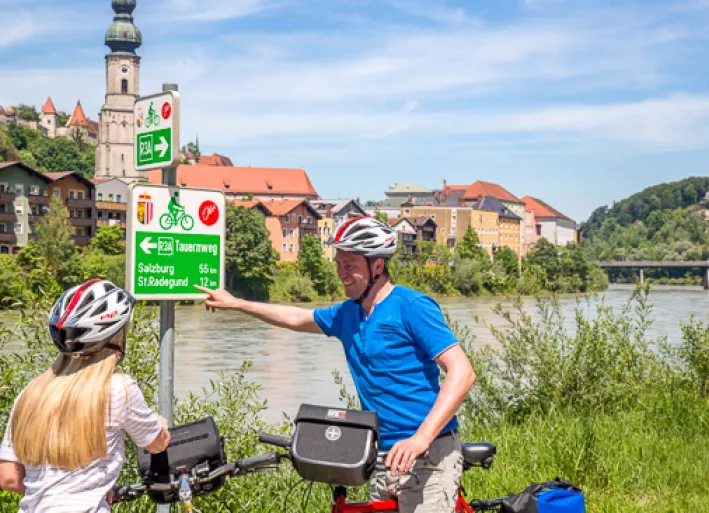 Questions about our cycling holidays
What is an all-inclusive cycling holiday?
It's simple: you cycle and we take care of the rest!
From the selection of the tour and hotel to the booking process, the provision and maintenance of the bikes and transporting your luggage - we organise your tour and you have a very special holiday on your bike.
After your own individual arrival, you can get started: Continuously updated travel documents show you the way. You cycle conveniently without your luggage, as we transfer your luggage on to your next hotel. And if you are set back with a puncture, or can't ride on, we are there for you with our emergency hotline.
Should I cycle alone or in a group?
We primarily offer individual cycling holidays. That means you are out and about on your own without a tour guide. These tours give you all kinds of freedom. Arrival time, speed, or deciding when to take a break - it's all up to you.
During a guided tour, you cycle in smaller groups of between 8 and 20 people and are accompanied by a tour guide. These tours are restricted to specific dates.
The guided tours are marked as such on our web site. If you can't find any such marking on the tour you have selected, then you can assume it is a self-guided tour.
What kinds of cycling holidays are there?
Circular tours
The last section of your cycling holiday takes you back to the place you originally started.
Cycle touring or linear cycling routes
Your destination is not your place of arrival. A potential return trip to where your car is parked can either be booked or organized by yourself using public transport.
Bike & Boat
You explore the most beautiful countryside by bike, while your floating hotel is waiting for you at your next port of call. Among our bike & boat tours you'll also find some cycle & sail tours.
Family tours
Shorter daily sections that can be managed well by even the youngest cyclists. On our family tours, you can expect some exciting sights along the way. You cycle routes that are mostly away from busy roads - as we know what's important on a family holiday.
If you're not sure whether a specific tour is OK for your children, then just give us a call.
Star tours
On these tours you are based in the same hotel each night and explore the area on daily star cycle rides in the surrounding countryside. There's then no need to pack your luggage everyday, and if you don't feel like cycling, then you can just stay back at the hotel.
Mountain bike tours
For lovers of single trails and speedy downhill descents, we now have mountain bike tours in our program of holidays. As these tours call for some experience, they are marked especially as such.
What do I do if it rains all day?
Bad weather is not a reason to cancel a cycling holiday. If you really don't want to cycle, then you can take a train or boat to your next hotel.
In our travel documents you'll find a lot of options described to shorten the relevant sections.
Will someone help me if I encounter problems or punctures on the way?
If you're stuck and don't know what to do, then you can call our emergency hotline. The emergency hotline is available seven days a week. So you're not left to fend for yourself.
The number of our emergency hotline can be found in your travel documents.
What is a tour operated by Radweg-Reisen?
These are tours that we, Radweg-Reisen, operate. It means that everything, from the tour idea to how it is operated, is organized from a single source. On the Radweg-Reisen Tours, our red rental bikes are available and we can organize your luggage transfers.
As we can't be everywhere, in the case of tours that are operated by a local cooperation partner, we work together with selected partners.
This means that the rental bikes might not be red, but will be excellent in terms of quality.
What does individual arrival mean? Can I book a flight or train tickets through you?
All of our tours begin with your individual arrival at the starting place of your cycling or hiking holiday. This means that you organize how to get there yourself.
We do not book any train, bus or flight tickets.
Are there any reductions for children?
Yes, but we can't make any generally applicable statements about child reductions. That is because each tour is different. But you can ask us about the holiday you're interested in and we can then give you the information you need.
Are there discounts for regular customers or groups?
An overview of our discounts and whether they can be combined can be found in the section on Discounts and Reductions.
We would like to take our dog with us on the cycling trip, is that possible?
That depends: boat and bike tours are generally not suitable for dogs, there is simply not enough room for them to run around on the ships.
If you have decided on a normal cycle tour, it is much more likely that it will work out. Just let us know when you book that you would like to take your four-legged friend with you. Then we try our best and only ask hotels that are happy to accept dogs. For this, it is helpful to know what kind of dog it is: What breed is it and how big or heavy is it?
By the way, some hotels charge extra per dog overnight stay. These can be between 5 and 30 euros per night and are paid by you directly to the hotel on site.
I would like to purchase a voucher. How do I proceed?
A voucher for a bike trip is always a great idea. Feel free to contact us! We need the following information: Your billing address, the amount in euros and the name of the recipient. We will send the voucher together with a catalog to the billing address you provide. If you need it quickly, we can also send you the voucher by e-mail. The voucher will be activated after your payment and is redeemable for all trips from our program.
Show more
Show less
Questions about stage length and altitude profile
Can I manage daily routes of 50 km even if I'm not a practiced cyclist?
Our experience shows: Yes! Daily sections of 50 km can be managed easily by beginners, and you won't be falling exhausted into bed every evening!
If you want to spend a relaxed holiday in the saddle, then you'll be cycling at an average speed of about 15 km/h. In four hours of cycling, you will have cycled 60 km. And you can distribute these four hours across the whole day, just as you please.
What do the points on the stage length and the altitude profile mean?
This information should give you a feeling for the sporting challenge of your trip. They also make it easy to compare journeys and stages.
How long are the stages on a journey with the indication stage length ●●○○○?
The information always refers to the longest stage length of a journey:
Up to 45 km ●○○○○
Up to 55 km ●●○○○
Up to 65 km ●●●○○
Up to 75 km ●●●●○
More than 75 km ●●●●●
For some stages there are two kilometre indications. This usually means that there are two possible places to stay overnight, as in the case of the stage
Friedrichshafen – Lindau / Bregenz, approx. 30 / 40 km
on Lake Constance. Depending on hotel capacity, we will book a room for you in Lindau or Bregenz. If your hotel is in Lindau, you will have reached your destination for the day after 30 km on the stage from Friedrichshafen. If you stay overnight in Bregenz, you will have to travel another 10 km.
Two kilometre indications can also mean that there are two variants for the stage. This can either be two different routes or you can shorten the stage individually with a boat or train ride.
What can I imagine by the altitude profile ●●●○○?
The altitude profile is an estimate of the degree of difficulty based on the experience of us and our local cooperation partners.
This assessment is based on how long and/or steep the individual climbs are, as well as on how often they occur along the route. In order to give you a better impression of this assessment, we will now name comparable landscapes or travel examples.
●○○○○: As flat as East Frisia or the upper lake of Lake Constance, for example, the Cycling Tour at Lake Constance.
●●○○○: Short, easy climbs sporadically along the route. For example the Gentle Bike Tour at Lake Constance or the Altmühl Cycle Path. 
●●●○○: Increasingly frequent climbs, which can also be steeper in some cases, as on the cycling tour along the Neckar. These stages can usually be managed well by cyclists who also cycle regularly in everyday life.
●●●●○: The route is characterised by climbs and descents that vary in frequency and severity. For example our Cycling Tour through the Allgäu Region.
●●●●●: The appeal of these tours lies in the steep climbs and descents. This trip should not be undertaken by inexperienced cyclists. For example our Bike Tour along the Atlantic coast in Spain.
Show more
Show less
Questions about rental bikes and luggage transfer
How are Radweg-Reisen rental bikes equipped?
You can find out more about our rental bikes on the Rental Bike page. Here you will also find information about the different options available for younger and very small cyclists.
Can I take my own bike with me?
Of course! But don't underestimate the advantages of a rental bike:
Our bikes are technically up to date and are ready for you at your first hotel.
If you haven't booked a circular tour, it takes quite a lot of organisation to return to the start of your tour together with your luggage and your bike.
If you have a breakdown, a rental bike can be replaced, or we reimburse you with the cost of the repair.
Can I leave my rental bike at the hotel at the end of my holiday?
Of course. Simply hand in your handlebar bag and panniers into reception at your last hotel. It is a good idea to ask the hotel where you can best leave your bike parked. We take care of picking up the bikes automatically.
I have booked an extra night at my start hotel at the beginning of the trip. Can I already explore the city on the rental bike then?
Probably, but we can't give you a blanket answer. If you have booked one or more additional nights at the beginning or end of your trip and would therefore like to use your rental bike a day earlier or longer, it is best to tell us this directly during the booking process.
For tours that we run ourselves (marked with Radweg-Reisen Tour), the rental bikes are available for the extra nights at no extra cost.
Also on tours run by our local cooperation partner, it is usually no problem for you to use your bike for longer. It may be that the longer bike use and usually unscheduled bike transport to your start or end hotel will result in additional costs, which we will of course keep as small as possible and communicate to you in advance.
How does the luggage transfer service work?
Your luggage has to be handed in to the hotel reception by 9 AM. Our luggage drivers take your luggage to the next hotel, while you enjoy a relaxing day on your bike. To ensure that each piece of luggage reaches its destination quickly, our luggage drivers usually take a different route to the cycle route.
How many pieces of luggage can I take and how heavy can they be?
As each cycling holiday operator organises their luggage logistics themselves, we cannot make any generally applicable statement about the number or maximum weight of the luggage. This information can usually be found in the Dates / Prices / Services for the respective tour.
If you are on a Radweg-Reisen tour, we, Radweg-Reisen, take care of transferring your luggage. The following applies to these tours: You can take as many pieces of luggage as you need. A suitcase may not weigh more than 20 kg. You are better of packing two cases if you are unsure. Our luggage drivers will thank you for that!
Show more
Show less
Questions about bookings
How do I book a holiday?
There are many ways to book a holiday:
Online booking
You send us the booking form via our web site.
Phone booking
You call us and book on the phone.
+49 7531 81 99 30
By post
You send us the booking form from our cycling holiday catalogue by post
Radweg-Reisen GmbH Fritz-Arnold-Straße 16a 78467 Konstanz
By fax
You fax us the booking form from your cycling holiday catalogue
+49 7531 81 99 3 - 66
How does an online booking work?
The Book Here button can be found in two places for all of our tours online: At the top, next to the panorama picture, and a second time at the bottom at the end of the tour description.
The booking form opens next, in a new dialogue window. Now let yourself be guided through the form. Your current travel price is always displayed in relation to the selected services.
If problems occur during the booking, please call us.
What information do I need to have handy for the booking?
The information we need from you is as follows:
Travel date
Contact data of the main booker including email address and phone number
First and last name of the other travellers
When booking a rental bike: The type of bike as well as the respective height of the traveller
Booking code / name of tour, plus selected category (if required)
Accommodation (double / single /three-bed / four-bed room)
Do you need additional nights? If yes, when and where?
Do you need a return transfer?
Do you want half-board, i.e. breakfast and evening meal?
You can also send us any special requirements and wishes that we should know about your holiday booking, e.g. allergies or if you want separate beds in a double room. Please specify these details on the last page of the booking form. This way, we can communicate your requirements to the specific hotels in advance.
What happens after I have completed the online booking?
After you have finished the booking, you will receive a confirmation of receipt of your booking – by the next working day at the latest. As of this moment, we book your holiday: hotels rooms are checked and reserved, your luggage transfer is planned and the rental bikes are made available.
We can usually confirm your holiday after 3 to 4 working days. If this is not the case, we will contact you to clarify any pending items.
Can I book short term?
Just call us if you want to book a short-term holiday. We will do everything we can to enable your holiday. However, we do need at least two days in advance.
Payment for short-term bookings is only possible by credit card. The travel documents are sent to your first hotel. We send you some advance information and your list of hotels by email.
Can I rebook for free or change something after confirmation of the booking?
We will naturally do everything we can to make your wishes come true. However the price of the holiday could change - if, for example, the alternative dates are in a different holiday season category or there are only hotel rooms available in a higher-level category.
Let our staff in reservations advise you.
Can I change anything after the booking confirmation?
Of course we try everything in our power to make your wishes possible. However, sometimes requests for changes at short notice mean a considerable amount of work for us and our partner tour operators. For example, if you want to postpone your trip by one day at short notice, not only do hotel rooms have to be cancelled and re-booked, but the transport of your luggage also has to be re-planned. In addition, we need to be sure that your rental bike is inflated and freshly oiled and ready for you. It is therefore possible that we will charge you an additional fee, which we will of course keep as small as possible and communicate to you in advance.
If you have any specific questions, please ask our reservation staff for advice.
When will I receive my travel documents?
We will usually send you your travel documents up to about two weeks before your arrival.
In some cases, for example with last-minute bookings or if you come from outside Europe, it may be that we deposit your travel documents on site at your first hotel. If this is the case, you will of course receive advance information from us by e-mail before you set off. This advance information will contain, among other things, your personal hotel list.
Show more
Show less
Questions about invoicing
Do I get a confirmation of receipt of my payment? Do I get a reminder to pay the remaining amount?
No. If you forget to pay, our accounts department will contact you.
Can I pay by credit card?
Yes. We send you an email that includes a link via which you can pay conveniently by credit card.
We are four people and would like separate invoices. Is that possible?
Each tour participant can pay independently of the other travellers for their share of the total amount by specifying the invoice number. We do not issue separate invoices.
Show more
Show less