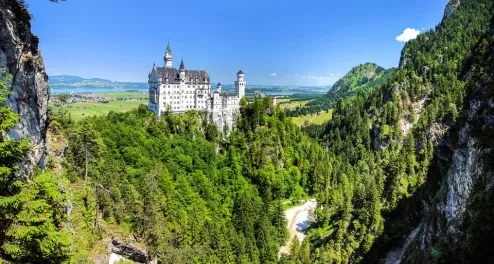 From Lake Constance to Upper Bavaria
Cycling from Constance to Lake Starnberg
 Constance – Lindau – Füssen – Lake Starnberg
Radweg-Reisen Tour
Birthplace of the Zeppelin, Allgäu cheese, Castle Neuschwanstein
Daily routes ●●●○○
Altitude profile ●●●●○
Bodensee-Königssee Cycle Path Part 1
Impressively beautiful landscapes and magical fairy-tale castles await you on this tour from Lake Constance to Upper Bavaria. You will cycle along the Lake Constance-Königssee Cycle Path through the foothills of the Alps and will have the opportunity to marvel at the impressive panorama of the Allgäu and Ammergau Alps. The cultural highlights along the route include the two castles of Neuschwanstein and Hohenschwangau. A good level of fitness is required for this bike tour through the hilly foothills of the Alps.
Booking code
BY-KB7
Start / Destination
Constance / Bernried
Duration
8 days / 7 nights
Length
approx. 290 / 320 km
Daily routes ●●●○○
between 25 and 60 km, Ø 55 km
Altitude profile ●●●●○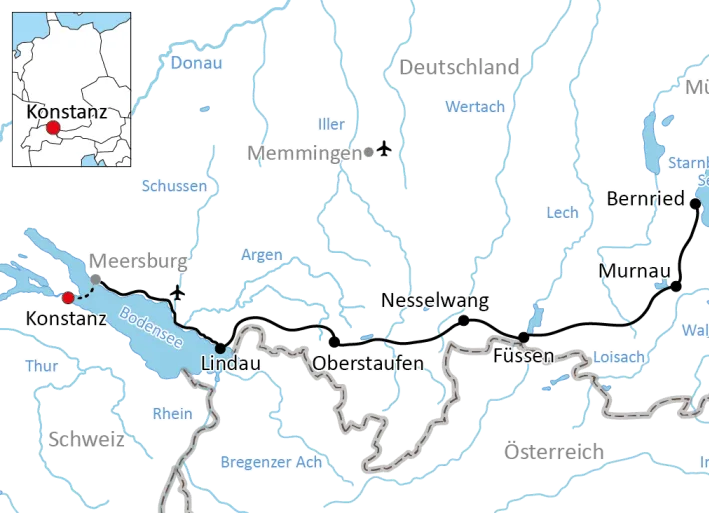 Day 1: Individual arrival in Constance
You begin your trip in Constance, which is the largest town on Lake Constance, and is still quite Medieval in character to this day. In 1414, the town hosted the only church council ever to take place north of the Alps. A small museum is dedicated to the Czech reformer Jan Hus, who was burnt at the stake here. The symbol of the city is the statue of Imperia, which is a memorial to the prostitutes of the council time. The aquariums of the Sea Life Center are also worth a visit, as is the Archaeological Museum.
Day 2: Constance – Lindau, approx. 50 km + ferry trip
Take the car ferry to Meersburg and explore the historical town centre. When you have mastered the steep ascent to the picturesque castle, you are rewarded with a fabulous view. You cycle further along the lake, through Friedrichshafen, the birthplace of the Zeppelin and onwards to Lindau, the town located on an in island. The famous lighthouse and the harbour are a great destination for an evening stroll.
Day 3: Lindau – Oberstaufen, approx. 55 km
You leave Lake Constance behind you and with a little luck you have a beautiful panoramic view of the Alps. Your destination for the day is Oberstaufen which is a market town in Upper Allgäu. In the show dairy, you can see not only how the tasty cheese are made, but you get to try them to. Enjoy the quiet atmosphere in these traditional places of the Alpine foothills in Bavaria.
Day 4: Oberstaufen – Nesselwang, approx. 50 km
You cycle past Lake Großer Alpsee and through stunning valleys to Immenstadt. Green cow meadows, magnificent Baroque churches and crystal blue water characterise the landscape. After Lake Grüntensee you reach Nesselwang. You can take the cable railway up to the peak of the Alpspitze. Alternatively, you can marvel at the more than 2500 painted and decorated eggs at the easter museum.
Day 5: Nesselwang – Füssen / Schwangau, approx. 25 – 60 km
An impressive mountain backdrop accompanies you to Füssen near Lake Forggensee. The picturesque landscape is crowned by the Hohes Schloss, an impressive late Gothic castle. You cycle further along the Romantic Road to Schwangau and soon you feel like you're in a fairy tale: The picturesque Royal Palaces Neuschwanstein and Hohenschwangau are visible from afar. If you want to cycle a longer distance, just go around the Forggensee, Germany's largest reservoir, with beautiful bathing places.
Day 6: Füssen – Murnau am Staffelsee, approx. 50 / 45 km
You leave the castles of Neuschwanstein and Hohenschwangau behind you. En route to Murnau on Lake Staffelsee you cycle through idyllic meadows filled with the romance of alpen meadows. You pass the world famous Wieskirche, the church which embodies the Bavarian Rococo style. Set in a magnificent lake and moor landscape, Lake Staffelsee with its seven islands set against the backdrop of the Upper Bavarian Alps, comes into view.
Day 7: Murnau – Lake Starnberg, approx. 60 km
You leave Murnau, the biggest parish with its castle museum and Münter house and cycle through traditional old Bavarian villages on wonderful cycle paths. On the way, delightful bathing places tempt you to go for a dip. Riegsee Lake and the Ostersee Lakes prepare you for today's destination, Starnberg Lake.
Day 8: Individual departure or extension of stay
After breakfast your tour from Lake Constance to Upper Bavaria comes to an end. We would be more than happy to extend your stay.
Show more
Show less
Dates / prices / services
Services
7 nights incl. breakfast, national 3*-level
Luggage transport from hotel to hotel to Bernried, no limit on the number of pieces, max. 20 kg / piece
Entrance Rosgarten museum Constance, 1 coffee included
Boat trip Constance – Meersburg incl. bike
Cycle route description with maps (1 x per room)
7 day Service Hotline
Show more
Show less
Additional Services
Additional bookable services
| | |
| --- | --- |
| Additional fee single room | |
All prices are per person
Additional nights
Room

Breakfast

Price

Füssen / Schwangau / Nesselwang

Oberstaufen

other places
All prices are per person
Rental Bikes
Rental Bikes

Rental Bike
89 €

E-Bike
199 €
Types of rental bikes
27-gear unisex bike, derailleur gears with free-wheel (men's bikes from 1.75 m)
Electric bike (minimum age 16 years)
Fittings
Pannier, handlebar bag, milometer, bike lock, pump, repair kit
Here you find further information and pictures of our rental bikes.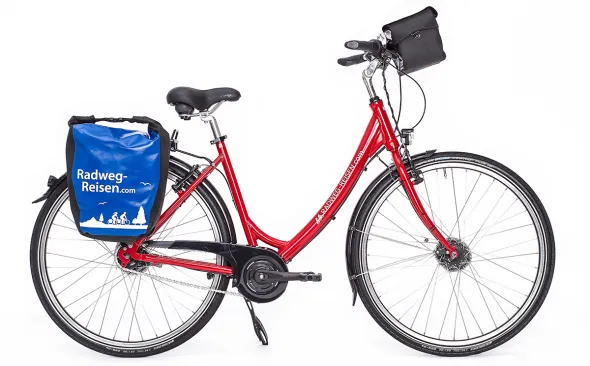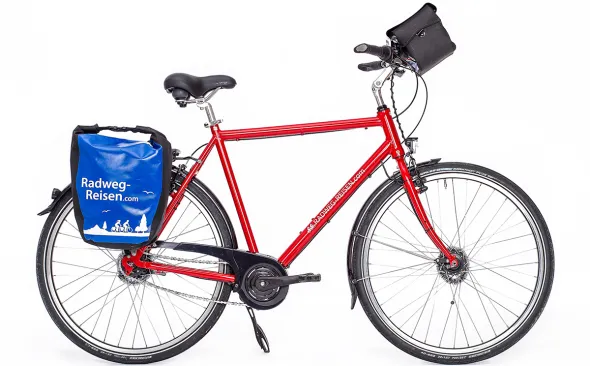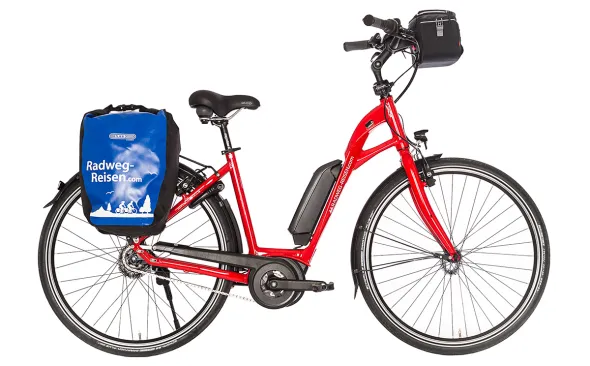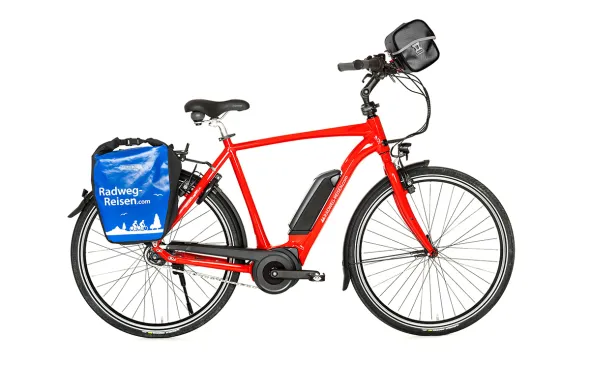 Brief Information
Booking code
BY-KB7
Start / Destination
Constance / Bernried
Duration
8 days / 7 nights
Length
approx. 290 / 320 km
Daily routes ●●●○○
between 25 and 60 km, Ø 55 km
Altitude profile ●●●●○
Parking information
Fenced parking at our office, cost: 45 € / booked holiday, can be booked online, must be booked and paid in advance.
Free parking on public roads.
Returning to Constance
Travel by train (on your own initiative), connections several times a day, 3 – 6 train changes, duration approx. 5 – 6,5 hours.
Tour operated by
Radweg-Reisen
Mobility note
This holiday is suitable to only a limited extent for people with restricted mobility.
Please contact us if you have individual requirements.