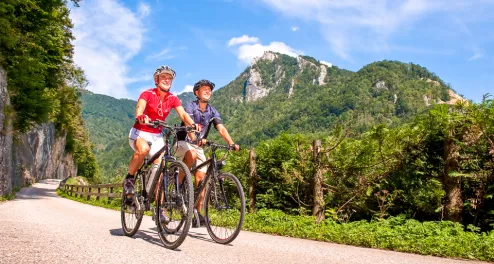 Enns Cycling Tour
Along the Enns river from Radstadt to Linz
 Radstadt – St. Gallen – Linz
Breathtaking natural landscapes, Austria's oldest city, largest collegiate library in the world, national parks
Daily routes ●●○○○
Altitude profile ●●○○○
Insider tip!
This cycle tour along the Enns cycle path takes you from Salzburger Land through Steiermark to Upper Austria. Wild, romantic gorges, pretty little towns, magnificent mountains and unspoiled paths along the outskirts of two national parks present a mixture of charming, valuable countryside. Starting in Radstadt, you cycle to the regional capital of Upper Austria via Enns, Austria's oldest town. The partly hilly profile of the Enns cycle path requires a certain basic level of fitness.
Booking Code
OE-RL7
Start / Destination
Radstadt / Linz
Duration
8 days / 7 nights
Length
approx. 290 km
Daily routes ●●○○○
between 40 and 55 km, Ø 50 km
Altitude profile ●●○○○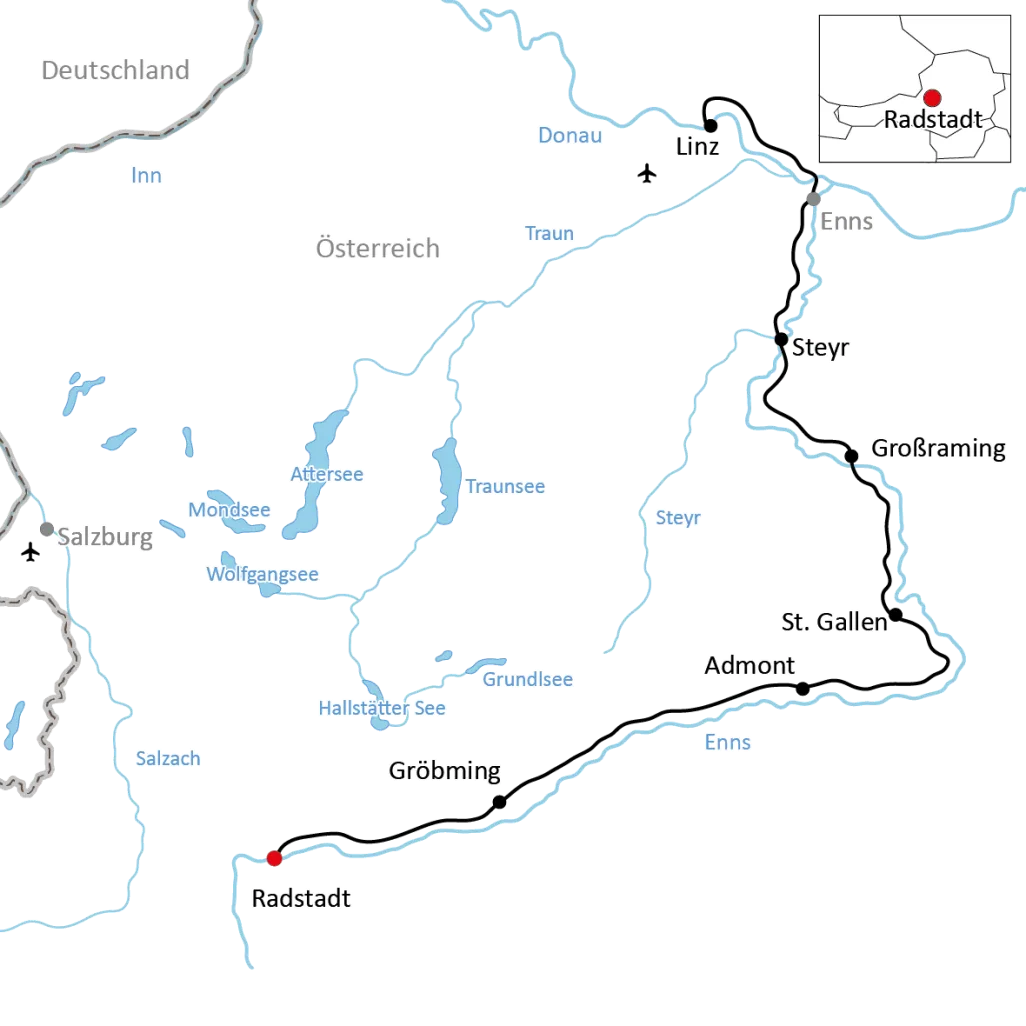 Day 1: Individual arrival to Radstadt
The starting point of your tour is the Old Town in the Mountains in Pongau, Salzburg: a popular place summer and winter alike. The remains of the historic town fortifications with three towers are pretty and you'll find the Millennium path interesting, which takes you through the history of Austria at just 1000 paces. Reserved rental bicycles are parked at the hotel ready for you.
Day 2: Radstadt – Schladming – Gröbming, approx. 45 km
The Enns takes you past Mandling to the province of Steiermark. Dachstein and Tauern accompany you here. The old mining town of Schladming is a popular destination for winter athletes today. If features houses from the 17th century following the destruction it suffered during the peasant's war.
Day 3: Gröbming – Admont, approx. 55 km
Leaving Castle Trautenfels behind you, you head for Admont, the spiritual centre of the area. Pedalling along the cycle path, parts of which have been recently extended, you follow the Enns via Reithal, Zwirtner See lake and Ardning to today's destination of Admont. Steiermark's oldest Benedictine monastery beckons ahead - take the time to visit the world's largest church library.
Day 4: Admont – St. Gallen, approx. 55 km
An impressive piece of nature awaits you: the steep rocky Gesäuse gorge – one of the greatest gorges in Europe. This is also the heart of Austria's youngest national park and, 20 km in length, it is without doubt one of the most beautiful natural spectacles in Austria. Next you cycle to St. Gallen via Weng and Buchauer Sattel Pass.
Day 5: St. Gallen – Großraming, approx. 45 km
Via Altenmarkt and the nature park, Kalkalpen, you cycle towards Großraming. You will tackle a roughly 4 km stretch that takes you up a steep, but manageable incline. Along a well-established cycle path, you now follow the Enns with views of Ennstal valley until you reach Großraming.
Day 6: Großraming – Steyr, approx. 40 km
In Kalkalpen national park, the day starts leisurely. Following quiet, slightly hilly roads you cycle through Ennstal to Losenstein, whose castle, on the top of a peak, dominates the area. Romantic Steyr, one of Europe's prettiest towns awaits with a perfect mixture of Gothic, Renaissance, Baroque and Rococo styles. Explore this 1000 year-old town, which Franz Schubert found lovelier than words can describe.
Day 7: Steyr – Linz, approx. 50 km
Today it's worth stopping in Enns, Austria's oldest town. From the striking town tower, if the weather is fine, enjoy a wonderful view from the Mühlviertel to the Alpine foothills. After a short section by bike, the Danube greets you. Follow the Danube cycle path to Linz, cultural capital of Europe 2009.
Day 8: Individual departure or extended stay
After breakfast your tour along the Enns cycle path ends. We would be happy to extend your stay in either Linz or Radstadt.
Show more
Show less
Dates / prices / services
Services
7 nights incl. breakfast, national 3* / 4* level
Luggage transport from hotel to hotel until Linz,
1 piece of luggage per person, max. 23 kg
Busshuttle St. Gallen – Mooshöhe incl. bike
Cycle route description with maps (1 x per room)
Service-Hotline (7 days, 8 a.m. – 8 p.m.)
Show more
Show less
Additional Services
Additional bookable services
| | |
| --- | --- |
| Additional fee single room | |
| Return transfer incl. bike by bus, Season C, Linz – Radstadt | |
All prices are per person
Additional nights
Room

Breakfast

Price

Linz

Radstadt
All prices are per person
Rental Bikes
Rental Bikes

Rental Bike
109 €

E-Bike
239 €
All prices are per person
Brief Information
Booking Code
OE-RL7
Start / Destination
Radstadt / Linz
Duration
8 days / 7 nights
Length
approx. 290 km
Daily routes ●●○○○
between 40 and 55 km, Ø 50 km
Altitude profile ●●○○○
Route condition
The cycle path runs slightly hilly, on 4th and 5th day more increase.
Parking opportunities
Parking garage at the start hotel, costs EUR 7 per day, payable on side.
No reservation possible through Radweg-Reisen.
Returning to Radstadt
Optionally by bus from Linz to Radstadt, only in Season C on Saturdays. Reservation necessary upon booking.
Alternatively by train on your own: connections 1 – 2 every hour, 1 – 2 x change, duration approx. 3.5 hours.
If you do not want to continue your journey directly after the transfer, you can book additional nights in Radstadt.
You can also book the transfer from Linz to Radstadt before the bike tour. So you can continue your tour from Linz right after the bike tour. Please write your booking request in the online booking form in the free text field.
Tour operated by
Local cooperation partner
Mobility note
This holiday is suitable to only a limited extent for people with restricted mobility.
Please contact us if you have individual requirements.