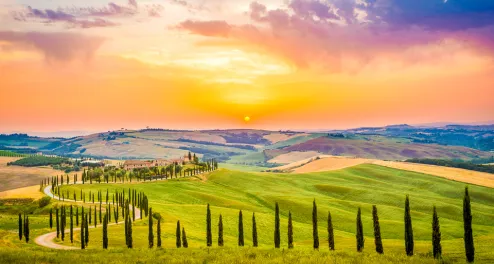 Cycling Trip in Tuscany
From Leaning Tower in Pisa to Ponte Vecchio in Florence
Pisa – Montecatini Terme – Florence
Leaning Tower in Pisa, thermal spa town Montecatini Terme, birthplace of Leonardo da Vinci, Ponte Vecchio in Florence
Daily routes ●●○○○
Altitude profile ●●●○○
The hilly Tuscan countryside is characterised by its pines, columns of cypresses, olive trees and vines, the latter being particularly famous through Chianti. In terms of history and culture, the Etruscans and the Medici have particularly left their mark. Experience Pisa and its leaning tower, Lucca with its impressive fortifications and the Montecatini Terme. The highlight of this cycling trip is, of course, Florence, Tuscany's capital city and internationally known because of its Uffizi gallery and Ponte Vecchio.
Itinerary
Booking Code
IT-PF6
Start / Destination
Pisa / Florence
Duration
7 days / 6 nights
Length
approx. 210 km
Daily routes ●●○○○
between 30 and 55 km, Ø 45 km
Altitude profile ●●●○○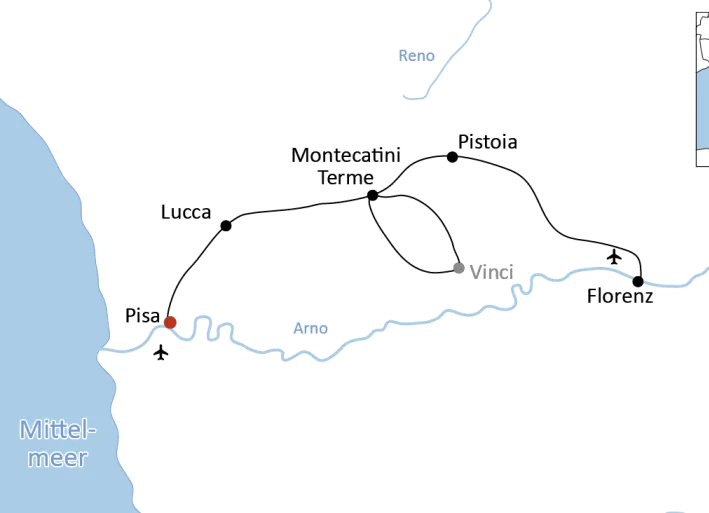 Day 1: Individual arrival in Pisa
You start in Pisa, which used to be one of the rich maritime republics. It is known throughout the world for its leaning tower. It presents itself to visitors as one of the original Tuscan towns, all the more special because of being a university town. The Knights' Square is considered to be one of the most beautiful renaissance squares, built by the Medici, in Europe. Pre-booked rental bikes are waiting for you at your hotel.
Day 2: Pisa – Lucca, approx. 35 km
Setting off from Pisa, you cycle northwards and reach the Serchia river, which takes you to Ripafratta. The small town has a castle and holds a strategically important position, situated as it is between Pisa and Lucca. For the more athletic, we have a longer and more challenging route along the east side of the Monti Pisani. Today's destination has a rich and confusingly varied history.
Day 3: Lucca – Montecatini Terme, approx. 40 km
You will leisurely cycle through the lowland plain before you reach the panorama road, which will take you to Collodi. Visit the Pinocchio Park and have a look at the aristocratic villa Garzoni. The former Lombard settlement Pescia thrives on paper production and flower cultivation. The flower market is especially worth seeing. Now it is not much further to your destination Montecatini.
Day 4: Excursion to Vinci, approx. 55 km
If you feel like taking a relaxing break, you can let yourself be pampered in one of Europe's most famous thermal spa towns. Alternatively, you can get back onto your bike and cycle to the birthplace of Leonardo da Vinci, the brilliant philosopher and natural scientist. The Tuscan landscape through which you will cycle has not changed much since his lifetime.
Day 5: Montecatini Terme – Pistoia, approx. 30 km
Today you will master the highest ascent of this journey on your bike. In Montevettolini you will be rewarded with a fantastic view. The small town is typical for Tuscany: Narrow, winding alleys lead you from the charming Piazza through the medieval town centre. After your break you will cycle to Pistoio, which is also known as Little Florence – a well-earned title.
Day 6: Pistoia – Florence, approx. 50 km
Before you get back onto your bike, take some time to marvel at the cathedral square and the Baptisterium in Pistoia. Afterwards your route will be comfortably flat. The plain in front of you is known for its fertile soil and plant diversity. In Florence, magnificent art, culture and architecture await you. Your cycle path will take you all the way to the famous Ponte Vecchio bridge.
Day 7:  Individual departure or extension of stay
Your cycling trip in Tuscany ends after breakfast. We would be happy to extend your stay here if you wish.
Show more
Show less
Dates / prices / services
Season A
02.04. - 15.04.
01.10. - 08.10.
Season B
16.04. - 13.05.
10.09. - 30.09.
Services
6 nights incl. breakfast, national 4* level
Luggage transport from hotel to hotel, no limit on the number of pieces, max. 20 kg / piece
Welcome meeting
GPS tracks available on request
Cycle route description with maps (1 x per room)
Service Hotline (7 days, 8 a.m. – 8 p.m.)
Show more
Show less
Additional Services
Additional bookable services
| | |
| --- | --- |
| Additional fee single room | |
| Return transfer incl. own bike, Florenz – Pisa | |
| Return transfer excl. own bike, Florenz – Pisa | |
All prices are per person
Additional nights
Room

Breakfast

Price

Florenz

Pisa
All prices are per person
Rental Bikes
Rental Bikes

Rental Bike
99 €

E-Bike
239 €
| Rental Bike | |
| --- | --- |
| 7- or 21-gear Rental Bike | |
| | |
Brief Information
Booking Code
IT-PF6
Start / Destination
Pisa / Florence
Duration
7 days / 6 nights
Length
approx. 210 km
Daily routes ●●○○○
between 30 and 55 km, Ø 45 km
Altitude profile ●●●○○
Parking opportunities
Hotel garage, approx. 17,- € per day, payable on site.
No reservation possible through Radweg-Reisen.
Returning to Pisa
Optional: Travel by chartered minibus, duration approx. 2 hours. Please include this option in your original booking.
Alternative: On your own by train, half-hourly, duration approx. 1 - 1,5 hours, without change. If you do not want to continue your journey directly after the transfer, you can book additional nights in Pisa.
You can also book the transfer from Florence to Pisa before the bike tour. So you can continue your tour from Florence right after the tour. Please write your booking request in the online booking form in the free text field.
Tour operated by
Local cooperation partner
Mobility note
This holiday is suitable to only a limited extent for people with restricted mobility.
Please contact us if you have individual requirements.