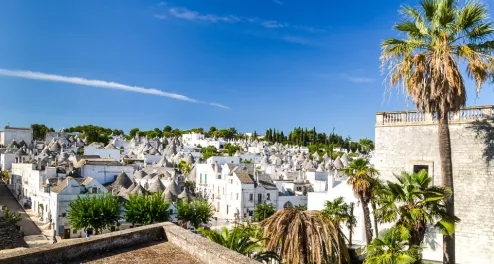 Cycling Tour in Puglia
Olives and wine in Southern Italy
 Alberobello – Gallipoli – Lecce
Beautiful landscape between the Ionian Sea and the Adriatic
Daily routes ●●●○○
Altitude profile ●●●○○
Setting off on this cycling tour you will get to know Puglia, which is on the Salento peninsula, and has not yet been discovered by mass tourism. With sea on both sides, the Ionian Sea and the Adriatic, the countryside is also known for its olive groves, fields of corn and vineyards. But Puglia also has a lot to offer culturally, too, as you will find traces of the lives led by the Illyrians, Greek, Romans, Byzantines, Saracens, Normans and Staufer people here. And to top it all, you can enjoy some magnificent wines when the weather back home is cold and uninspiring! Enjoy the picturesque towns, blue sea and the hospitality of the Southern Italians: have fun on your cycling tour in Puglia!
Itinerary
Booking code
IT-APUL7
Start / Destination
Alberobello / Lecce
Duration
8 days, 7 nights
Length
approx. 305 / 315 km
Daily routes ●●●○○
between 35 and 60 km, Ø 55 km
Altitude profile ●●●○○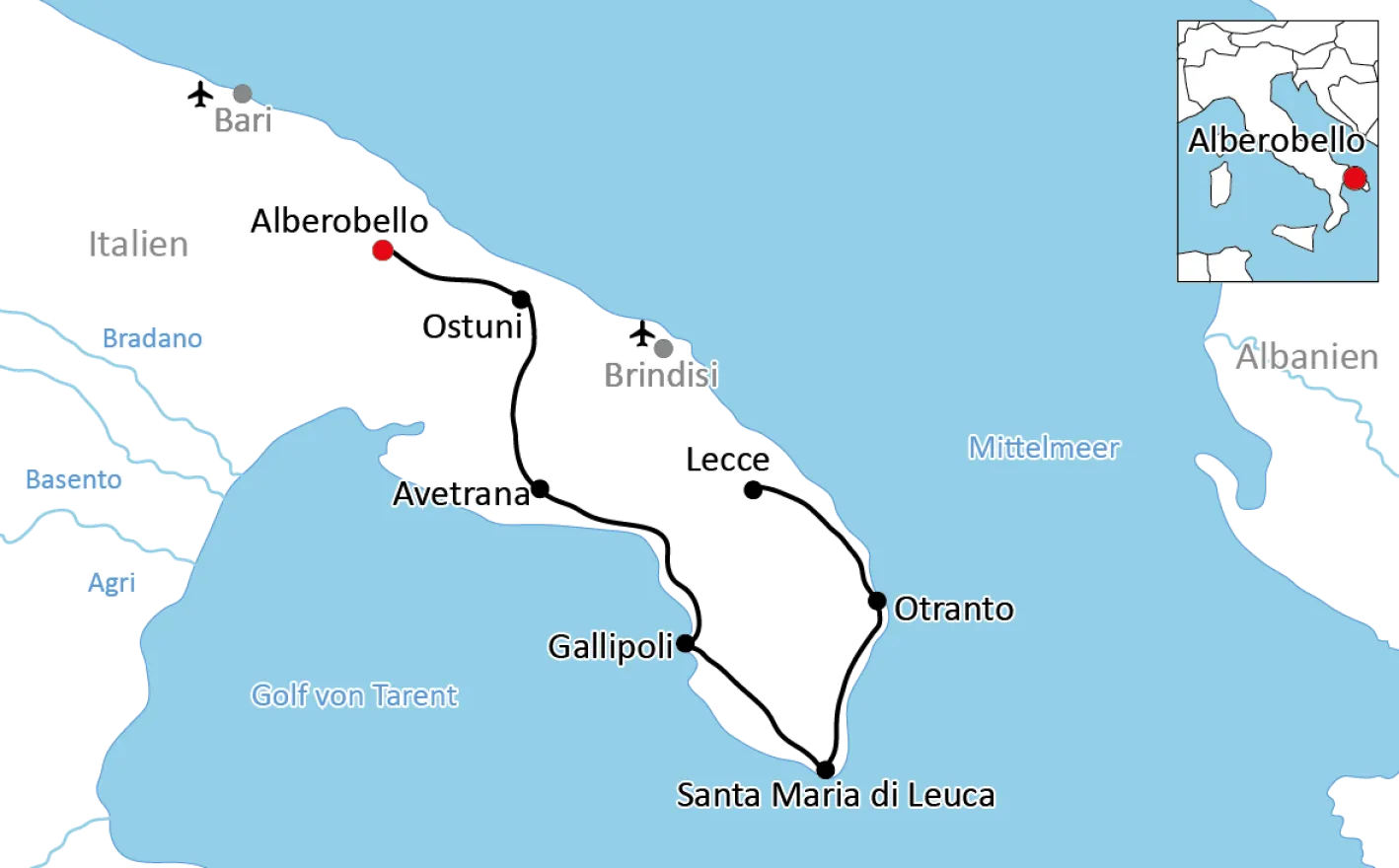 Day 1: Individual arrival in Alberobello
Your tour starts in the small town of Alberobello, which was founded in the 15th century in the middle of an oak forest. It is famous for its Trullo houses. These white painted, dry stone buildings with a conical roof were built without using mortar. This meant they could be easily taken down to avoid paying taxes levied when new settlements were erected.
Day 2: Alberobello – Ostuni, approx. 35 / 45 km
The route takes you to Locorotondo first today. One of Puglia's best wines comes from the Verdeca grape. Cycling via the pretty baroque town of Martina Franca, you pedal to Ostuni, the Citta Bianca or white town. You will love its wonderfully preserved historic streets and buildings and in the city museum you can find out more about pre-Roman agriculture.
Day 3: Ostuni – Avetrana region, approx. 60 km
Pedalling through olive groves and orchards, your route takes you from Ostuni to Avetrana. There used to be an old Roman road here from Rome via Taranto and Oria to Brindisi. As one of the most important trading routes of the Roman Empire, it was nicknamed Regina Viarum, Queen of the Roads. The historical buildings are witness to Avetrana's long history as a settlement.
Day 4: Avetrana – Gallipoli, approx. 60 km
Today's section takes you to the sea. Passing the medieval Torre Colimena tower, you cycle along the coast road to Porto Cesareo. You continue on along the Ionian Sea to Gallipoli. The town was founded as Kale Polis – beautiful town – by Greek colonists. In its over 2500 years of history, Gallipoli has seen numerous rulers come and go.
Day 5: Gallipoli – Santa Maria di Leuca region, approx. 50 km
The places you pass today all include the words Marina or Torre in their names and mark the fact that your route takes you along the coast and past old Greek, Roman and Norman fortifications. A swim in the sea is a must, and afterwards you should definitely try some of the local culinary specialities. Your accommodation today is at the southernmost point of your holiday and is also an important place of pilgrimage.
Day 6: Santa Maria di Leuca – Otranto, approx. 50 km
The sea has a different name but is still the same colour blue. Now you will be cycling along the Adriatic Coast, which is a delightful mixture of rocky cliffs and sandy bays. You will discover impressive grottos and stalactite caves in Andrano and Zinzulusa; Santa Cesarea Terme has become a spa town because of its sulphur springs. At your destination, Otranto, you can go exploring through the old Byzantine part of town.
Day 7: Otranto – Lecce, approx. 50 km
Shortly after you set off today, you will pass the Alimini Lakes. One of them is sweet water and the other is seawater. In Roca Vechcia you will find the cave of the Poesia Piccola. It has cult status dating back to Messapian times. Thousands of people have left inscriptions in all kinds of languages. Pedalling through nature reserves and pine forests, you finally arrive in Lecce. Enjoy a good glass of wine in the Florence of the South.
Day 8: Individual departure or extension of stay
You cycling tour in Puglia ends after breakfast. We would be happy to extend your stay here if you wish.
Show more
Show less
Dates / prices / services
Season B
02.04. - 26.05.
05.09. - 15.10.
Additional Services
Additional bookable services
| | |
| --- | --- |
| Additional fee single room | |
| Transfer station Brindisi - Alberobello (minimum 2 persons), excl. bike, Transfer vor der Reise | |
All prices are per person
Additional nights
Room

Breakfast

Price

Lecce / Alberobello
All prices are per person
Rental Bikes
Rental Bikes

Rental Bike
99 €

E-Bike
229 €
Brief Information
Booking code
IT-APUL7
Start / Destination
Alberobello / Lecce
Duration
8 days, 7 nights
Length
approx. 305 / 315 km
Daily routes ●●●○○
between 35 and 60 km, Ø 55 km
Altitude profile ●●●○○
Parking information
Parking available at the hotel in Alberobello, must be paid on site.
No reservation possible through Radweg-Reisen.
Arrival to Alberobello
Optional transfer by mini van from Airport Bari / Brindisi (daily), up to 2 persons, price per person 50 €.
Optional transfer by mini van from Monopoli station (daily), up to 2 person, price per person 30 €.
Departure
Optional transfer to Alberobello by mini van (daily), price per person 65 € (incl. own bike 95 €).
Optional transfer from Lecce to Airport Bari / Brindisi (daily), price per person 125 € / 40 €.
For all transfers there is a minimum number of 2 persons to take place. Please include any transfers in your booking.
Tour operated by
Local cooperation partner
Mobility note
This holiday is suitable to only a limited extent for people with restricted mobility.
Please contact us if you have individual requirements.