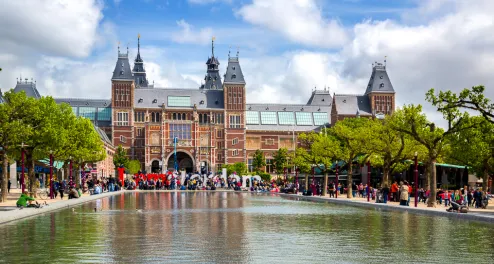 Cycling Tour in Holland
Round trip from Utrecht with the capital Amsterdam
 Utrecht – Amsterdam – Utrecht
Historical cities Utrecht, Amsterdam and Den Haag
Milelong sandy beaches along the North Sea
Daily routes ●●●○○
Altitude profile ●○○○○
A cycling tour in Holland which has something to offer to everybody: breath-taking landscapes, beaches, sea air and historical towns such as Utrecht, Amsterdam or The Hague. Leave all your cares behind while cycling through the flat landscape and enjoy some Dutch hospitality while strolling through one of the cities. Art and culture enthusiasts will be thrilled with the numerous listed buildings and interesting museums.
Itinerary
Booking code
NL-UU6
Start / Destination
Utrecht
Duration
7 days / 6 nights
Length
approx. 240 km
Daily routes ●●●○○○
between 40 and 65 km, Ø 50 km
Altitude profile ●○○○○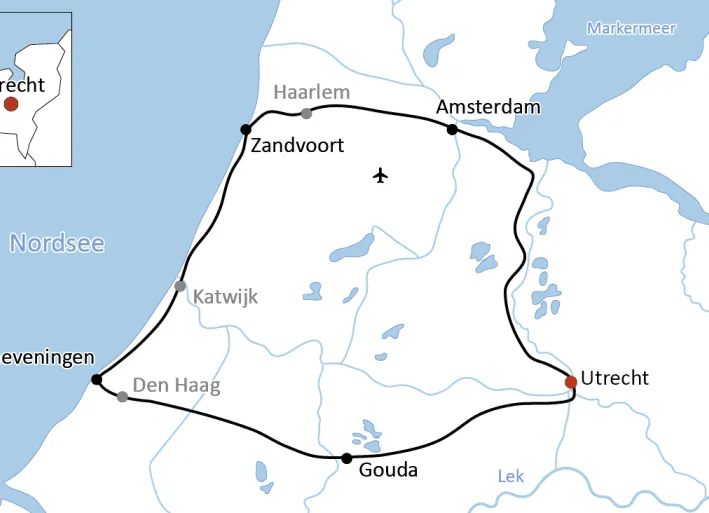 Day 1: Individual arrival in Utrecht
Your cycling holiday starts in Utrecht. The town was built around the cathedral, which rises up from the centre, looking down over the houses and buildings. It's nigh on impossible to get lost in Utrecht, as you never lose sight of the cathedral. The centre of the town is small enough to be explored on foot. All along the picturesque waterways, you'll find unusual boutiques and lovely markets.
Day 2: Utrecht – Amsterdam, approx. 60 km
After breakfast, you cycle along the Vecht and Amstel rivers to Amsterdam. The elegant country estates and magical tea pavilions shape the romantic flair of this region. The Netherland's unique capital bids you welcome. There's a lot to discover in Amsterdam. Cycle along the canals and admire the many house boats. Romantic places, time-honoured buildings, proud museums and the unusual atmosphere turn a visit to this city into a real adventure.
Day 3: Amsterdam – Zandvoort / Noordwijkerhout, approx. 35 / 50 km
Leaving the canal city, the first half of today's route leads you to Haarlem. Since the invention of the printing press, Haarlem has been known as a printing city. The oldest daily paper which is still in circulation is printed in Haarlem. The second half of today's route leads you towards Zandvoort. The town with its extensive sandy beaches offers a refreshing end to today's route.
Day 4: Zandvoort aan Zee – Scheveningen, approx. 40 / 25 km
Through the vast dune area you will be cycling to Scheveningen, a neighbourhood of Den Haag right on the North Sea coast. On your way there, you should definitely stop at the Keukenhof. The gardens are any flower enthusiasts' paradise. Scheveningen itself is a seaside resort with a magnificent beach promenade, a pier with an observation point, and a fishing port.
Day 5: Scheveningen – Gouda / Bodegraven, approx. 55 km
You should start off your day with a stroll through The Hague. Your destination of Gouda is most famous for the cheese of the same name which is produced in the surrounding countryside and which is marketed throughout the town. On the historical Waaghaus a relief shows visitors how the cheese was weighed in earlier times. The cheese market or a cheese shop are worth a visit.
Day 6: Gouda – Utrecht, approx. 50 km
The conclusion of your tour comes with the beautiful landscape of the route from Gouda to Utrecht. The tour passes atmospheric rivers, expansive polders, lakes and swampy moor regions. In Utrecht you should take the opportunity to take a last stroll through the city.
Day 7: Individual departure or extension of stay
After breakfast your cycling tour in Holland comes to an end and you will begin your return journey home. We would, however, also be more than happy to extend your stay in Utrecht.
Show more
Show less
Dates / prices / services
Season A
02.04. - 30.04.
01.09. - 24.09.
| Child reduction on basic price | | |
| --- | --- | --- |
| discount-icon discount-icon-baby | | |
| discount-icon discount-icon-football | | |
| discount-icon discount-icon-joystick | | |
Additional Services
Additional bookable services
| | |
| --- | --- |
| Additional fee single room | |
| Additional fee half-board (6 x dinner) | |
All prices are per person
Additional nights
Room

Breakfast

Price

Utrecht
All prices are per person
Rental Bikes
Rental Bikes

Rental Bike
95 €

E-Bike
175 €
Brief Information
Booking code
NL-UU6
Start / Destination
Utrecht
Duration
7 days / 6 nights
Length
approx. 240 km
Daily routes ●●●○○
between 40 and 65 km, Ø 50 km
Altitude profile ●○○○○
Parking information
Parking spaces are available at your first hotel, approx. 20€ / week. Subject to availability.
No reservation possible through Radweg-Reisen.
Tour operated by
Local cooperation partner
Mobility note
This holiday is suitable to only a limited extent for people with restricted mobility.
Please contact us if you have individual requirements.