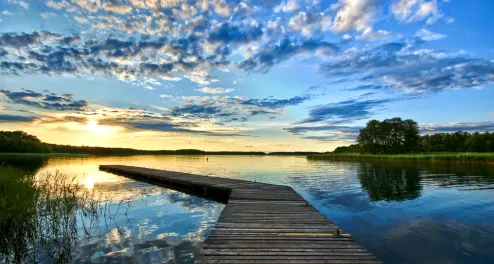 Cycle tour in Masuria
The Masurian Lake District: In the land of 1000 lakes
  Warsaw– Krutyn – Mikolajki – Mragowo – Warsaw
Masuria Lake district
Poland's Capital Warsaw
Daily routes ●●●○○
Altitude profile ●●○○○
Many benefits included!
The pleasant quiet here of these forests and country parks, the expansive heaths, crystal clear rivers and lakes is only disturbed by the clattering of bills of the storks. On this cycle tour in Masuria, discover a unique area of Poland and the wonderful hospitality of the people here. Thanks to the unusually rich variety of plants and animals in this Home of forests and lakes it is no wonder that the area is considered one of the most beautiful hiking and cycling regions of Europe. And not only that but Poland's capital of Warsaw also awaits your visit. This way you get to combine your biking with a little culture.
Itinerary
Booking code
EN-PLWW8
Start / Destination
Warsaw
Duration
9 days / 8 nights
Length
approx. 300 km
Daily routes ●●●○○
between 15 and 60 km, Ø 45 km
Altitude profile ●●○○○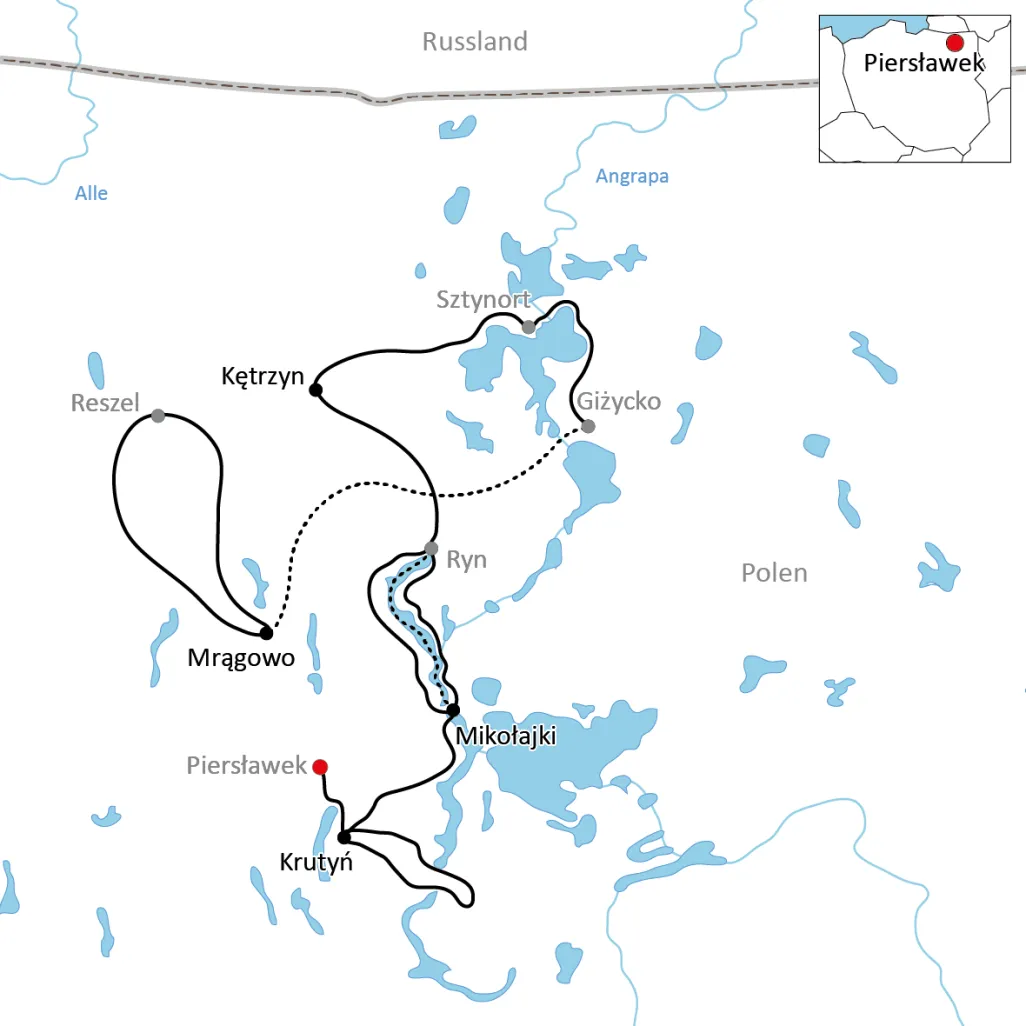 Day 1: Individual arrival in Warsaw
The Polish capital is waiting to be explored on your day of arrival. The historic quarter around the large triangular castle square and the wonderful market place has been declared a UNESCO World Heritage Site. Königschloss Castle, magnificent churches and colourful town houses make this a great destination.
Day 2: Warsaw – Pierslawek (bus transfer), Pierslawek – Krutyń, approx. 15 km
After breakfast you can take part in a guided tour of Warsaw (included in price) and visit some of the city sights. You get to know the historic quarter and Lazienki Park. Around midday you set off by bus to Masuria, about 200 km. Starting from a wonderful spot in Johannesburg Heath, you pedal off on today's first section to Krutinnen.
Day 3: Excursion Puszcza Piska Forest, approx. 50 km
The highlight of today's route is Johannisburg Heath, known as Puszcza Piska in Polish. It is the largest wooded part of Masuria and home to many animals. You cycle to Eckertsdorf / Wojnowo, where you have the opportunity to visit Philippon monastery, on the banks of Lake Drużno. On the return trip you can visit Marion Dönhoff Salon, a monument to an important publicist.
Day 4: Krutyń – Mikolajki, approx. 40 km
Today you set off northwards by bike through wonderfully peaceful forests, remote moorlands and passing sparkling lakes to cycle right through the Masurian country park until you reach the ferry that takes you to  Nikolaiken / Mikolajki.
Day 5: Roundtrip from Mikołajki, approx. 35 km + boat trip
A circular tour today takes you to the prettiest parts of Masuria's country park. In the morining, you go by boat  from Mikołajki to Ryn. Your bike tour will take you through picturesque villages and past Masurian channels. Don't forget to take in the view from the bridge of the mystic figure of the Stinthengst fish.
Day 6: Mikolajki – Ketrzyn, approx. 45 km
Today begins with a relaxed cycle alongside the biggest Masurian lakes, through idyllic villages and forests. Passing Rhein / Ryn and the river of the same name, you continue on to Owczarnia where you can find out a lot about the locality in a visit to the Masuria Museum. Now it's only a short cycle to today's destination, Rastenburg.
Day 7: Ketrzyn – Gizycko, approx. 50 km, Gizycko – Mragowo (transfer)
In the morning you can visit Wolfsschanze, a former military headquarters of the Nazi regime in Eastern Prussia. Next, the bike tour takes you to Sztynort, where you can find out all about the history of the Lehndorff family in the castle and park. In the afternoon, you cycle to Giżycko (Lötzen). In Giżycko a bus takes you to Mrągowo (Sensburg).
Day 8: Excursion to Reszel, approx. 60 km
A cycle to the village of Święta Lipka starts your day today. This village of 170 people is one of the most well-known places of pilgrimage in Poland. After you have admired the beautiful Baroque church and its famous organ made by Joshua  Mosengel, cycle to Rößel / Reszel, a small town with a medieval bishop's castle. The pretty historic town is one of the most intact in this region.
Day 9: Transfer to Warsaw and individual departure
After breakfast you are taken by bus back to Warsaw, where your cycle tour in Masuria comes to an end. Individual departure back home. We would be happy to extend your stay in Warsaw if you wish.
Show more
Show less
Dates / prices / services
Season A
06.05. - 20.05.
03.09. - 23.09.
Services
8 nights national 2* / 3* level
Luggage transport from hotel to hotel
8 x half-board (breakfast and dinner)
Sightseeing tour in Warsaw
Boat trip Mikolajki – Ryn inc. bike
Bus transfer Warsaw – Masuria and back excl. bike
Bus transfer Gizycko – Mragowo incl. bike
Cycle route description with maps (1 x per room)
Service-Hotline (7 days, 8 a.m. – 8 p.m.)
Minimum number of participants: 2 people
Show more
Show less
Additional Services
Additional bookable services
| | |
| --- | --- |
| Additional fee single room | |
| Transfer own bike from and to Warsaw | |
All prices are per person
Additional nights
Room

Breakfast

Price

Warsaw
All prices are per person
Rental Bikes
Rental Bikes
Mietrad
69 €

E-Bike
209 €
All prices are per person
Brief Information
Booking code
EN-PLWW8
Start / Destination
Warsaw
Duration
9 days / 8 nights
Length
approx. 300 km
Daily routes ●●●○○
between 15 and 60 km, Ø 45 km
Altitude profile ●●○○○
Parking information
Guarded parking near Central Station Centralna (Aleja Jerozolimska 179 in Warsaw), Costs: 10 € per day, payable on site, reservation not possible.
Minimum number of participants
2 persons
Tour operated by
Local cooperation partner
Mobility note
This holiday is suitable to only a limited extent for people with restricted mobility.
Please contact us if you have individual requirements.