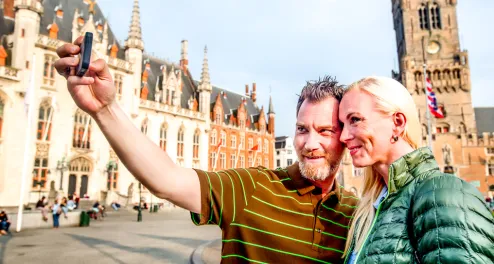 Cycle tours in Flanders around Bruges
Centre based tour Bruges with trips to the North Sea
 Day Trips from Bruges
UNESCO world heritage Bruges, beaches at the North Sea
Daily routes ●●●●○
Altitude profile ●○○○○
Bruges, the capital of the province of West Flanders, is at the heart of this cycle tours. The medieval city centre impresses visitors with artfully adorned buildings, historic churches and romantic canals. Since 2000 Bruges' centre has been a UNESCO world cultural heritage site and it is the ideal starting point for a diverse star tour. Explore the city's quiet surroundings with its fields, canals and dunes. The blue North Sea, beautiful municipal beaches and the extensive polder landscape create a picturesque backdrop. It is said that Bruges is one of the most beautiful cities in the world – a well-earned title. Bruges is the ideal starting point for a perfect cycling holiday in pretty Flanders.
Itinerary
Booking code
NL-BEB4
Start / Destination
Bruges
Duration
5 days / 4 nights
Length
approx. 185 km
Daily routes ●●●●○
between 55 and 70 km, Ø 60 km
Altitude profile ●○○○○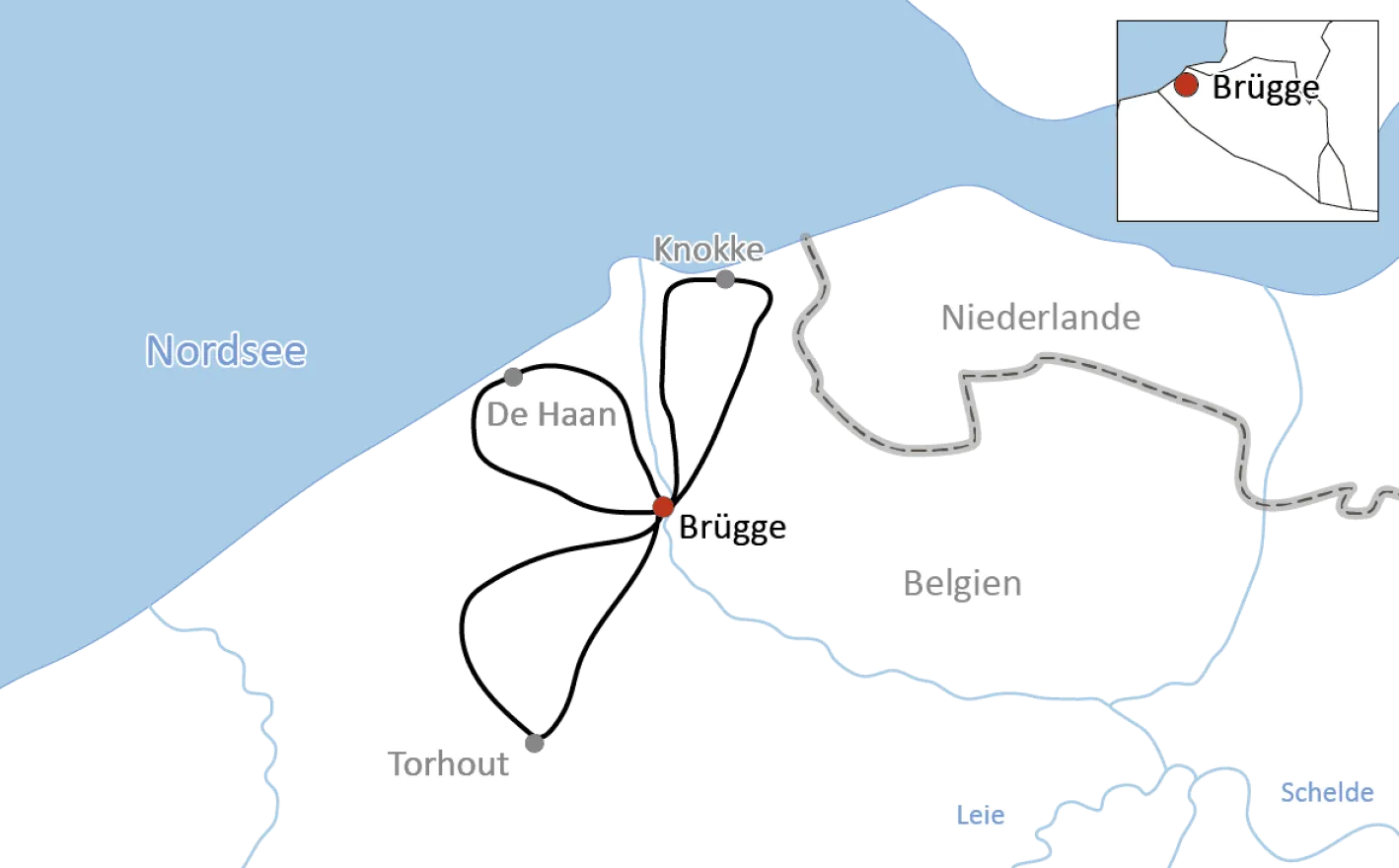 Day 1: Individual arrival in Bruges
Bruges, which is also known as the Venice of the North, is Belgium's most important cultural hub and hosts many museums. Explore the rich history of what might be Flanders most beautiful city and take a trip through the medieval city centre on one of the many canals. Here you will get a feel for Bruges medieval past, when the city was the centre of European fabric and wool trade. Your booked rental bikes will be ready for you at the hotel.
Day 2: Cycling around Torhout and Wijnendaele, approx. 70 km
You will cycle in a south-westerly direction to one of Flanders' oldest towns. Torhout developed in the 2 century AD, to which archaeological findings from Roman times attest. Today, you will get the opportunity to marvel at two castles. An extensive landscaped park surrounds the neo-gothic Castle d'Aertrycke. The origins of the moated castle Wijnendal, which hosts a museum today, can be traced back to the 11th century.
Day 3: Excursion to Damme and Knokke, approx. 60 km
From Bruges you will cycle to the North Sea via Damme. The small town with a gothic town hall and eight antiquarian bookshops is a popular tourist destination. In Knokke, a chic seaside resort with luxury boutiques and an art-deco casino, you will find a 12 kilometre long fine sandy beach. Het Zwin, the largest nature reserve on the Belgian coast, lies to the East.  You will return to Bruges in the evening.
Day 4: Excursion to Lissewege and De Haan, approx. 55 km
Today you will once again return to the North Sea coast. Via Lissewege, a typical polder village, which is said to be Flanders' most beautiful hamlet, you will cycle to the holiday resort De Haan, where Albert Einstein lived for six months in 1933.The Kusttram also stops in De Haan – it is a 68 kilometre long tram line which connects all towns and villages on the Belgian coast – the longest in the world. Enjoy your day at the soft sandy beach and go for a dip in the North Sea.
Day 5: Individual departure
After breakfast your cycle tours around Bruges comes to an end.
Show more
Show less
Dates / prices / services
Season A
04.03. - 27.03.
01.06. - 30.06.
28.08. - 31.10.
Accommodation
You will stay at the elegant 4*-NH Hotel Brugge in Bruges' centre. The hotel has 149 rooms and is housed in a former monastery, which is under preservation order. The rooms are tastefully decorated and will enable you to have a comfortable stay. The hotel has a small gym, a terrace and a garden. The restaurant serves international dishes and you can enjoy Belgian beers at the bar.
Show more
Show less
Additional Services
Additional bookable services
| | |
| --- | --- |
| Additional fee single room | |
All prices are per person
Rental Bikes
Rental Bikes

Rental Bike
65 €

E-Bike
125 €
| | |
| --- | --- |
| 7- or 21-gear Rental Bike | |
| | |
All prices are per person
Brief Information
Booking code
NL-BEB4
Start / Destination
Bruges
Duration
5 days / 4 nights
Length
approx. 185 km
Daily routes ●●●●○
between 55 and 70 km, Ø 60 km
Altitude profile ●○○○○
Route condition
The cycle route runs mainly on asphalted streets and cycle paths.
Parking information
Parking at the train station, approx. 6 € per day.
No reservations possible through Radweg-Reisen.
Tour operated by
Local cooperation partner
Mobility note
This holiday is suitable to only a limited extent for people with restricted mobility.
Please contact us if you have individual requirements.