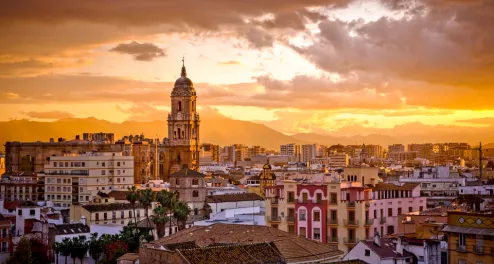 Biking Holiday in Andalusia
1001 nights in Spain
Antequera – Córdoba – Sevilla
Traces of the Romans and Moors in Córdoba, Carmona and Sevilla
Daily routes ●●●○○
Altitude profile ●●●●○
This fantastic tour takes you into the colourful, passionate Andalusia – home to flamingos, Camargue cattle and elegant horses. Arabic culture is combined here elegantly with European culture; modernity meets tradition. At the busy, colourful weekly markets, the local people meet to chat.
Disused railway lines and wide river valleys make for a relaxed cycle ride even in the hills. The biking holiday in Andalusia is a tour for all of the senses!
Itinerary
Booking Code
ES-SPMS7
Start / Destination
Antequera / Sevilla
Duration
8 days / 7 nights
Length
approx. 310 km
Daily routes ●●●○○
between 25 and 65 km, Ø 50 km
Altitude profile ●●●●○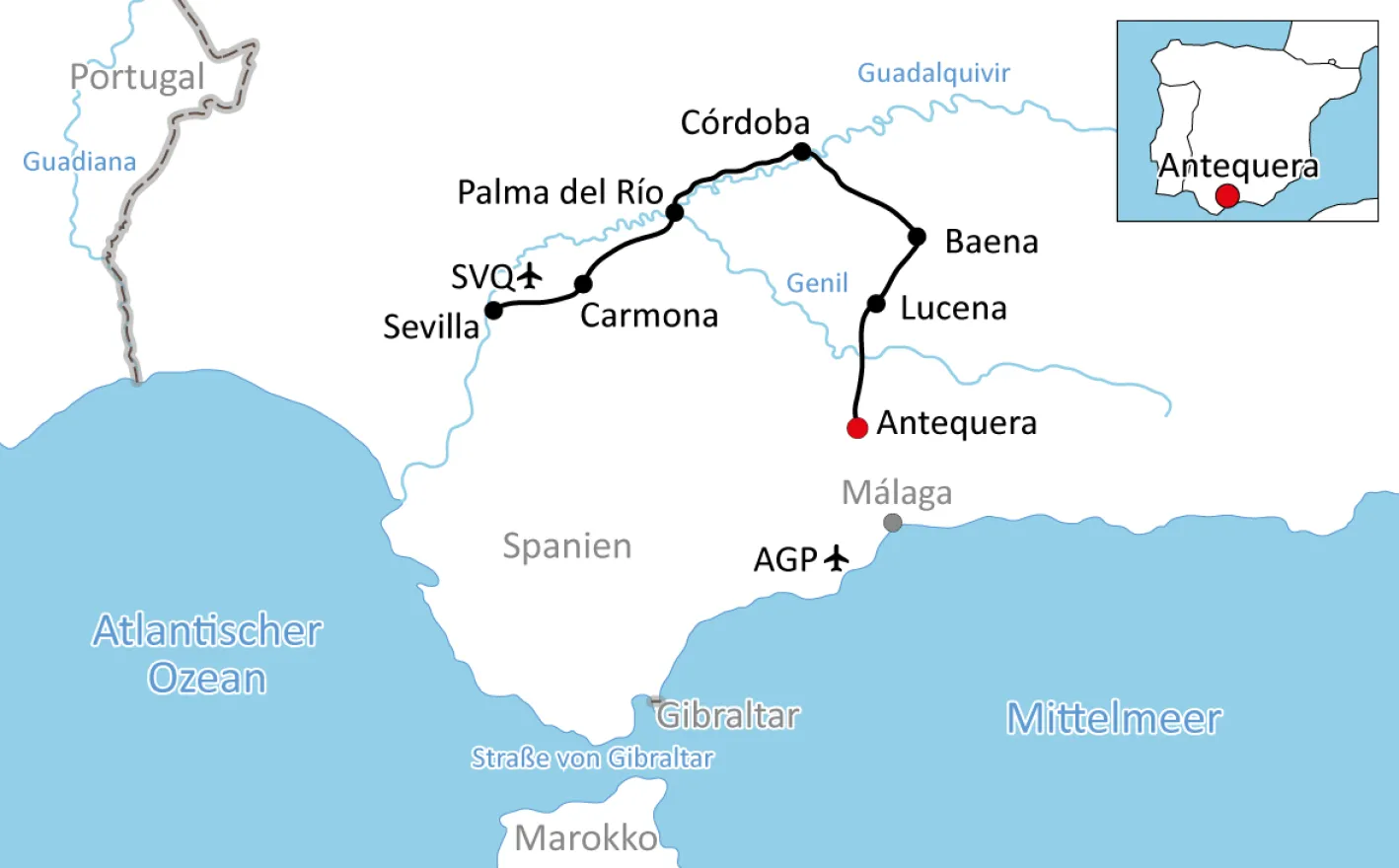 Day 1: Individual arrival in Antequera
Antequera awaits you – the heart of Andalusia. The small town with its white buildings and red tiled roofs at the foot of the Alcazaba looks wonderful. Take some time for a walk around Antequera and treat yourself to a glass of Muscatel.
Day 2: Antequera – Lucena, approx. 65 km
You will set off cycling along a disused railway line through the gentle hills of the region, which is famous for its olive oil and high-quality sherry.
Day 3: Lucena – Don Mencia, approx. 20 – 45 km
Today too, the old railway line takes you past expansive olive groves through the Province of Córdoba. In Cabra, you will see Spain's oldest church. You will be cycling through the UNESCO Geopark Sierra Subbéticas. The inhabitants live mainly from agriculture and are extremely tradition-conscious people. This is also reflected in the towns of Cabra, Zuheros and Don Mencia. The list of the annual fiestas that take place here is long!
Day 4: Don Mencia – Córdoba, approx. 60 km
Along quiet roads and frequently through pine forests, this section takes you over the Sierra Morena plateau. At the end of the day, Córdoba awaits you with a veritable firework of sights! At the beginnings of al-Andalus, Christians, Jews and Muslims all lived here peacefully together. The Mequita is legendary – first a mosque and today a cathedral.
Day 5: Córdoba – Palma del Rio, approx. 60 km
Guadalquivir, you leave Córdoba. Fish, game and oranges are important ingredients of the local cuisine here. You will soon be able to make out Écija, the city of towers. The colourful tiles on the roofs of the Baroque churches shimmer in the sunlight. In Palma del Rio is a Franciscan monastery, once of great import, as it was from here the monks set off to America on their missions.
Day 6: Palma del Rio – Carmona, approx. 55 km
Today you cycle through Campina de Sevilla, one of the most fertile regions of Andalusia. Rough karst rock formations alternate with Mediterranean oak forests. Carmona is an exciting destination for a day trip, with interesting archaeological sites, a Baroque historic quarter and an intact Moorish city wall. Built on a range of hills, you can almost see the entire Sierra Morena from here.
Day 7: Carmona – Sevilla, approx. 25 km + train ride
Along the gentle hills of the plateau of the Alcores the former royal Haciendas still characterise the agriculture here today. The Flamenco dance is in the people's blood here. One of the absolute highlights of this tour is Sevilla, which you can get to know on a sightseeing bus tour. This is where you will find the biggest Gothic cathedral in the world, built on the remains of a Mosque.
Day 8: Individual departure or extended stay
Your biking holiday in Andalusia ends after breakfast. We would be happy to extend your holiday in the South of Spain if you like.
Show more
Show less
Dates / prices / services
Season A
18.03. - 31.03.
07.10. - 21.10.
Services
7 nights incl. breakfast, national 3* / 4* level
Luggage transport from hotel to hotel, no limit on the number of pieces, max. 20 kg / piece
Train ride Brenes – Sevilla excl. bike
GPS tracks available on request
Cycle route description with maps (1 x per room)
Service Hotline (7 days, 8 a.m. – 8 p.m.)
Show more
Show less
Additional Services
Additional bookable services
| | |
| --- | --- |
| Additional fee single room | |
All prices are per person
Additional nights
Room

Breakfast

Price

Antequera

Sevilla
All prices are per person
Rental Bikes
Rental Bikes

Rental Bike
99 €

E-Bike
239 €
| Rental Bike | |
| --- | --- |
| 7- or 21-gear Rental Bike | |
| | |
Brief Information
Booking Code
ES-SPMS7
Start / Destination
Antequera / Sevilla
Duration
8 days / 7 nights
Length
approx. 310 km
Daily routes ●●●○○
between 25 and 65 km, Ø 50 km
Altitude profile ●●●●○
Route condition
The routes are flat and hilly with longer inclines. You will drive through cycle path, side roads and country roads. In every city it is to assume traffic.
Note
In Spain cyclists are required by law to wear a helmet.
Tour operated by
Local cooperation partner
Mobility note
This holiday is suitable to only a limited extent for people with restricted mobility.
Please contact us if you have individual requirements.