Bike Tour from Hamburg to Berlin
Two metropolises on the Elbe-Havel cycle route
 Hamburg – Havelberg – Berlin
Metropolis Hamburg
Beautiful meadows and peaceful villages
Germany's Capital Berlin
Daily routes ●●●●●
Altitude profile ●○○○○
Hamburg and Berlin: Germany's largest cities are the start and finish of this journey along the Elbe and Havel cycle paths – two of Germany's most popular long-distance cycle routes. Before you get on your bike visit Hamburg's Speicherstadt (warehouse district) and the Hafencity (harbour)! When you have left the bustling hanseatic city, you will delve into untouched nature. Castles with dreamy gardens line your path, as well as the village with Germany's highest stork population, half-timbered buildings and beautiful cities, such as Potsdam and Lauenburg. After 440 km, you will reach the metropolis Berlin: the colourful capital will captivate you with its diverse and energetic atmosphere.
Booking code
NO-ELHB9
Start / Destination
Hamburg / Berlin
Duration
10 days / 9 nights
Length
approx. 450 km
Daily routes ●●●●○
between 40 and 80 km, Ø 55 km
Altitude profile ●○○○○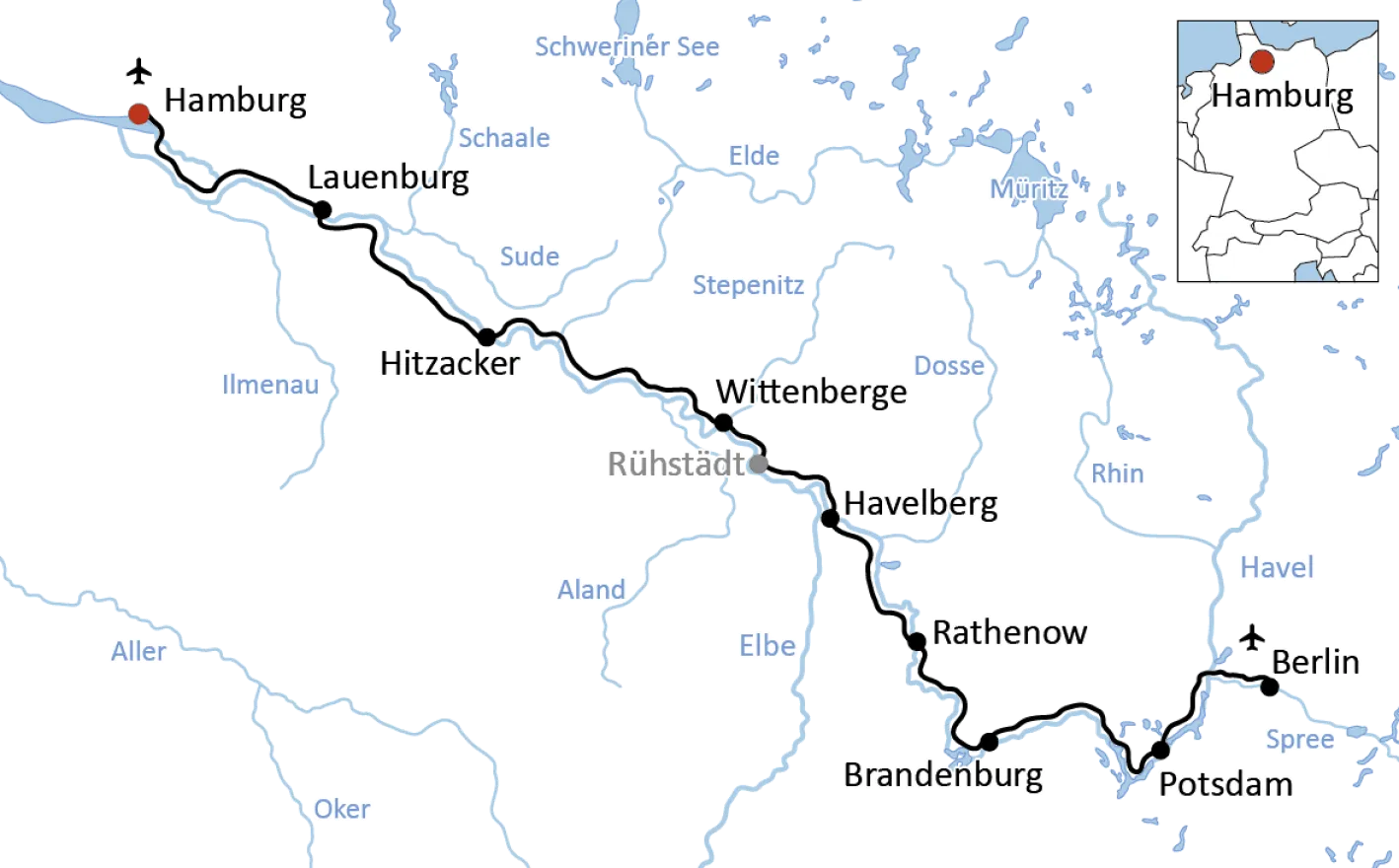 Day 1: Individual arrival in Hamburg
The Hanseatic City is one of the most beautiful and exciting German cities and offers countless attractions. A tour of the harbour, or a visit to the historic warehouse district, the Speicherstadt is an absolute must. Opera and concert house, theatre and musicals leave nothing to be desired. The Jungfernstieg and the Reeperbahn will provide entertainment. Hired bikes will be available at the hotel.
Day 2: Hamburg – Lauenburg, approx. 55 km
From the big city you follow the route through the sandy dunes and wild countryside of Schlesweig-Holstein to Lauenburg. The town is charmingly located on the banks of the Elbe. The river has always been an integral part of life here. The Elbe Shipping Museum has a lot to tell you about local shipping history and you can admire a wonderful collection of beautiful pictures all about the subject.
Day 3: Lauenburg – Hitzacker, approx. 55 km
Once you have left the former capital town behind you, you cycle through moorland, former marshland, which has been drained and can now be used. A variety of flora and fauna can be discovered in the Elbschloss castle of Bleckede. A short distance away are the sandcastles. Hitzacker is on the Jeetzel, which joins the Elbe here.
Day 4: Hitzacker – Wittenberge, approx. 80 km
Today you cycle through the border area formerly separating East and West Germany, which is also the reason why the Elbe meadows have been preserved so naturally. Places such as Gorleben and Dannenberg show that the area was not always as peaceful as it appears to be today. Wittenberge is the region's most important centre.
Day 5: Wittenberge – Havelberg, approx. 40 km
Today you cycle through very lonely stretches of land. The river often floods here; as a result it is hardly habited at all. This makes the route into a very special experience. You cycle through Rühstadt, which is the village with the most storks in Germany. The fortified diocesan town of Havelberg used to be an important place for shipbuilding and today is a charming end to today's section of the route.
Day 6: Havelberg – Rathenow, approx. 55 km
From today, the river Havel will accompany you through green meadows and the small villages of the Schollener Land. Halfway between Havelberg and Rathenow you will cycle through Stölln, the birthplace of aviation pioneer Otto Lilienthal. You will finish this stage in Rathenow. The Optic Industry Museum tells the impressive industrial history of Rathenow with 15.000 optic and scientific instruments and glasses.
Day 7: Rathenow – Brandenburg City, approx. 65 km
Through the lake district to the north east of the city you will cycle to Brandenburg. The city is spread out on a number of islands and peninsulas and the cityscape is therefore characterised by a number of bridges. The river Havel, which flows through the city and divides into numerous streams and trenches, was used for transport, city fortifications and to power mills in the past.
Day 8: Brandenburg City – Potsdam, approx. 60 km
First the path will take you along dykes and across open countryside in direction of Werder. The name fittingly describes the location of the town as land surrounded by water. Due to the mild climate, Werder is surrounded by one of Germany's largest fruit cultivation areas. Take some time to visit the Caputh Palace. Later on you will cycle to Potsdam along the idyllic promenade of Lake Templin.
Day 9: Potsdam – Berlin Mitte, approx. 50 km
Since 1907 the Glienicker Bridge has spanned the river Havel and connected Berlin and Potsdam, the capital of Brandenburg. The so-called agent bridge was a legendary Cold War site. Make sure to visit the Glienicke palace! You will cross the Greater Wannsee Lake by ferry (not included). Once you have arrived in Berlin-Spandau, you follow the river Spree into the centre of Berlin.
Day 10: Individual departure or extension of stay
After breakfast, your bike tour from Hamburg to Berlin comes to an end. We are happy to extend your holiday in Germany's fabulous capital.
Show more
Show less
Dates / prices / services
Season A
01.04. - 11.05.
03.09. - 31.10.
Additional Services
Additional bookable services
| | |
| --- | --- |
| Additional fee single room | |
All prices are per person
Additional nights
Room

Breakfast

Price

Berlin-Mitte / Hamburg
All prices are per person
Rental Bikes
Rental Bikes

Rental Bike
149 €

E-Bike
299 €
| | |
| --- | --- |
| 7- or 21-gear Rental Bike | |
| | |
All prices are per person
Brief Information
Booking code
NO-ELHB9
Start / Destination
Hamburg / Berlin
Duration
10 days / 9 nights
Length
approx. 460 km
Daily routes ●●●●●
between 40 and 80 km, Ø 55 km
Altitude profile ●○○○○
Route condition
The cycle path runs mostly through flat areas without big increase.
Returning to Hamburg
Optional: by chartered minibus, please include this option in your original booking, price on request.
If you do not want to continue your journey directly after the transfer, you can book additional nights in Hamburg.
You can also book the transfer from Berlin to Hamburg before the bike tour. So you can continue your tour from Berlin right after the tour. Please write your booking request in the online booking form in the free text field.
Travel by train (on your own initiative), connections hourly, 0 – 1 train changes, duration approx. 2.5 hours.
Tour operated by
Local cooperation partner
Mobility note
This holiday is suitable to only a limited extent for people with restricted mobility.
Please contact us if you have individual requirements.