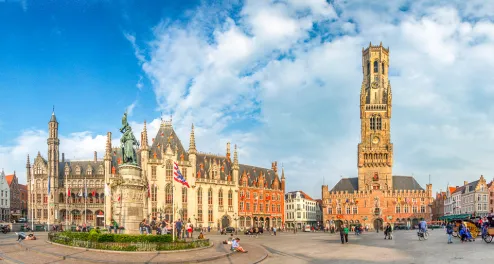 Bike tour in Flanders
Flemish Art and History from Brussels to Bruges
 Brussels – Ghent – Bruges
Belgian Comic Museum, Gravensteen Castle, St. Bavo's Cathedral
Daily routes ●●●○○
Altitude profile ●○○○○
Bestseller!
How could one get to know Flanders better than by bike? Starting in Brussels, this bike tour will take you through lonely lake districts, quaint farmland, Flemish villages and fascinating art towns until you reach the seaside. Visit the royal capital of Brussels and its countless sights. Marvel at the Flemish painters Rubens' and Jan van Eyck's works in the Royal Museum of Fine Arts in Antwerp, or enjoy the churches of Bruges and Gent. Cycle alongside the rivers Schelde and Dijle and relax on the beach. For friends of craft beer, Belgium has more than 1000 different types of beer on offer.
Itinerary
Booking code
NL-BEBB6
Start / Destination
Brussels / Bruges
Duration
7 days / 6 nights
Length
approx. 265 km
Daily routes ●●●○○
between 30 and 65 km, Ø 55 km
Altitude profile ●○○○○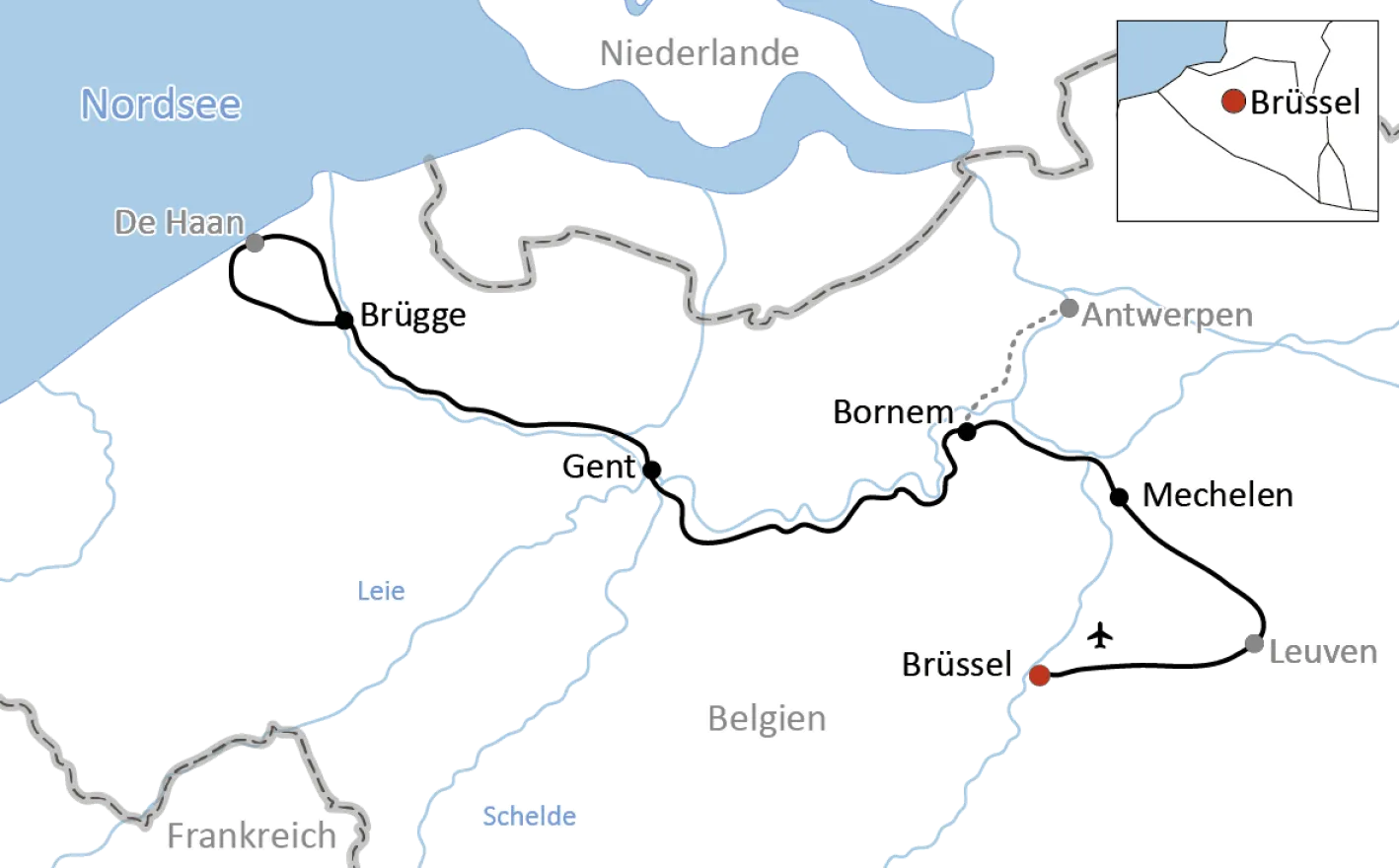 Day 1: Individual arrival in Brussels
Diverse and gracious – that's how Brussels presents itself. Its European Quarter is well known through the news, but the Belgian capital has a lot more to offer. Monumental palaces, long boulevards, majestic churches and elaborate Art Nouveau quarters mean Brussels is an appealing travel destination. Some great attractions in the historic centre are the Manneken Pis, Grand Place with its Gothic town hall and the Belgian Comic Museum.
Day 2: Brussels – Mechelen, approx. 65 km
The first day on your saddle will initially lead you to Leuven, where Belgium's oldest university is situated. Its extraordinary town hall on the Grand Market is regarded as one of the most beautiful buildings of the late Gothic period. Following the Dijle downstream, you will reach today's final destination, Mechelen. In its centre, you will find hundreds of listed buildings. The cathedral, with its incomplete church tower, offers an unusual sight.
Day 3: Mechelen – Bornem / Temse, approx. 30 km + excursion to Antwerp
As today's stage is fairly short – it's only 30 km from Mechelen to Bornem – we recommend you take the train to Antwerp beforehand (not included). This seaport on the river Schelde is not only the most important global marketplace for diamonds, but also a highly relevant art city. Several well-known artists had their big breaks here. Later, you will cycle to Bornem along the rivers Rupel and Schelde.
Day 4: Bornem – Ghent, approx. 65 km
Today's route will lead you to Ghent, the proud city where the Leie flows into the Schelde. The city's skyline is shaped by three towers. The city centre is towered over by one of Europe's largest moated castles, Gravensteen Castle. Several other medieval buildings are still fully preserved in the historic centre, such as St. Bavo's Cathedral, with the Ghent Altar designed by Jan van Eyck.
Day 5: Ghent – Bruges, approx. 50 km
From the capital of the Province of East Flanders you will be cycling into the neighbouring province's (West Flanders) capital. Thanks to several canals that stretch through the city - the locals call them Reie – Bruges is ideally explored by boat. Since 2002, Bruges' historic centre has been a UNESCO world heritage site. Why not stroll through the Béguinage or marvel at the medieval buildings around the market square.
Day 6: Excursion to the North Sea, approx. 55 km
From Bruges, you will be cycling towards the North Sea coast. Today's final destination is the seaside resort of De Haan, which was Albert Einstein's home for six months in 1933. The Kusttram, a tram line connecting all towns on the Belgian coast, also stops in De Haan. This line, measuring 68 km (42 miles), is the longest in the world. Enjoy your day on the soft sandy beach and go for a swim in the North Sea. Afterwards, you will be heading back to Bruges.
Day 7: Individual departure or extension of stay
After breakfast your bike tour in Flanders ends. If you wish we can extend your stay in Bruges or Brussels.
Show more
Show less
Dates / prices / services
Season A
29.04. - 09.06.
20.08. - 09.09.
| Child reduction on basic price | | |
| --- | --- | --- |
| discount-icon discount-icon-baby | | |
| discount-icon discount-icon-lego | | |
| discount-icon discount-icon-football | | |
Additional Services
Additional bookable services
| | |
| --- | --- |
| Additional fee single room | |
| Return transfer incl. bike, Brügge - Brüssel (from 2 persons) | |
All prices are per person
Additional nights
Room

Breakfast

Price

Brügge

Brüssel
All prices are per person
Rental Bikes
Rental Bikes

Rental Bike
85 €

E-Bike
165 €

Children's and Teenager's bike
65 €

Trailer
65 €
| Rental Bike | |
| --- | --- |
| | |
| | |
| Children´s and teenager´s bikes, Children´s trailer | |
Brief Information
Booking code
NL-BEBB6
Start / Destination
Brussels / Bruges
Duration
7 days / 6 nights
Length
approx. 265 km
Daily routes ●●●○○
between 30 and 65 km, Ø 55 km
Altitude profile ●○○○○
Parking information
We recommend to park in Bruges because of cheaper prices.
Return journey to Brussels
Optional: Travel by minibus (on fridays and saturdays): Duration approx. 1.5 hours, departure approx. 10 am. Please include this option in your original booking. Minimum number of participants per booking: 2 people
Alternative: Travel by train on your own initiative. Connections every half hour, duration approx. 1 – 1.5 hours, no changes. If you do not want to continue your journey directly after the transfer, you can book additional nights in Brussels.
You can also book the transfer from Bruges to Brussels before the bike tour. So you can continue your tour from Bruges right after the tour. Please write your booking request in the online booking form in the free text field.
Tour operated by
Local cooperation partner
Mobility note
This holiday is suitable to only a limited extent for people with restricted mobility.
Please contact us if you have individual requirements.