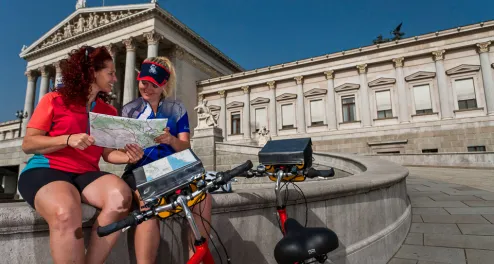 Cycle tour through Austria from Salzburg to Vienna
From the Mozart city of Salzburg to the metropolis of Vienna
Salzburg - Passau - Wachau - Vienna
Inn-Radweg and Donau-Radweg
Burghausen, Schlögener Schlinge and Wachau
Stage length ●●●●○
Elevation profile ●○○○○
Clear lakes, impressive castles and famous cities - welcome to your bike tour through Austria from Salzburg to Vienna! Discover the scenic and cultural highlights along the river valleys of the Salzach, Inn and Danube on two wheels. Cycle leisurely through the idyllic lake landscape of the Salzkammergut. Along the way you will encounter numerous castles, palaces and churches. Taste a glass or two of wine in the lovely Wachau region. Be sure to try the regional delicacies Salzburger Nockerln and Kaiserschmarrn. On your bike you roll almost by itself on the beautiful bike path along the Danube. This way you can enjoy the countless sights in a relaxed way. Special highlights are the three-river city of Passau, the oldest city in Austria, Enns and the wonderful baroque town of Grein. The destination and glamorous highlight of your bike tour through Austria is Vienna. The imperial Hofburg, St. Stephen's Cathedral, the Prater and the Burgtheater - time will pass far too quickly as you embark on a stroll through the waltzing city.
Itinerary
Booking code
OE-SZSW7
Start / Destination
Salzburg / Vienna
Duration
8 days / 7 nights
Length
approx. 375 km
Stage length ●●●●○
between 55 and 70 km, Ø 65 km
Altitude profile ●○○○○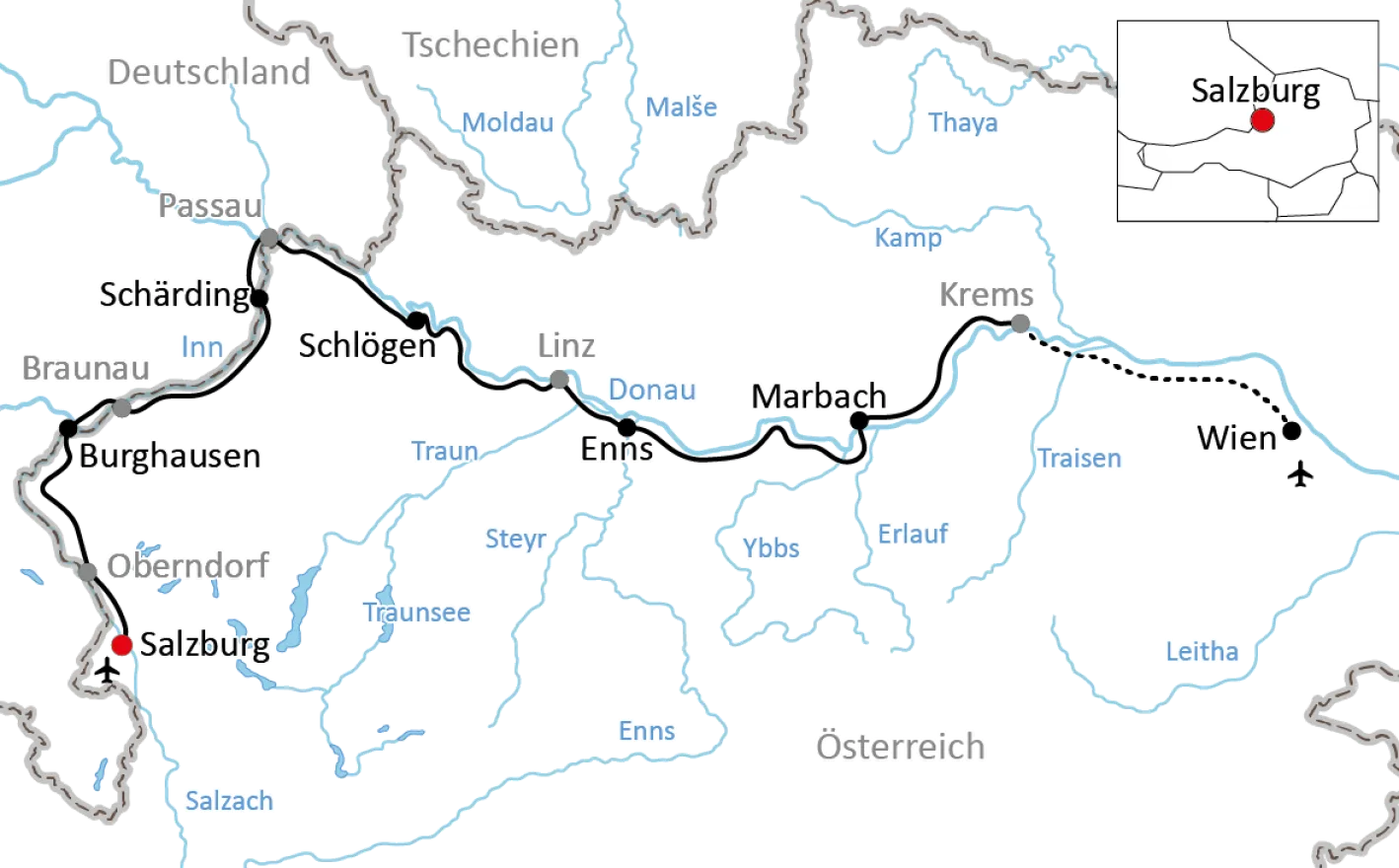 Day 1: Individual arrival in Salzburg
The earlier you arrive, the more time you have to explore the world-famous Mozart city of Salzburg. Numerous highlights await you, such as the Mirabell and Hellbrunn castles and Getreidegasse with Mozart's birthplace. High up on the fortress mountain is the fortress Hohensalzburg. Enjoy from there the wonderful view of the baroque old town.
2nd day: Salzburg - Burghausen, about 60 km
Spend a relaxed first day in the saddle and discover not far from Salzburg first the small town of Oberndorf. Here stands the small Stille Nacht Chapel, dedicated to the poet and composer of the well-known Christmas carol. You cycle through extensive floodplain forests and along the Salzach River to Burghausen. From afar you can already see the seemingly endless battlements and towers of the longest castle complex in the world. After exploring the castle, make yourself comfortable in a beer garden or a rustic vaulted cellar with regional delicacies.
3rd day: Burghausen - Schärding, about 70 km
The river changes, but the beautiful nature remains. Like pearls on a necklace, the small towns line up along the Inn. Cycle through Gothic Braunau and soon reach Reichersberg, accompanied by numerous bird colonies. During a guided tour of the Augustinian canons' monastery, you will gain impressive insights into the life and history of the priests. You will reach another pearl in your stage destination Schärding. The Silberzeile and the Christophorusbrunnen are just a few sights that you must not miss in the baroque city.
4th day: Schärding - Donauschlinge, about 55 km
Along the Inn River follows immediately the next highlight - Passau. After a short visit to the cathedral and the Veste Oberhaus, you cycle downstream, accompanied by the Danube. A break is worthwhile in Engelhartszell. Here you will find the only Trappist monastery in Austria. Treat yourself to a liqueur or cheese made in the monastery for refreshment. You have reached your destination for the day at the natural wonder of Upper Austria - the Donauschlinge. This impressive, unique image will remain in your memory long after your bike tour through Austria.
5th day: Donauschlinge - Enns region, approx. 70 km
Today's stage along the Danube is also leisurely and relaxed. If you feel like an extended break, wait until you reach Linz. Historic squares, buildings and museums will bring you closer to the history of the city. Try a piece of Linz cake in one of the numerous cafes. Rested and invigorated, you cycle on to Enns. Walk along the old city wall and climb the 60 meter high city tower. Spend the evening and night in Austria's oldest city or in a nearby town.
Day 6: Enns - Marbach / Maria Taferl, approx. 65 km
The Danube remains your constant companion today on your bike tour through Austria. Stroll through the golden town Grein, which will enchant you with its nostalgic charm. Continue cycling until you reach the Strudengau. Once feared by sailors because of its whirlpools and shallows, it is nowadays a beautiful cultural landscape that has no equal. You will then drive along the Danube to Maria Taferl. With its parish church, this small town is one of the most important places of pilgrimage in Austria.
7th day: Marbach - Vienna, approx. 55 km + train ride
Make your way to the last stage on your bike tour through Austria. Already from a distance you will recognize the baroque Melk Abbey, a Benedictine monastery, proudly perched on a hill. Afterwards, the Wachau region with its small wine villages awaits you. Be sure to stop at a Heurigen where the winemakers pour their delicious wines directly in the winery. You can enjoy the visit to the Heurigen relaxed, because from Krems the train takes you directly to Vienna. Make sure you still take the time to visit the capital of Austria with its countless sights.
8th day: Individual departure or extension
Today your bike tour through Austria from Salzburg to Vienna already ends. If you haven't already, be sure to pay a visit to Schönbrunn Palace, the Spanish Riding School, St. Stephen's Cathedral and the Prater before heading home. If you don't have enough time, we'll be happy to book an extra night in Vienna for you.
Show more
Show less
Dates / Prices / Services
Category B
Season B
09.04. - 06.05.
03.09. - 23.09.
Category A
Season B
09.04. - 06.05.
03.09. - 23.09.
Services
7 nights with breakfast, national 2* / 3* level, in Vienna national 4* level, category B (OE-SZSW7b)
7 nights with breakfast, national 3* / 4* level, category A (OE-SZSW7a)
Luggage transport from hotel to hotel to Vienna, max. 20 kg / piece
Train ride Krems - Vienna incl. bike
GPS data available on request
Travel documents with maps (1 x per room)
Service hotline (7 days, 8 am - 8 pm)
Show more
Show less
Additional services
Additionally bookable services
| | OE-SZSW7b | OE-SZSW7a |
| --- | --- | --- |
| Additional fee single room | | |
All prices are per person
Additional nights Additionally bookable services
Room

Breakfast

OE-SZSW7b

OE-SZSW7a

Salzburg

Salzburg

Wien

Wien
All prices are per person
Rental bikes
Rental Bikes
Mietrad
99 €

E-Bike
239 €
All prices are per person
Short info
Booking code
OE-SZSW7
Start / Destination
Salzburg / Vienna
Duration
8 days / 7 nights
Length
approx. 375 km
Stage length ●●●●○
between 55 and 70 km, Ø 65 km
Elevation profile ●○○○○
Note
In Austria, helmets are compulsory for children up to 12 years.
Parking information
Parking approx. 15 € / day, public parking garage approx. 70 € / week.
No reservation by Radweg-Reisen possible.
Return to Salzburg
In self-direction by train, connections hourly, without changing, duration about 2.5 hours.
Execution
Local cooperation partner
Mobility advice
The trip is suitable for people with limited mobility only conditionally.
Simply contact us regarding your individual needs.